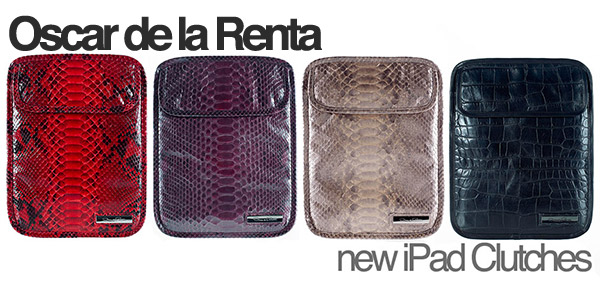 Oscar de la Renta continues to prove he is not only ahead of the curve but also completely able to relate to all of us who spend our days glued to gadgets.
Today we have the exclusive preview of the second batch of Oscar de la Renta iPad Clutches. The first iPad cases (which Oscar endearingly calls a clutch) were spotted on the runway of the Resort 2011 show. Just before that show, Oscar himself purchased an iPad which prompted him to create a fashionable clutch to cover his new omnipotent tablet.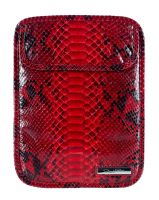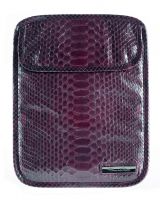 The Oscar de la Renta iPad Clutch garnered internet-wide fandom for its sleek but fashionable design. The first set was available exclusively and in limited edition via OscardelaRenta.com and sold out quickly.
Here is the good news for all of you: We have the first look of the second set of iPad clutches and I happen to adore these even more than the first batch! Debuting tonight on the site, the second group of de la Renta iPad Clutches become available for purchase. This group has gone glam in three python versions and one crocodile embossed leather version.
It may seem like calling these cases clutches is off, but it is not. When you think of an iPad case, it sounds like more of a protection layer than anything else. But Oscar de la Renta lives and breathes fashion and combines it with function in these exotic and upscale iPad Clutch designs.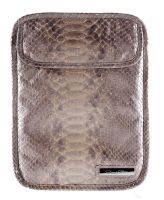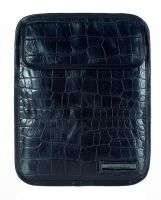 These clutches are meant to be part of your ensemble and to be used as a statement piece. The python options offer three different colors: vivacious red, pearlized taupe, and a deep pearlized rose. Then there is the black crocodile embossed leather version, which is perfect for a man or woman. The clutches are simple yet striking and the perfect accessory to your wardrobe. And at $390 for the python version, we think it is a rather reasonable price.
With technology moving at such a fast pace, it is exciting to watch one of fashion's all time greats lead the pack with an exotic design that is hard to resist for the latest Apple must-have gadget.
Buy exclusively via Oscar de la Renta online: Red python for $390, Taupe Python $390, Rose Python $390, Black Crocodile Embossed Leather $290.