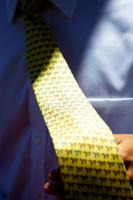 A horse is a horse, of course, of course…
This weekend's obsession visits the gentleman's department. At around $170, Hermes' beautiful silk ties are a (relatively) cheap entry into the world of men's luxury fashion. The silk is among the finest available and the prints are highly colorful and come in funny and playful patterns.
They make great gifts for husbands or boyfriends for any occasion and are available in Hermes boutiques or online.