Holy blast from the past, Batman! Or would it be Batgirl, in the world of accessories? Pressing questions, these.
Anyway, if you've been a fan of designer bags for a few years now, you've likely seen the Jimmy Choo Tulita Shoulder Bag before. For those of you who joined us recently, there was a point in the not-so-distant past at which Jimmy Choo was merely a shoe brand. In the mid-2000s, they branched out in to bags and never looked back.
Back in those heady days of their first non-shoe products, however, the Tulita was one of Jimmy Choo's first bag designs (or possibly the very first – it's difficult to pin these things down) – but is there still a market for it?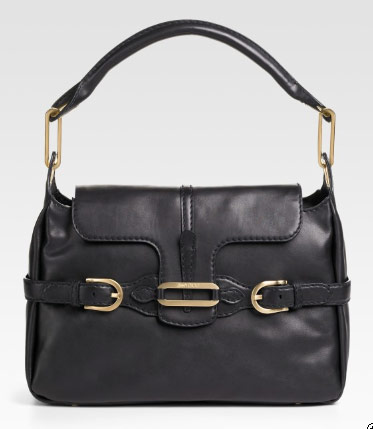 This isn't the first time as of late that Saks has seen fit to reissue a seasons-old bag as an "exclusive," despite the somewhat questionable demand for the bag's revival (Chloé Silverado, anyone?), and it seem almost equally out of left field as the previous choices. Was anyone really dying to see the Tulita on store shelves again, after an absence of only a couple of years?
It's a perfectly serviceable handbag option, for sure, but I'd rather see Saks stock itself with new, interesting options than accessories that we all thought were interesting five years ago. Just because the economy was better back then doesn't mean that we want to dress exactly like we did during that time. Buy through Saks for $1350.