We talk a lot about Bottega Veneta, and for good reason. They're doing some of the most interesting things with some of the best materials on the marketplace, and their bags often have an element of visual trickery with them that I find delightful. If a designer can find a way to make a bag more than the sum of its parts, then he or she has done her job.
The fine folks at BV do their jobs very, very well. Their bags may not fit your personal style (they often don't fit mine), but it's hard to argue that they're not at least producing some of the more interesting products on the high-end marketplace. The Bottega Veneta Oversized Intrecciato Shopper for example, features a weave within a weave that still has me trying to figure out exactly how the designers pulled it off.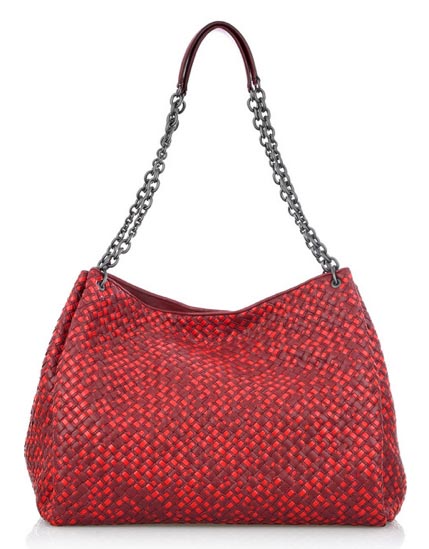 The technique is pretty impressive and intricate when you look at it closely, but as a whole, the effect is deceptively simple. The dark and bright red offer enough contrast without being loud, and the shape is so clean (maybe even boring to some) that it doesn't compete with the weaving-on-top-of-weaving for attention. It's a grown up bag with an artistic sensibility, which is exactly what Bottega Veneta does best. The price, however, is not something that appears to be justified. Buy through Net-a-Porter for $6750.