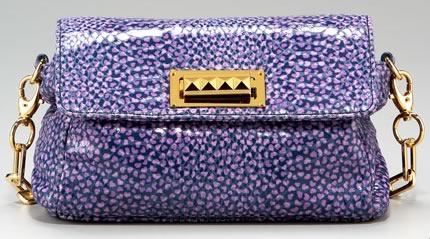 As I scrolled over this Tory Burch Heidi Mini Bag, zooming to take a closer look at the details, I thought, " Of course Tory Burch is doing pigskin!". The fact is that Tory's expanding her brand, and it seems like every week I come across a new item from her line, each chicer and more forward than the past item.
Add that to the fact that I adore purple and that I hold a special place for pigskin in my heart (my personal diaries have been pigskin Smythsons for many years), and this bag fulfills an Anna recipe of success"" one of many, I may add. The best thing, though, isn't the pigskin or the purple, but all the funky and unexpected details on the bag.
First of all, the bag isn't just pigskin; it's embossed with a snake print over the leopard-like purple and blue design. It's pretty much a jungle, if you ask me. Then there's the lock closure with four simple and perfectly-lined studs, and the glam chain shoulder strap. The classic square shape is the only thing that's normal about the bag that bursts, unconventional and splashy, out at you whether you see it online or in person (though I do recommend the latter). Buy though Bergdorf Goodman for $335.