Ok, so for the most part, it seems as though most people either love or hate L.A.M.B. handbags. While there is always some sort of divide when it comes to handbag likes and dislikes, I feel as though for the most part, L.A.M.B. really speaks to a very unique crowd. As a L.A.M.B. lover, you have to embrace loud, out there, in your face handbags. True, I've come across a few that aren't as out there as others, but generally speaking, L.A.M.B. bags are very, very noticeable.
And while I've already covered the L.A.M.B. Haughton Clutch before, my eyes were a bit at ease when I came across this version today. Unlike the first version that I covered, this one uses much more subdued colors which I imagine will appeal to a larger crowd.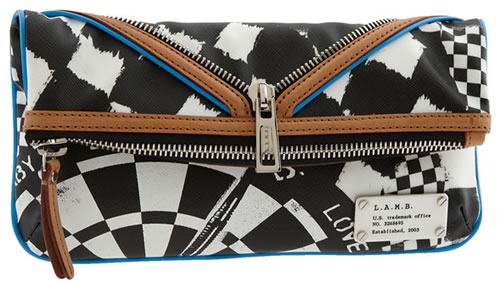 The L.A.M.B. Signature Haughton Foldover Clutch is a great black and white clutch with the perfect color and detailing accents to take this clutch to the next level. Like anything else you might expect from L.A.M.B. the pattern on this clutch is out there, but since it is in black and white it is much easier to handle. I like the slight blue leather trim as well as zipper detailing. Obviously this is a modern and edgy look but again with the colors selected, this clutch can be used with so many more outfits than other L.A.M.B. handbags. Buy through Nordstrom for $145.