Michael Kors is one who continues to impress me (both on and off of Project Runway). I love the bags and clothing he puts out. In fact, I look for his styles just about as much as I look for Marc Jacobs – and that's saying a lot.
Now this is a metallic shoulder bag I could begin to obsess over. I know I said a little while ago that I tend to like metallic on smaller bags than on larger, but from time to time, I have no problem breaking my personal rules.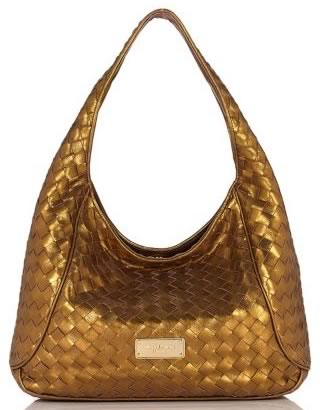 The MICHAEL Michael Kors Newbury Metallic Shoulder Hobo is a bag I'd love to tote during the fall months. As much as I adore rich fall tones, a metallic bag like this will without a doubt make your outfit pop. The woven geometric design does remind me a bit of the Bottega Veneta intrecciato design, but let's be honest, no one does woven leather like BV. So, while some of you might say MK has ripped off BV, I am willing to over look it.
Surprisingly I am totally in love with the gold on gold; it is just so shiny. The over all look is chic and one that can be pulled off no matter where you live. Personally, I feel as though there are some fall bags that simply work better in cooler climates since they just go so well together with the surroundings. That same bag might not look as good carried in a hotter climate. But this hobo, it will look great no matter where you live. The single shoulder strap, top magnetic snap closure and several pocket options are all aspects that continue to make me want to sling the bag over my shoulder. What a hit! Buy through Bloomie's for $498.