J. Crew has put out. The designs are nice, the colors work and the prices, well you really can't get much better. This is the same case with this clutch, yet I am thinking that the color might not work going into the fall.
I need your help. When does a color like this go out of season? I've been really impressed with some of the bags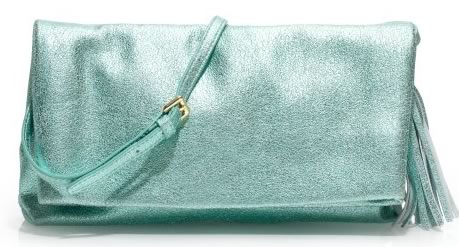 The J. Crew Metallic Lexi Clutch is a cute bag that would bring a fresh and flirty look to so many outfits. When it comes to metallic bags, I am a less is more kind of gal. I'm not as big of a fan of metallic being used on big bags as I am on smaller bags, but hey, that is just me. So, back to this clutch. I like the shape, size, color, texture, and the fact that it has a detachable shoulder strap. Versatility, that is one thing that is *always* a good thing. But again, help me out, is this a Spring/Summer only bag or could you see yourself toting a few other times throughout the year. Buy through J. Crew for $225.