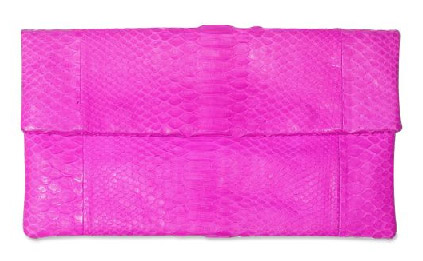 We already know how I feel about bright clutches, not to mention that I couldn't do this job correctly if I didn't love exotics, so the Akkesoir Python Clutch is basically a confluence of awesomeness for me. The lines are perfectly clean, allowing the color and texture of the bag to take center stage. With such a fun shade and rich material, I'd have it no other way.
I think that most bag lovers realize, on some level, that exotics are overpriced. Yes, they do cost more as raw materials than regular leather and they are more expensive to process because they're more delicate, but the exponentially higher prices aren't always completely justified. At least in part, you're usually paying a bit extra just for the inherent exclusivity of owning an exotic skin.
That's why a clutch like this makes me so happy – it uses the same fine snakeskin that's used on bags that cost up to ten times as much, but it's priced reasonably for a simple clutch made out of a very nice material. Perhaps that's because the brand is smaller and not as well known as many others; if that's why, it makes a great case for buying from less-famous designers. Buy through Luisa Via Roma for $478.