I am really happy to see Bloomingdale's expand their online handbag inventory. It's something they've been working on and now that their inventory keeps growing we are seeing more and more great bags. And not just any handbags, but designer and highly coveted designer brands – like Marc Jacobs. So, on this dreary South Florida Friday it's nice to look at a bag with just a hint of color and pizazz.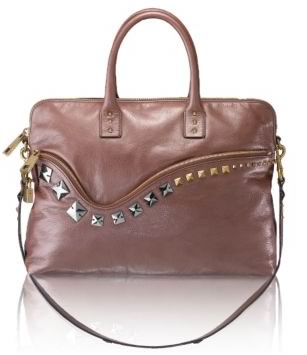 You know as well as I do that certain Marc Jacobs bags are completely over the top but still really nice. Then there are others that seem a bit bland and boring. Then there are others, like this Marc Jacobs The Firebird Rio Studded Leather Satchel that combine the previously mentioned elements perfectly.
The taupe leather satchel has a hint of shine and shimmer to it which really complements the studs wonderfully. While so many people are over studs, when the design and layout of the studs are different, like that on this bag, it's hard not to give the bag a chance. The double handles (6″ drop) are adorned with gold-tone hardware which also looks really nice with the studding. Personally, I'd let the shoulder strap hang off of the bag and carry the bag primarily with the double handles. All in all this is a nice bag from Marc Jacobs with just enough sparkle to catch my eye. Buy through Bloomingdale's for $1395.