As PurseBlog.com's resident Balenciaga fangirl, I'm always excited when the brand decides to expand their line of ever-popular motorcycle bags, and they've done so twice this season. Right now, however, we're going to focus on the merits of just one of those new designs: the Balenciaga Velo Bag.
To explain this bag to Balenciaga fans that haven't gotten a chance to see it in person yet, the shape is sort of like that of a City bag that has been stretched vertically. It still has an easy-to-carry medium size to it but has a bit more interior space than the City does, appeasing those that don't need something as large as the Work but still want to easily hold a little bit of extra stuff.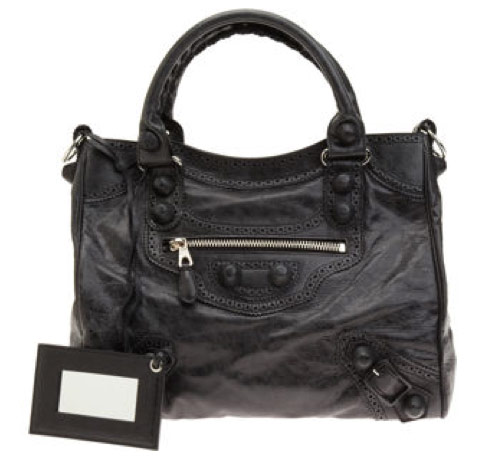 I carried a Balenciaga City Bag regularly for almost a year, and I'm glad that they've decided to position a bag between the City and Work. Normally, my bag was big enough for all of my stuff, but occasionally I'd go shopping and want to stuff a small purchase inside of it or something similar, and there just wasn't enough room. A few extra inches of depth will likely be enough to solve that problem, and the Velo also comes with something for which many Balenciaga lovers have hoped: a strap long enough to allow the bag to be worn cross-body. With a little extra space and a little extra strap, I think this bag might be the perfect Balenciaga for a lot of women. Buy through Barney's for $1945.