Yes, you all know the love I have for clutches. Frankly, I cannot have enough clutches in my collection. They all just seem to serve such an amazing purpose. While I love my clutches, with the warm Spring and Summer months upon us, I began to wonder: do most people put away their dark colored clutches and opt for brightly colored ones – OR – are the darker clutches used all year long, no matter what?
Something to ponder, huh?
Well, no matter what side of the handbag fence you are on here, there is no denying how gorgeous this brightly colored Yves Saint Laurent Y Clutch is. And if I had several clutches colored like this, there is a good chance I'd put my darker colored clutches away until the Fall and Winter.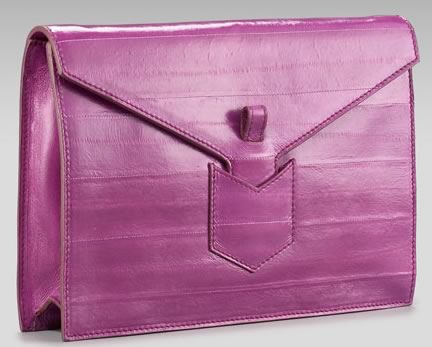 I am not even going to beat around the bush here. I love just about everything about this clutch. The color, the shape, the style, the versatility, everything works! Personally, I am a fan of the orchid color (pictured here) eel-embossed leather, but if it's not for you, there is an orange or smoke colored option. The flap closure has a loop and insert detailing very similar to Yves Saint Laurent detailing we've seen before. But really, it is the color that lured me in. It is bright, but not overbearing and I can just imagine how many outfits I would use this clutch with. Beyond the color, the clutch itself is not pretentious so you could pair it with something fancy or something casual and it would still work. Buy through Bergdorf Goodman for $575.