The Yves Saint Laurent Roady has had a place in the sun for well over a year now, which means that it's only fair that we step back and reevaluate its popularity in the context of what's going on in accessories at the moment. Is the Roady a bag that you still want to own?
It may be bigger than current trends dictate, and I don't think we've seen a python version of the Roady so far (although Fall 2011 promises python versions of every bag ever made, so the odds are good), but I'm still a big fan of the Roady and its minimalist, functional shape. I would make but two improvements: A lighter interior lining to make it not such a black hole and a small exterior pocket for my cell phone. On the side that would face my body, of course.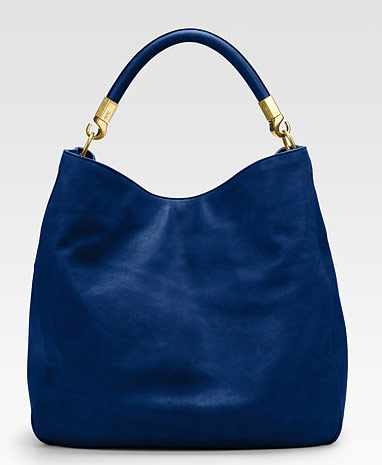 Mostly, I continue to be impressed by what excellent canvases bags like this make for beautiful colors. I like this bag for the same reason that I'm so drawn to Balenciaga's motorcycle bags – simple shapes and hardware let a saturated color take center stage, and I find myself utterly transfixed by this deep shade of almost-navy. So do you still want a Roady, or would you prefer this hue in a different design? Buy through Saks for $1495.