I know I'm not the only one who has expressed a desire to purchase the Louis Vuitton Multi Pochette Accessoires. (Please, no judgement!)
Unfortunately, there's no telling when this illustrious bag will make its triumphant return – which is why I set my sights on the next best thing: The Prada Re-Edition 2005 Shoulder Bag. I must admit, this bag was probably my best purchase of 2019. Here's everything you need to know.
Aesthetics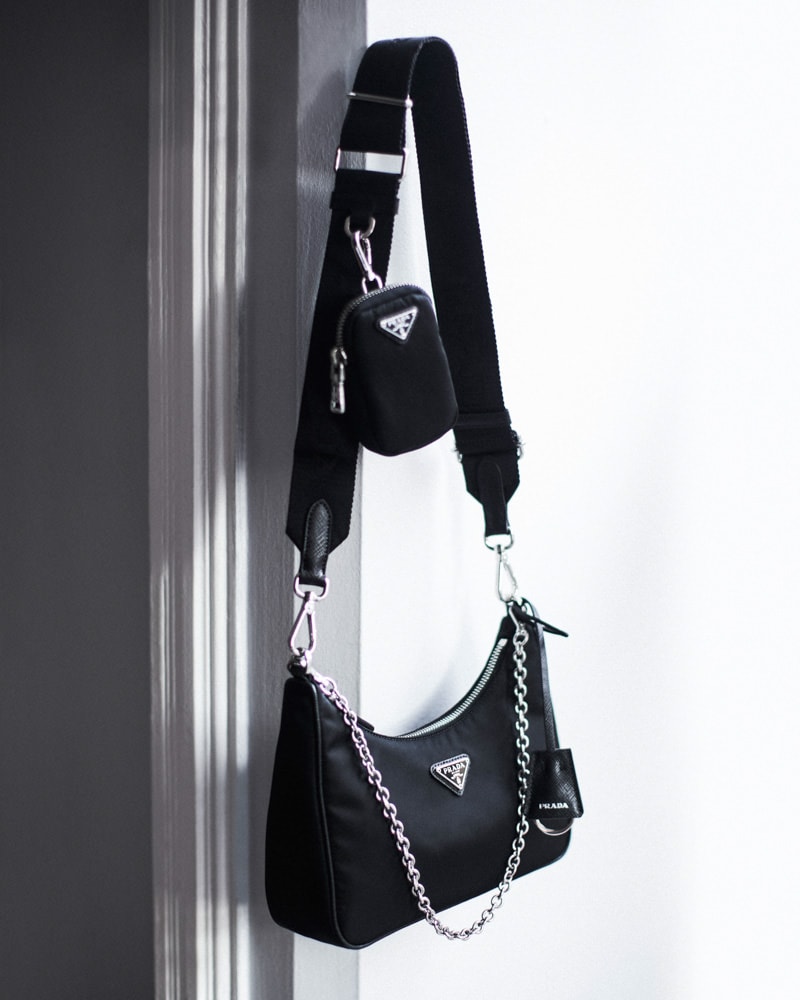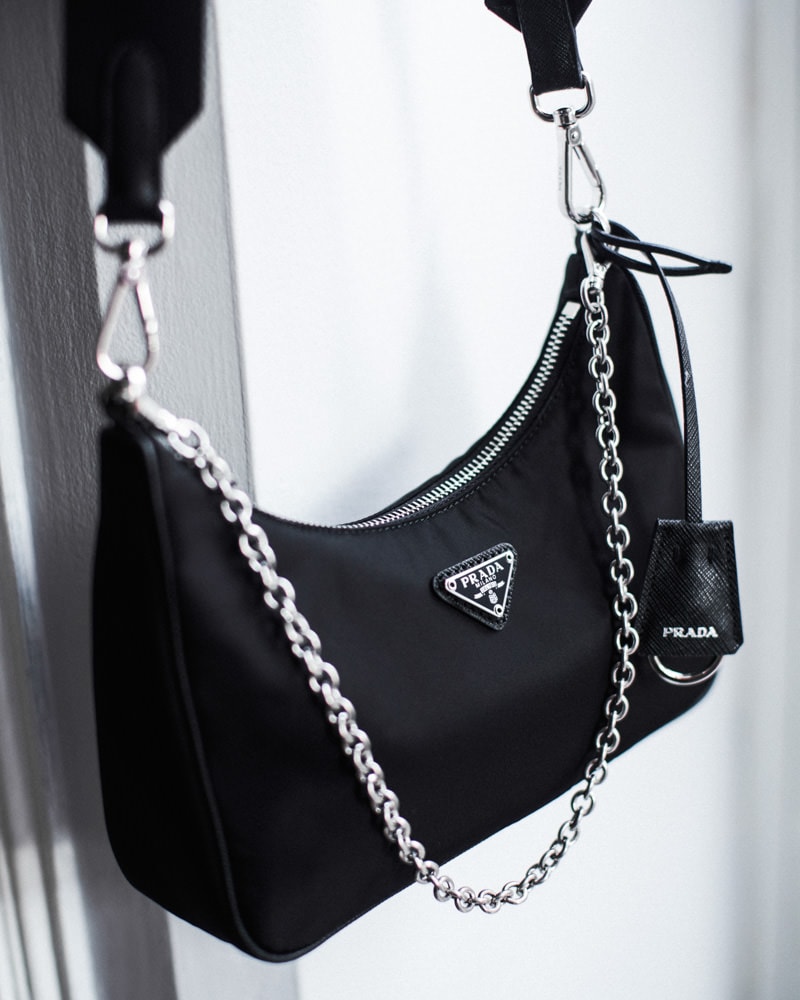 At first glance, the Re-Edition 2005 is everything one would expect from a typical Prada bag. It features the brand's signature nylon finish with a small but recognizable logo, a chain handle, and an accompanying shoulder strap, which also includes the word "PRADA" along the side. Though sleek, the bag maintains a subtleness that is so often absent from many of today's releases.
Clearly, the Re-Edition 2005 is decidedly casual as well. Though the shoulder strap detaches, allowing one to wear the bag strictly by the chain handle, the nylon finish isn't something one would necessarily sport to an upscale event. However, as a daily pick, the aesthetics of the Re-Edition 2005 can quickly mold from a rushed supermarket run to date-night at a wine bar – and in my book, that's a huge plus, given the bag retails for approximately $1,200 (which means price-per-wear is pretty stellar!).
Usability + Functionality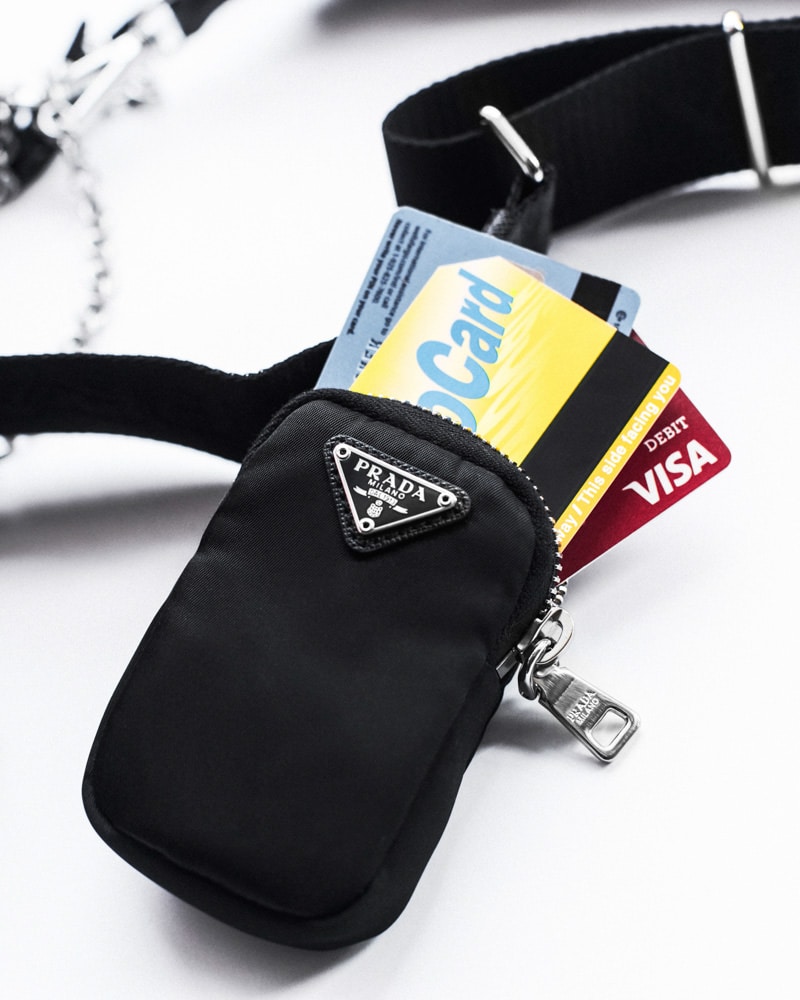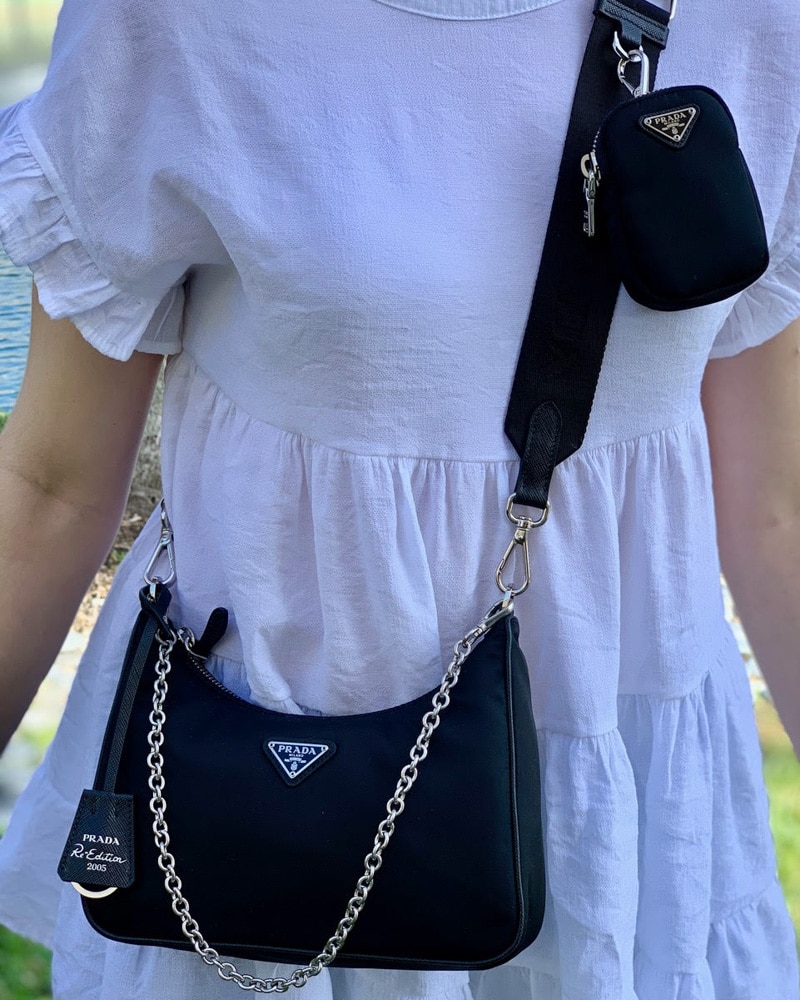 Prada nylon, oh how I love you. You're durable, sleek, and stylish. We've been through a lot together too, from accidental wine spills to unexpected torrential rainstorms – and yet you still look brand new.
Truthfully, I'm in love with nylon bags, just as much (or maybe even a little more) than leather, which is why I jumped at the opportunity of purchasing the Re-Edition. If done right (which the Re-Edition clearly is), I am a firm believer that a nylon bag can be just as stylish as a leather counterpart. Not only that, the material is infinitely more durable, making it more usable and quite functional in terms of day-to-day needs.
In general, Multi Pochette bags, including the Re-Edition, are a handbag hybrid of sorts that combines a crossbody look with multiple pockets and compartments, typically broken down into a few individual bags all linked together through chains, straps, and clasps. Even better, they can often be worn together or separately, depending on what kind of style you're going for. In other words, this makes the Re-Edition extremely functional. Consider it a stylish bag with three styles for the price of one.
Quality + Construction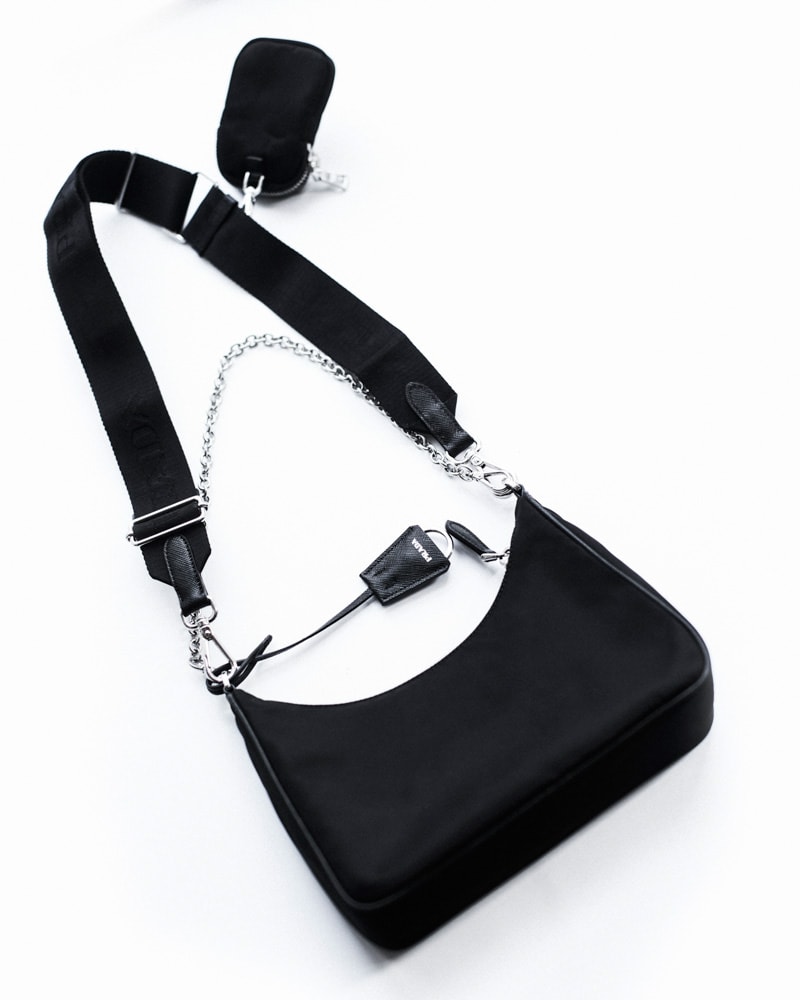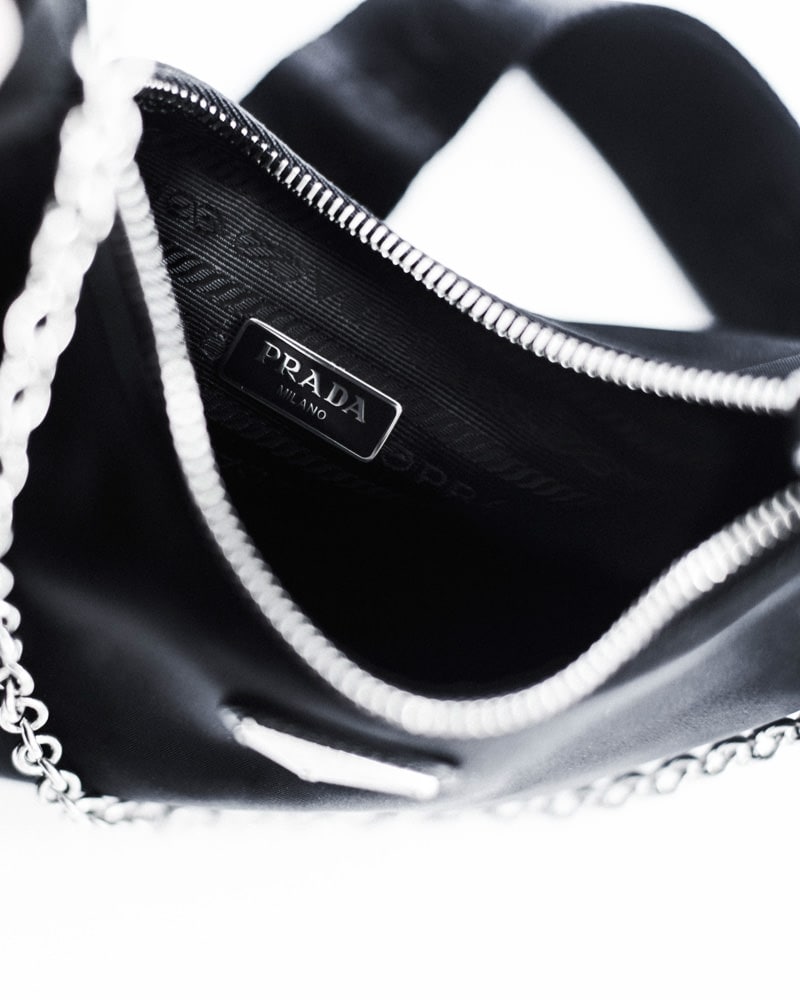 As mentioned before, nylon is one of the highest quality materials to work with, if done correctly. To put this simply, Prada's nylon, especially on this particular style, is among the best of the best.
Though the bag is light, the craftsmanship behind each stitch is superior. The interior lining is thick, with Prada's classic Saffiano leather bordering each side throughout. Even the straps, both the chain and the fabric shoulder, are strong. Yes, this bag truly is 'small but mighty.'
Price + Value
Another important factor of the Re-Edition 2005? Given that it's nylon, this bag is a lot more affordable than other Multi Pochette bags. For approximately $1,200 and the fact that there's three ways to wear it, the Re-Edition offers excellent value.
To me, the worst thing about buying a bag is watching it sit on a shelf for who knows how long because of color transfer or the risk of a rainstorm. (As someone who lives in Miami, I regretfully report that this has happened to me one too many times.) No need to worry when you're grabbing the Re-Edition for a night out. (Even Megs has discussed her love for nylon!)
Staying Power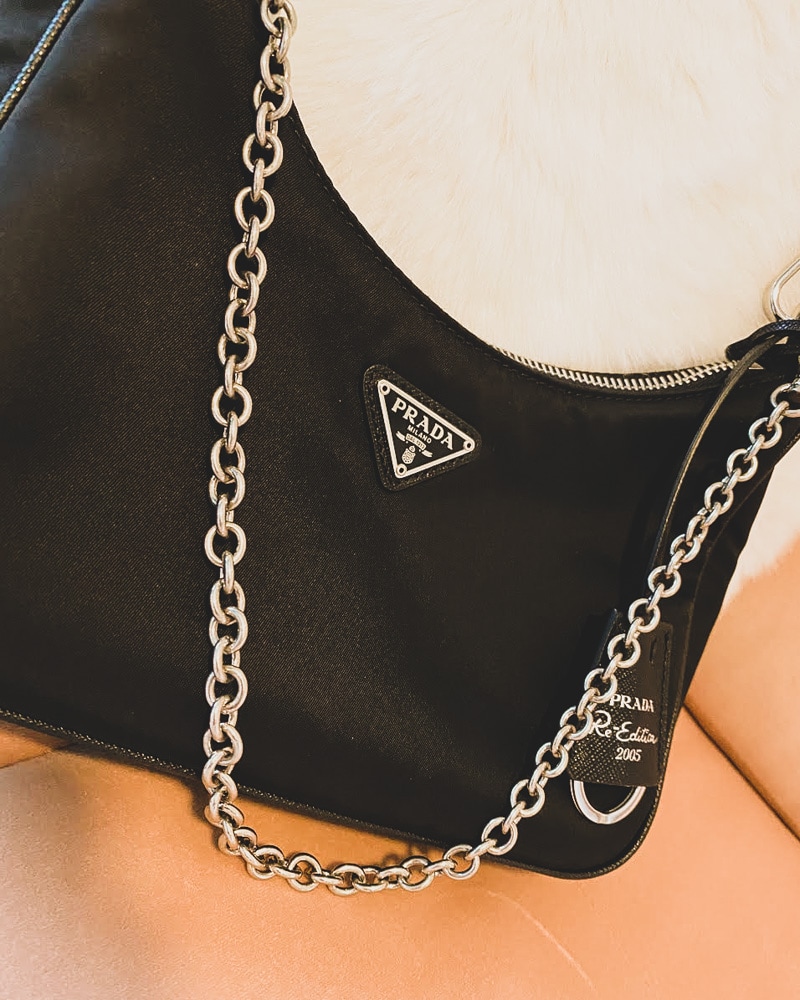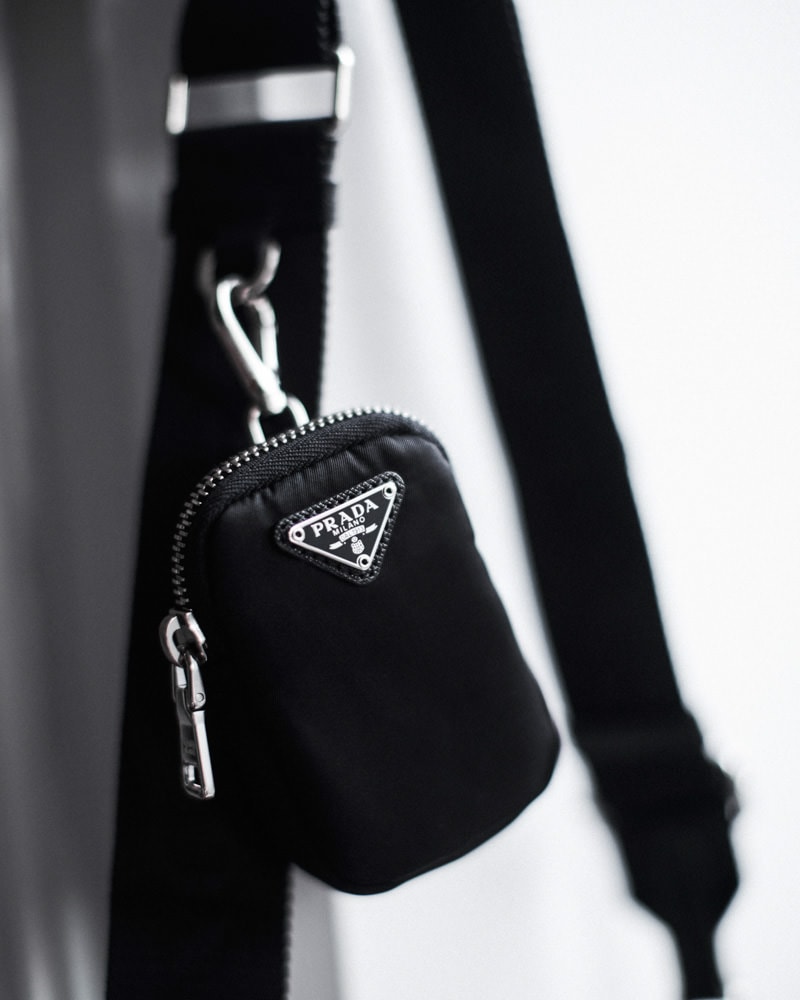 It's important to note that the Multi Pochette is anything but new. In fact, Prada's particular version is a relaunch of a vintage style, which first debuted in the early 2000s. Based on the 2005 Bandoliera Tessuto, the style originally gained traction due to its baguette-like shape and nylon material, which at the time was all the rage – and still is!
Today, Prada and Louis Vuitton aren't the only designers with their own Multi Pochette interpretation. Though maybe not as popular as Louis Vuitton's version (which sold out in a mere weeks, and consequently has thousand-plus-name waiting lists around the world), Chanel recently launched a Multi Pochette bag of their own. The price may be to blame, considering Chanel's average is around $3,500 to $4,000 (before tax).
Either way, Multi Pochette bags are evidently having a moment – and with many still desperate to get their hands on one of their own, I say this style is here to stay, at least for a while.
Overall Rating
If you're wondering whether or not this nylon bag has the potential to be stylish enough for a fancy dinner or a professional event, allow the photos in this piece to convince you.
Between the affordable price, multiple ways to wear, and overall style, I say it has the potential to become a mainstay in just about any collection. Either way, I think it's a must to have at least one nylon bag in your rotation – so why not make yours the Re-Edition 2005?