Happy Friday, everyone! As hard as it is to believe, we are halfway through March. The PurseForum was abundant this week, so we have no time to waste–let's dive right in to Dior, Hermès, Bottega Veneta and beyond.
While not exactly a spring bag, this Diorever is just plain splendid, and if you think it looks great here, wait until you see the rest of hoching_yiu's modeling reveal and modeling shots! We absolutely love when the gentlemen join in the conversation on the PurseForum, and when paired with a terrific reveal of a new style, that's just icing on the cake. We have more in our special "Dudes and Diors" thread, too.
For those of us who love a pop of color, this bag should do the trick nicely, right? This blue version of the Diorever belongs to Maggie Ma, who has a great eye for bags and a gift for photography, too! We love this bag, and this color is spectacular!
Also in Dior, meowmeow94 picked up a pretty Diorama earlier this month. This cousin to the Diorever is a sharp, stylish bag that looks wonderful in classic black. Last but certalinly not least, hop over to this thread to take in the splendor of ilovecocohanel's new Diorever in silver–a rare bag that took some smooth moves to acquire. Keep an eye on this thread for the reveal when the bag finally arrives!
Uh oh…. This week in Hermès, hearts were breaking when we caught sight of bibiv1's beautiful barenia Birkin and the evidence of a mishap at a hair salon. Bibiv1 is on the case, and we are all waiting for word on whether this can be repaired. Handbag aficionados know that some leathers can take a beating and others are more vulnerable. We have seen time and time again that the PurseForum is a true treasure trove of information when it comes to leather care, and our hope is that this story will have a happy ending!
On to happier Hermès topics: Hclubfan wondered whether to keep this gorgeous Kelly in blue hydra, particularly since this is a significant purchase. Our members were supportive, of course; this bag now has a wonderful new home, and we were treated to some nice still life shots.
We had another very nice reveal at press time: chubbyshopper got a call from her sales associate, and then this happened. Nothing like an Hermès happy ending, especially if you are a fan of blue!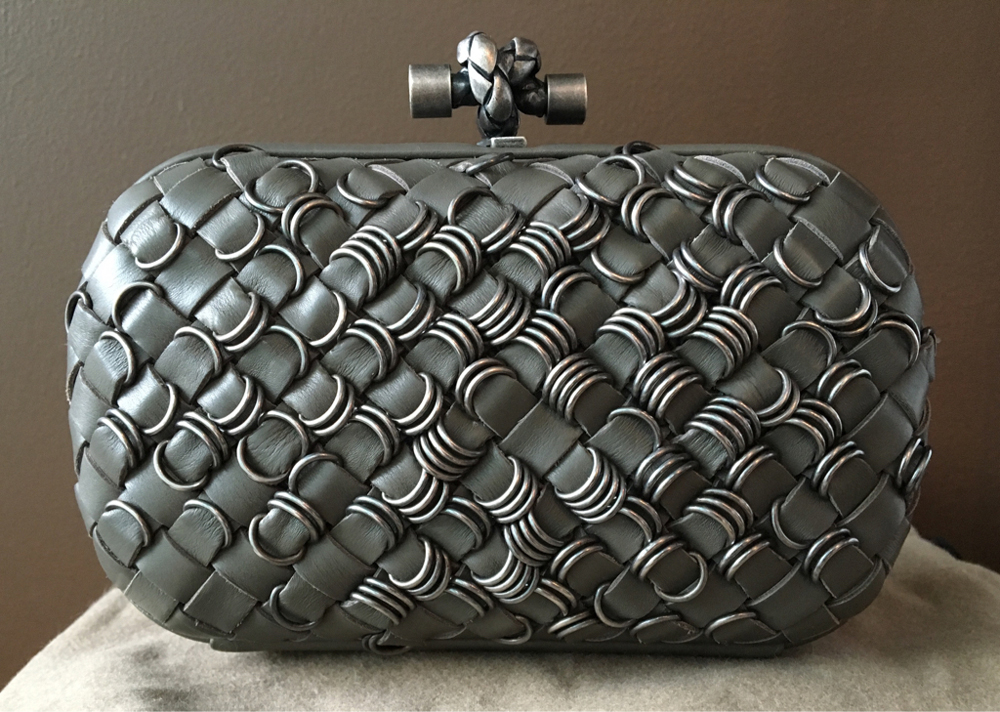 We found a jaw-dropping reveal in Bottega Veneta this week: an extremely rare Knot that BV_LC_poodle was incredibly fortunate to find and snap up. That occasion coincided with a special birthday met with grace and gratitude, and we want to with this lovely longtime member many happy returns of the day! Thank you for sharing your very special bag with us, BV_LC! Elsewhere, Balen.girl rounded out her BV collection with a gorgeous Parachute in Monalisa, one of the brand's best purples in several seasons.
North-south bags are not for everyone, and like many folks, we tend to shy away from the up-down styling of this type of tote. However, this week in Coach, Cryssy11 shared her new 1941 Skinny Tote, along with modeling shots that really got us thinking.
Coach's mini-reveal thread moves quickly, as members drop in to share their latest acquistions, like this happy bag from aundria17. This piece was a find at the PCE, Preferred Customer Event, and it should come as no surprise that many of our members are invited to participate in this special shopping opportunity! You can share in the fun in this thread, where our seasoned shoppers report back on their luck during the sale.
Many of us celebrated St. Patrick's day this week, and while green handbags are not always easy to come by, we did find this one in Proenza Schouler. This PS1 was a great score on the part of Kittykat626, who was fortunate to find this beauty close to home in a family member's closet.
TeeLVee got a new Proenza bag this month, too, and as you can see, she is already off enjoying her new black mini! Have fun TLV! JP23 just got her first Proenza Schouler (a PS11 that she just loves), and you can see it right here. If you are thinking about this brand, our member keep up with sales and finds in this thread, where you just might find a bargain of your own.
That wraps up another roundup of the comings and goings on the PurseForum. We will be back next week for more and hope you will join us. In the meantime, remember to take time to enjoy the moment, friends. This lovely moment is brought to us by clu13 and the Talking About Wine thread in The Kitchen. Look for us back again next week, and we hope you will undertake your own explorations of the PurseForum until we meet again!
P.S. Please consider supporting our small, bag-loving team by clicking our links before shopping or checking out at your favorite online retailers like Amazon, Neiman Marcus, Nordstrom, or any of the listed partners on our shop page. We truly appreciate your support!