One of my favorite bags of all time, styled for different women.
In collaboration with Prada.
As much as I love seasonal bags that are fresh and new, I am also a girl who loves the classics. I have a collection that is mixed with brand staples as well as those that you don't see as often. If you ask me, every person's bag collection needs to be well-rounded: start off with a classic everyday bag, add another easy-to-carry bag, and then you can begin to think about a more standout piece.
One of my favorite classic bags of all time is the Prada Galleria Bag; I've loved it for as long as I can remember. The shape is iconic, the leather is incredibly sturdy, and the usability and functionality is top-notch. Prada knows this bag is an easy staple piece, but also wanted to allow personalization, so there are ample options with shoulder straps and tricks. There are also multiple sizes, an array of colors, and plenty of accessories to make this bag your own. That's what I love most about it: there is the perfect Prada Galleria Bag for everyone, no matter your personal taste or stage in life.
We styled five different Prada Galleria bags and customized them to show just how easy it is to make a Galleria your own. Don't say I didn't warn you, but after you see these bags, you might want to get one of your own. If enough of us do, we can maybe start our own Galleria Crew.
1 / 5
The Mom
If you're the woman who can confidently say you wear many hats, you're constantly on the move, love fashion, and need a bag that holds your essentials while doubling as Mary Poppins bag of tricks for her kids, the Galleria is perfect for you!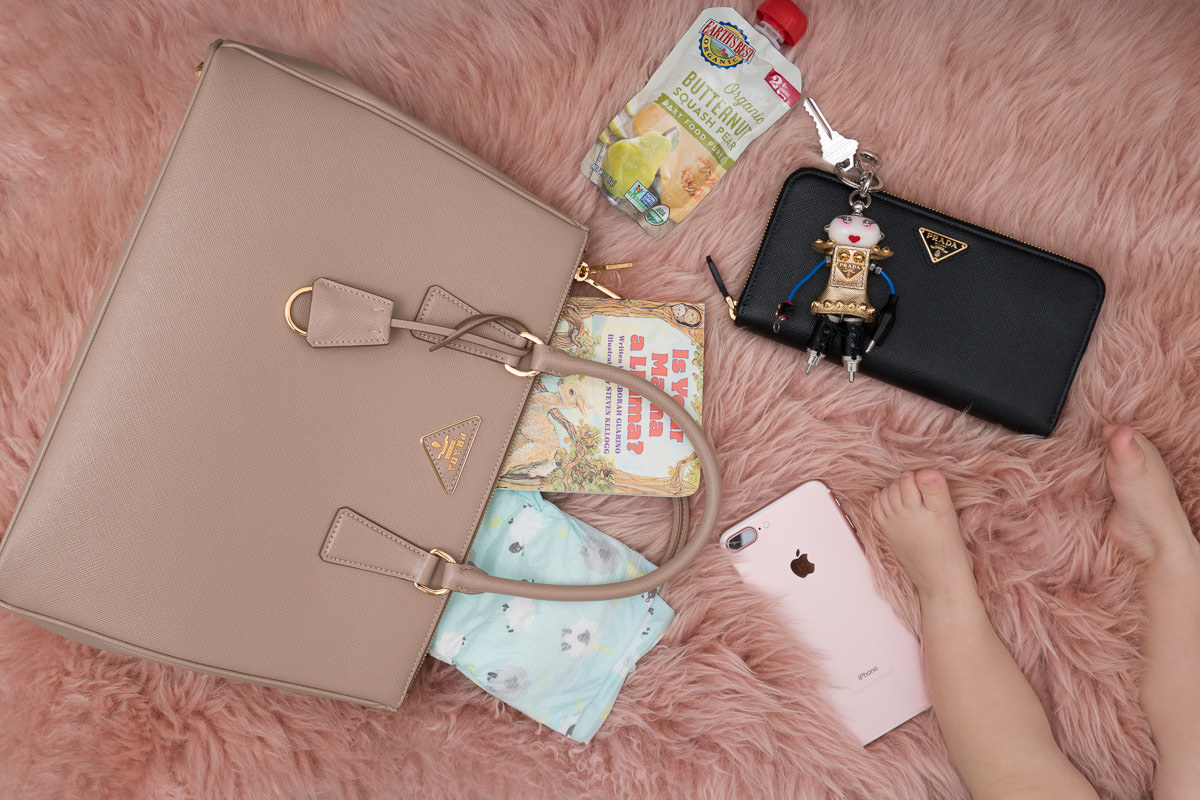 This is my newest title, that of mom. While my handbag still needs to carry my everyday items like my wallet and phone, my bag has transformed into a carryall for Millie, too. I have become obsessed with compartment separation, and the Galleria offers three separate compartments—two of which are zipped—along with snap-fastening sides, which allow you to cinch or open the shape at the gussets. I love the structure of the bag, which allows me to reach in to grab things easily, as well as the ability to carry this bag hands-free with the optional shoulder strap and the incredibly durable Saffiano leather, which holds up against wear.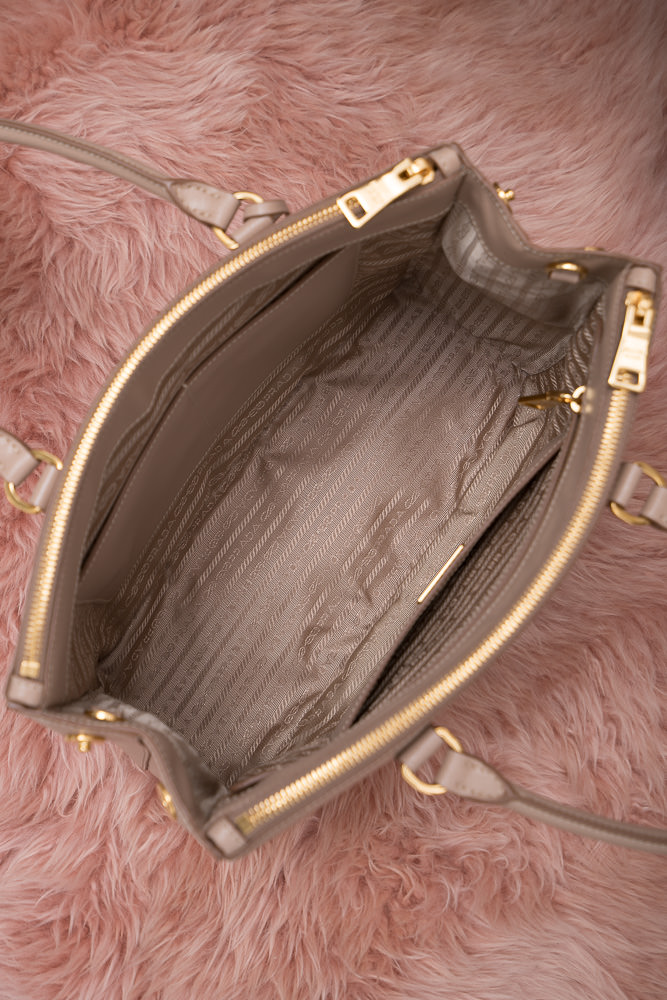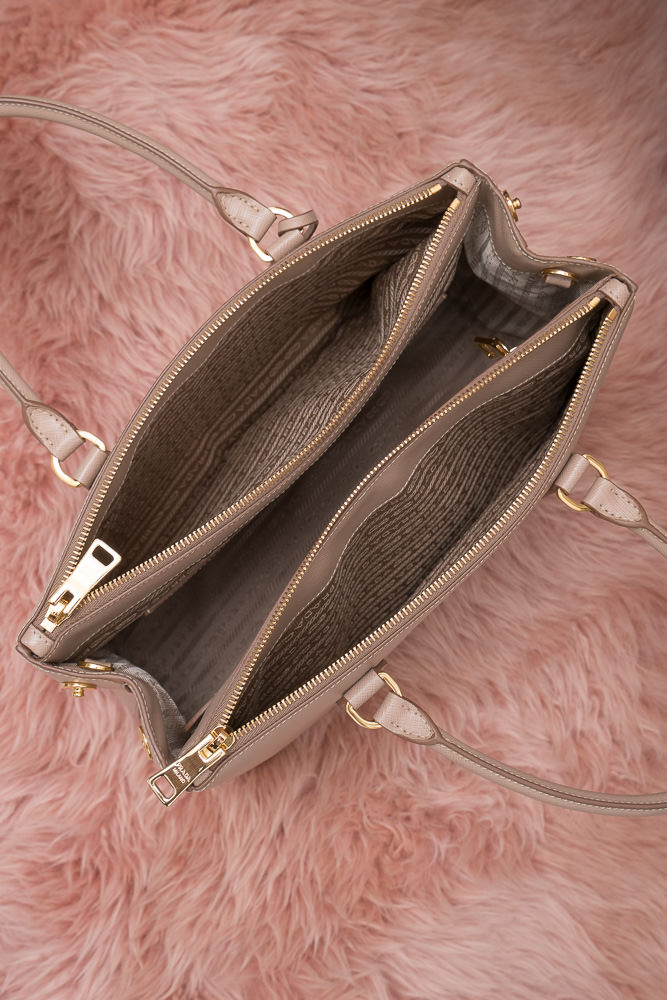 Bag: Prada Galleria in Cameo | $2,390
Trick: Prada Robot Trick Platinum | $330
Wallet: Prada Saffiano Zip Wallet | $700
2 / 5
The Working Woman
You need a bag that holds all of your work gear, looks professional, but doesn't just have to be for work.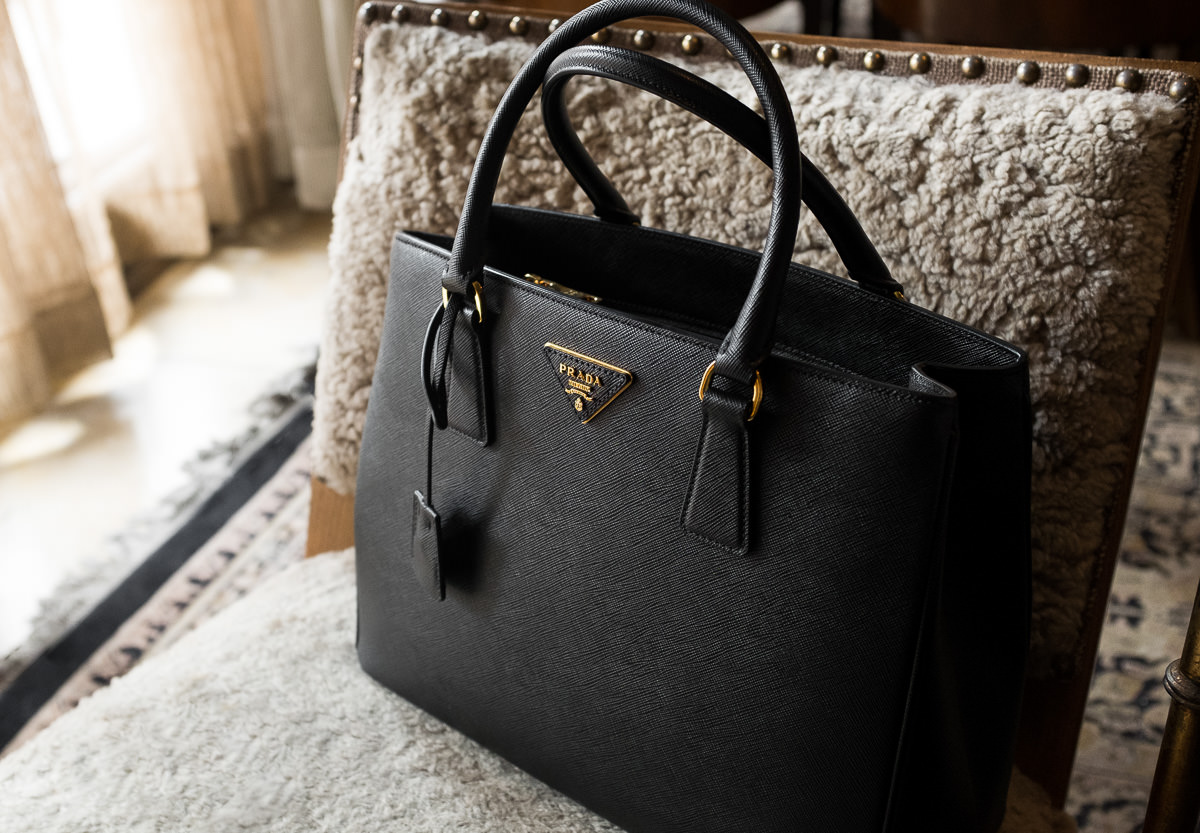 A classic black Prada Galleria Bag is a handbag wardrobe staple: easy to use daily and can work on the weekends too, but when you need to throw your iPad and files inside and head to work, it does that beautifully as well. The Galleria is the perfect work bag in the larger size, as it's spacious enough to hold a small laptop or tablet and carry a document holder, all the while looking good. This version is a little different, as the interior has a center zip compartment which divides the bag into two larger areas. This works really well as a work bag by giving you two large compartments that hold your work essentials, and the center zip compartment holds smaller essentials. And if you are looking for one of the coziest winter coats ever, Prada has you covered. We were sad to part with it when our shoot was done!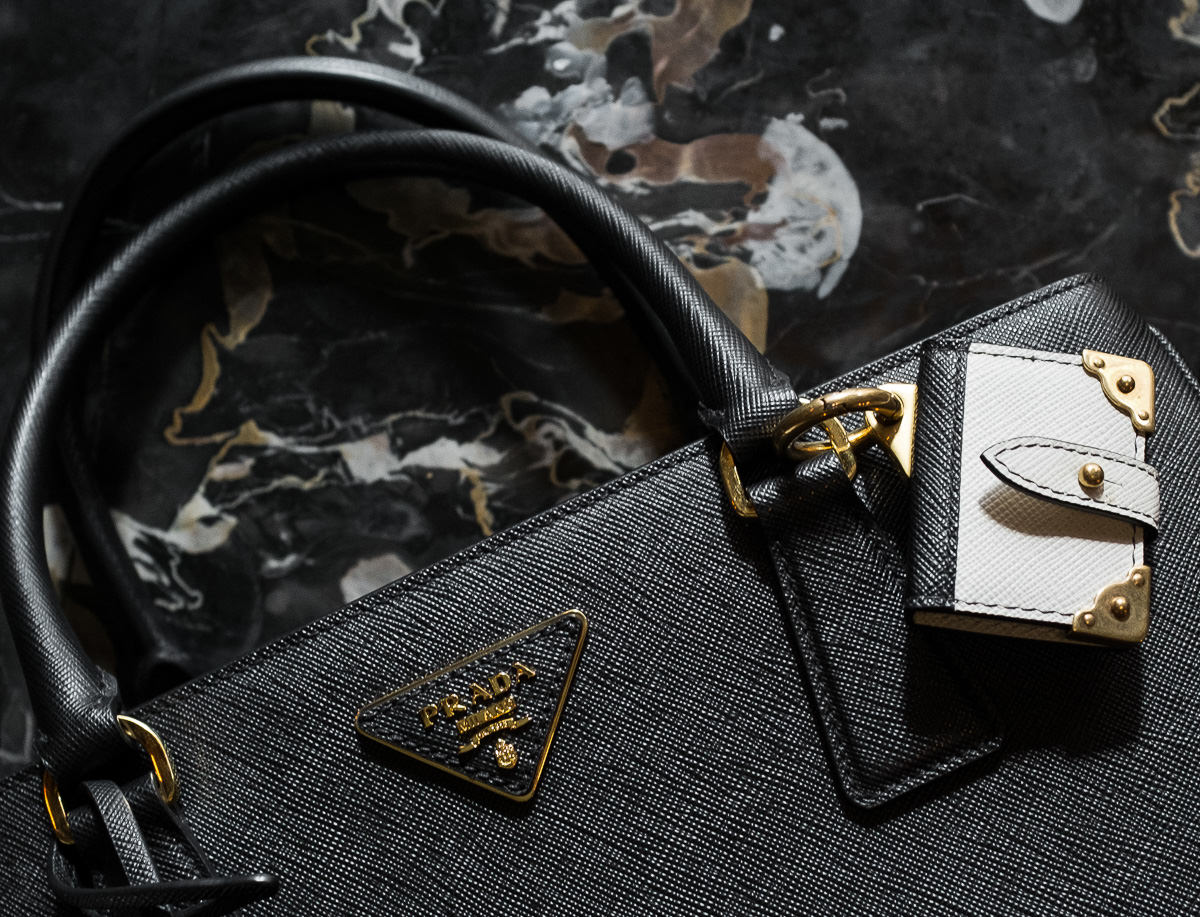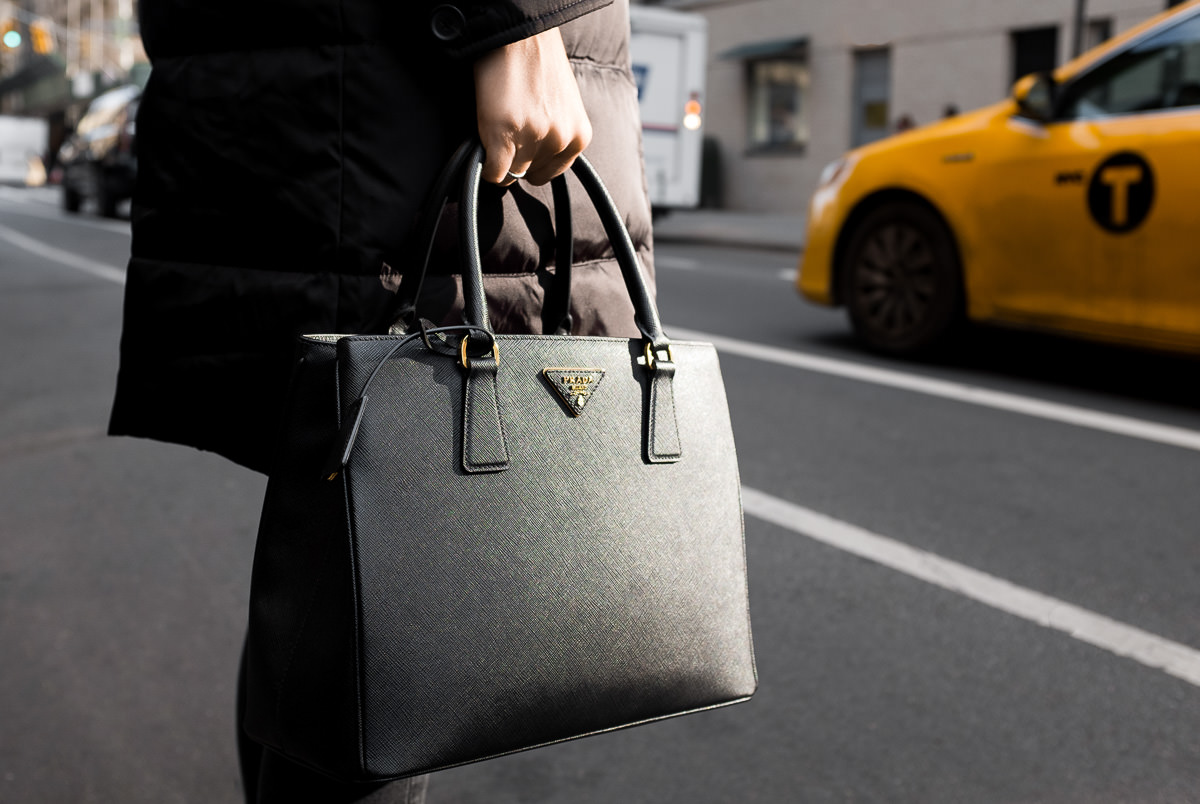 Bag: Prada Galleria Nero | $2,100
Trick: Prada Key Book Trick | $235
Coat: Prada Nylon Puffer Jacket | $3,370
3 / 5
The Globetrotter
You need a bag that is easy to throw over your shoulder and travel the world with you. This bag needs to be practical and stylish, allowing for easy carrying for long days exploring new places.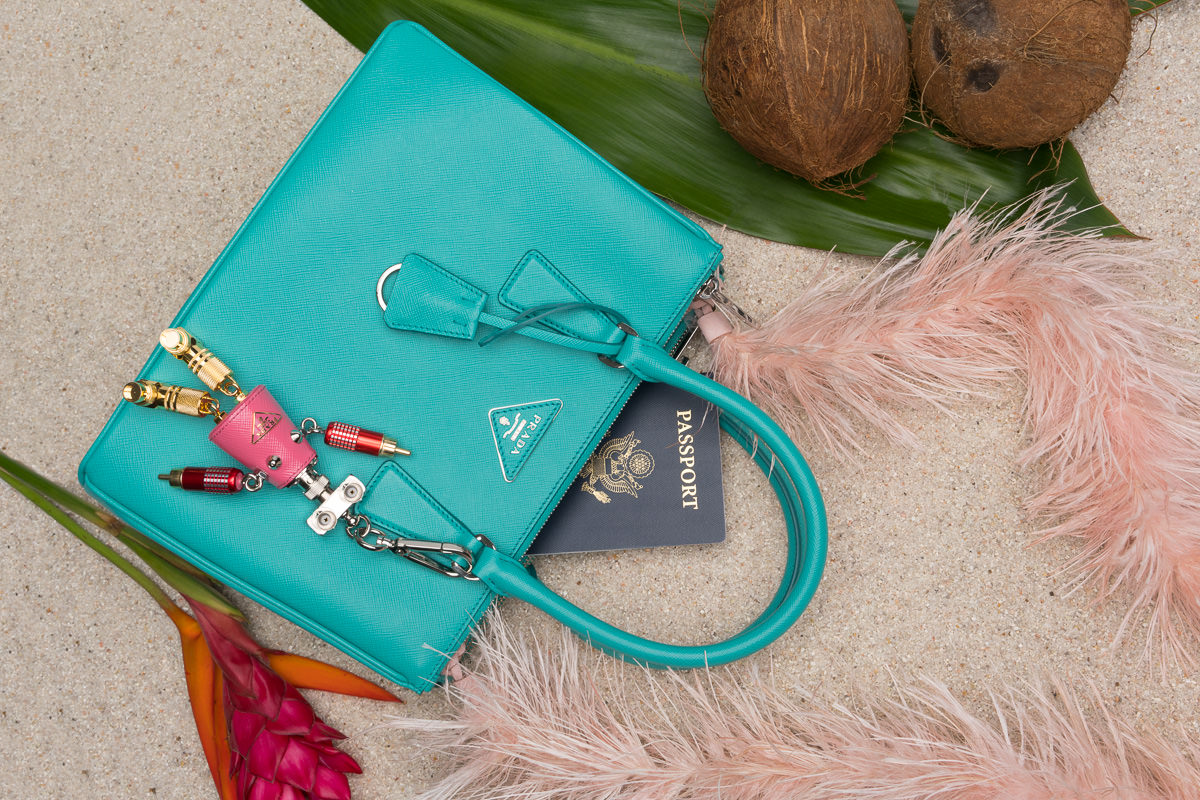 When I travel, I want a bag that I can grab and go - and the Prada Galleria offers just that. The smaller size means this bag won't weigh you down but still offers the usability of the Galleria. I use the separate compartments to put my important travel documents in one, my phone and money in the other, and the center open area always has snacks, papers, and water. This bag can easily be turned into a more classic look, or you can be playful with color choice and a funky strap, which can match with your tropical getaway scenery and beyond.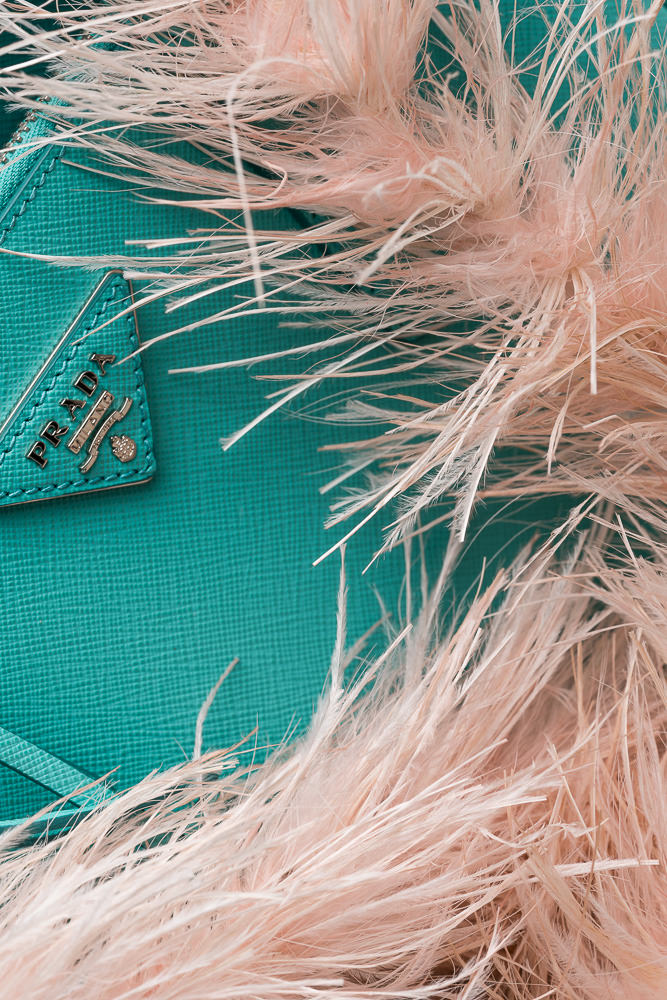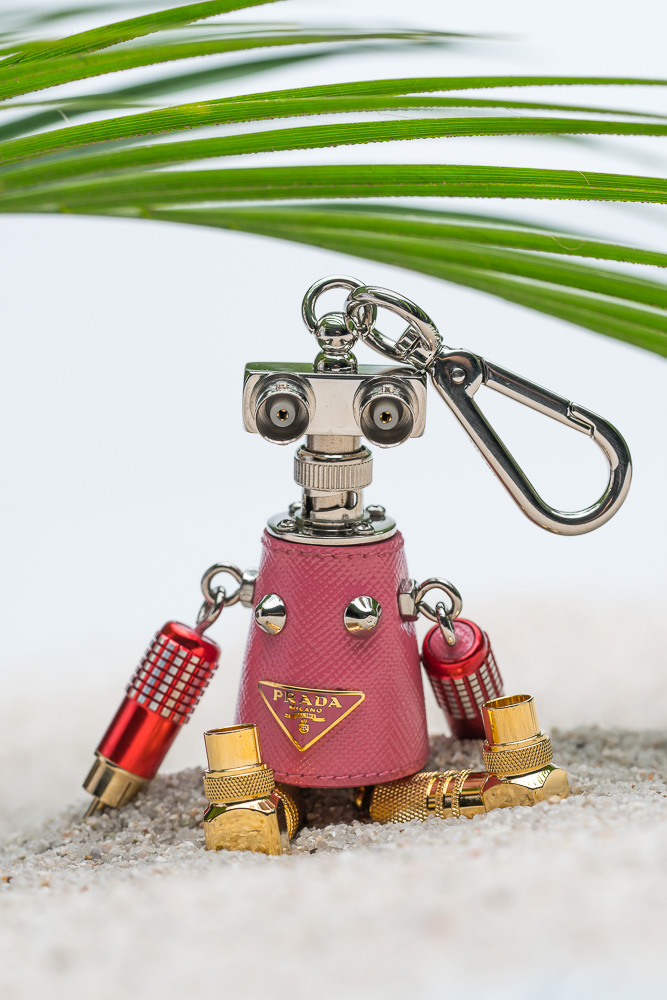 Bag: Prada Galleria in Jade Green | $2,260
Strap: Prada Feather Shoulder Strap Petal Pink | $680
Trick: Prada Trick Giulietta | $460
4 / 5
The Weekend Warrior
Weekend brunch with your friends is a high point of any week, and after you plan to spend the day walking, shopping, and exploring, you want a bag that can be the star of your brunch Instagrams.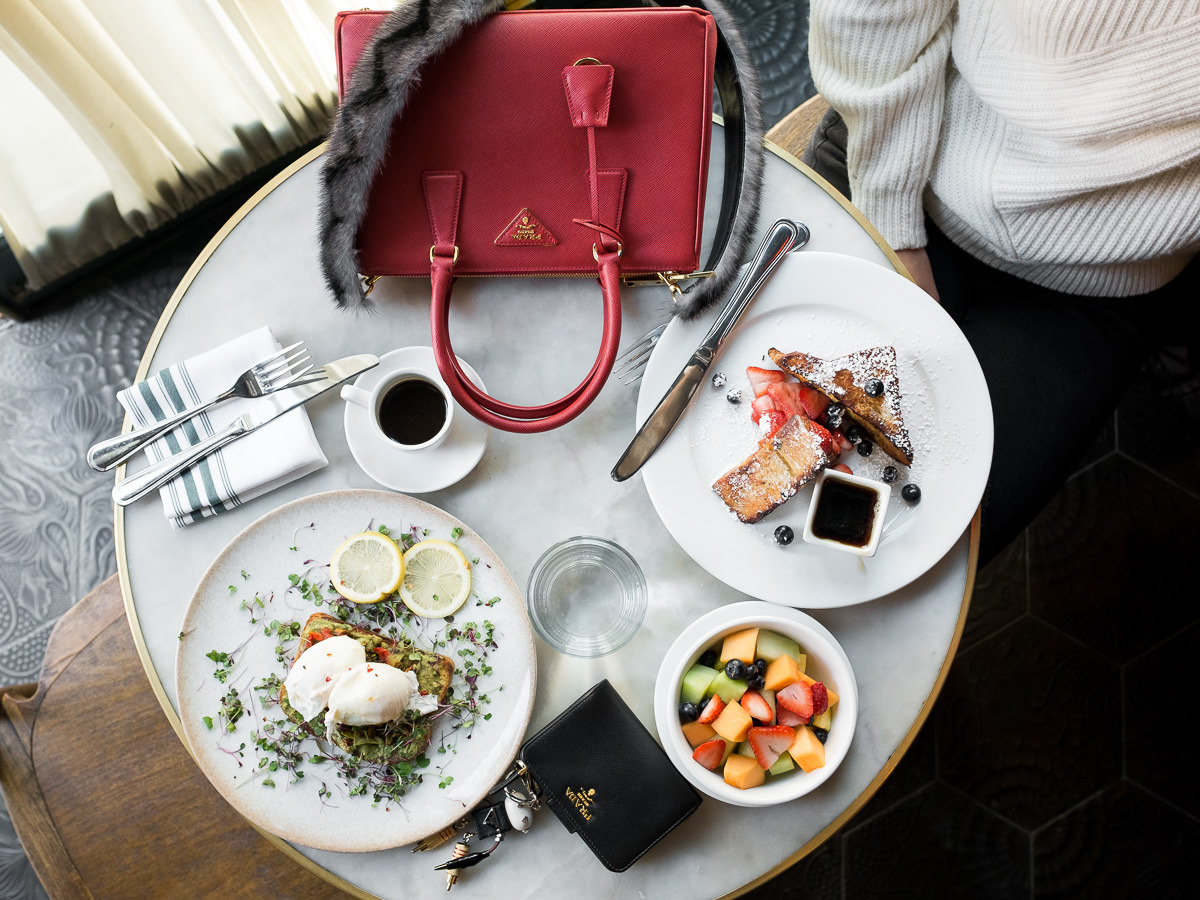 One of the things I miss most about NYC are my weekend excursions. Vlad and I would go to brunch together or with friends, and then explore the city. We never knew where we'd end up, something new was always happening on every corner, and we'd wander the city. That meant long days out and about, so I wanted a bag I could easily use for a long period of time. The Prada Galleria is perfect for this—the leather is quite lightweight and there is an optional, adjustable shoulder strap, which can be removed to swap out with one of your favorites.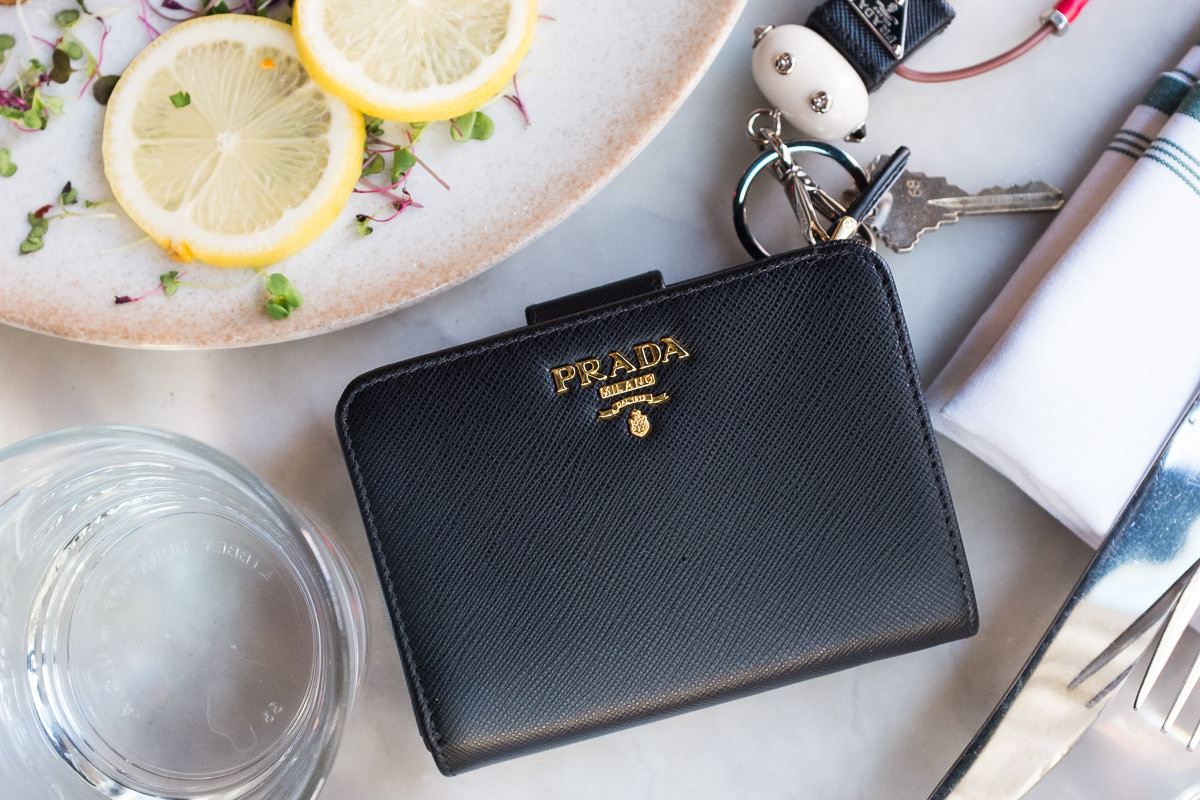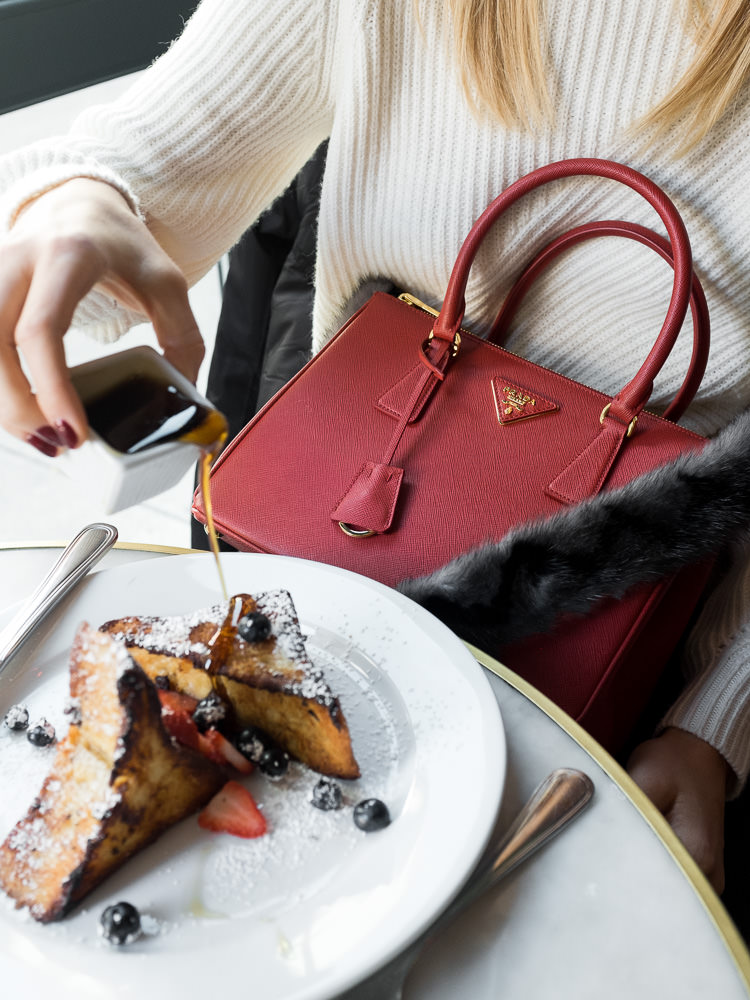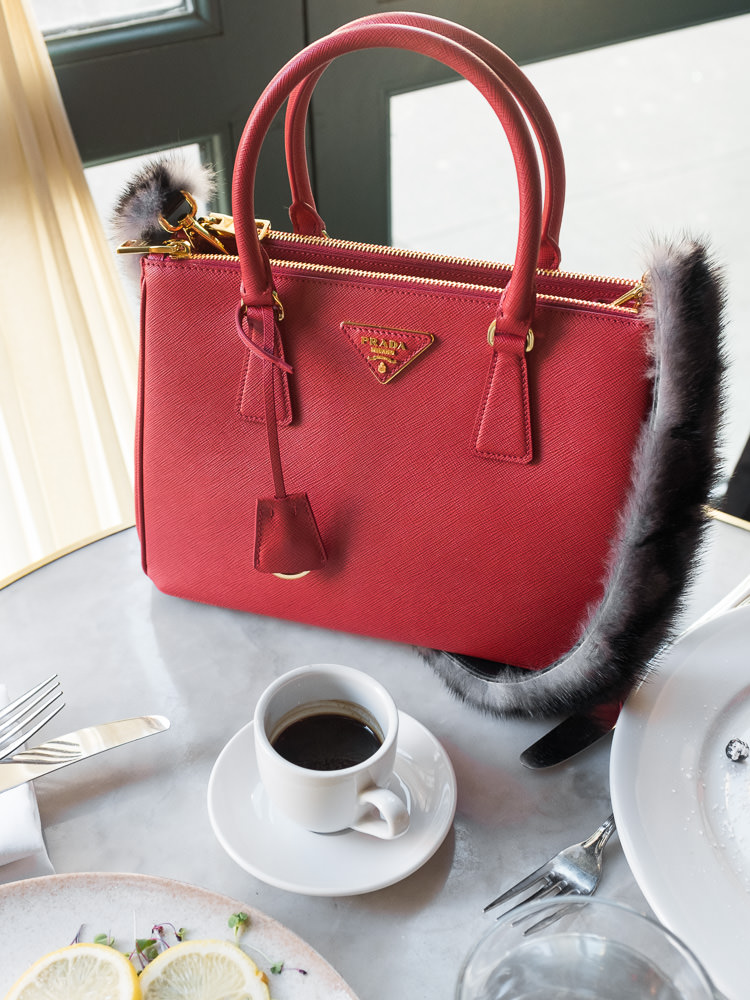 Bag: Prada Galleria in Fire Engine Red | $2,260
Strap: Prada Mink Shoulder Strap | $920
Trick: Prada Robot Trick in Black | $310
Wallet: Prada Wallet in Black | $550
5 / 5
The Trendsetter
Whether or not a bag will elicit compliments always comes into play when picking out something new. You want a bag that looks pretty in pictures, and you know all the hottest spots to hang out with your stylish friends (and bags).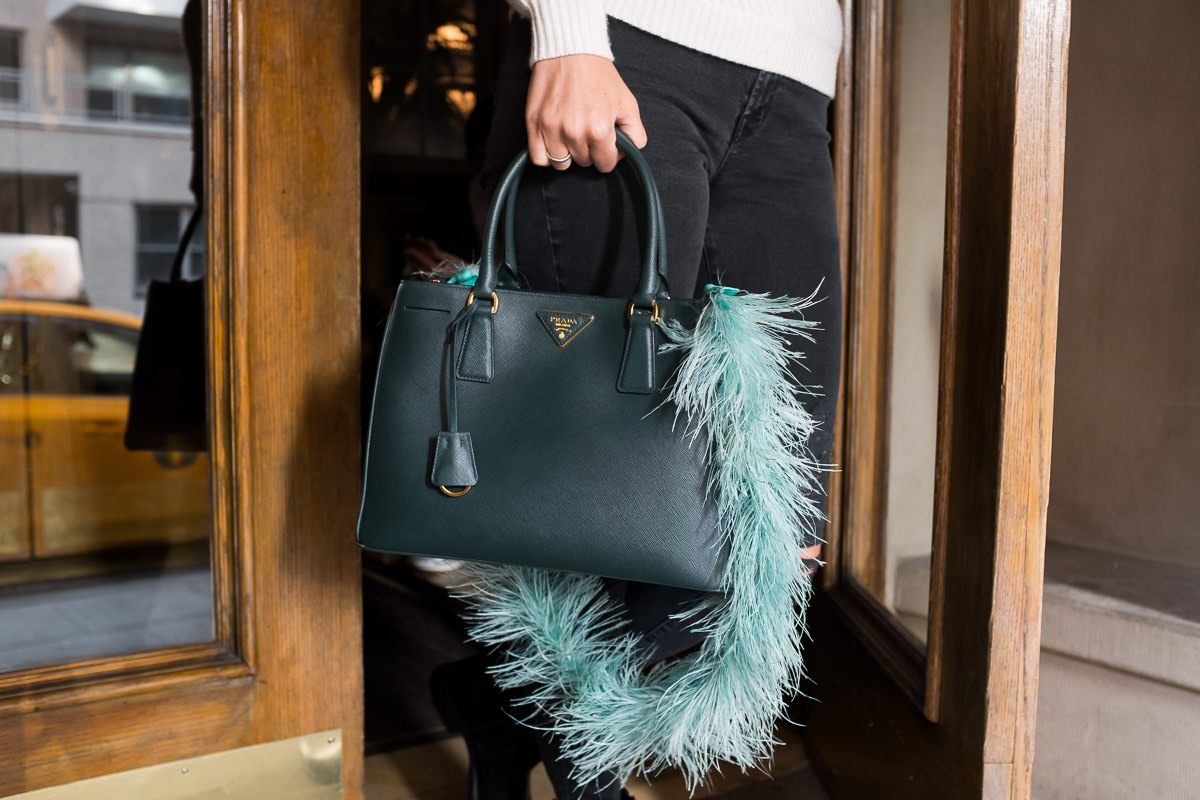 One of the main reasons I love the Prada Galleria bag is because of how many options there are: countless! Different sizes, different colors, different leathers—all of which means there truly is something for everyone. The plethora of straps and tricks means you can ensure that your bag speaks to you and your personal style; the Galleria is a classic that never feels stale, which is a trick so many brands wish they could pull this well. This green color is subdued, but amplify your style with a funky strap and your bag is ready for street style photos and lots of likes—both in person and online!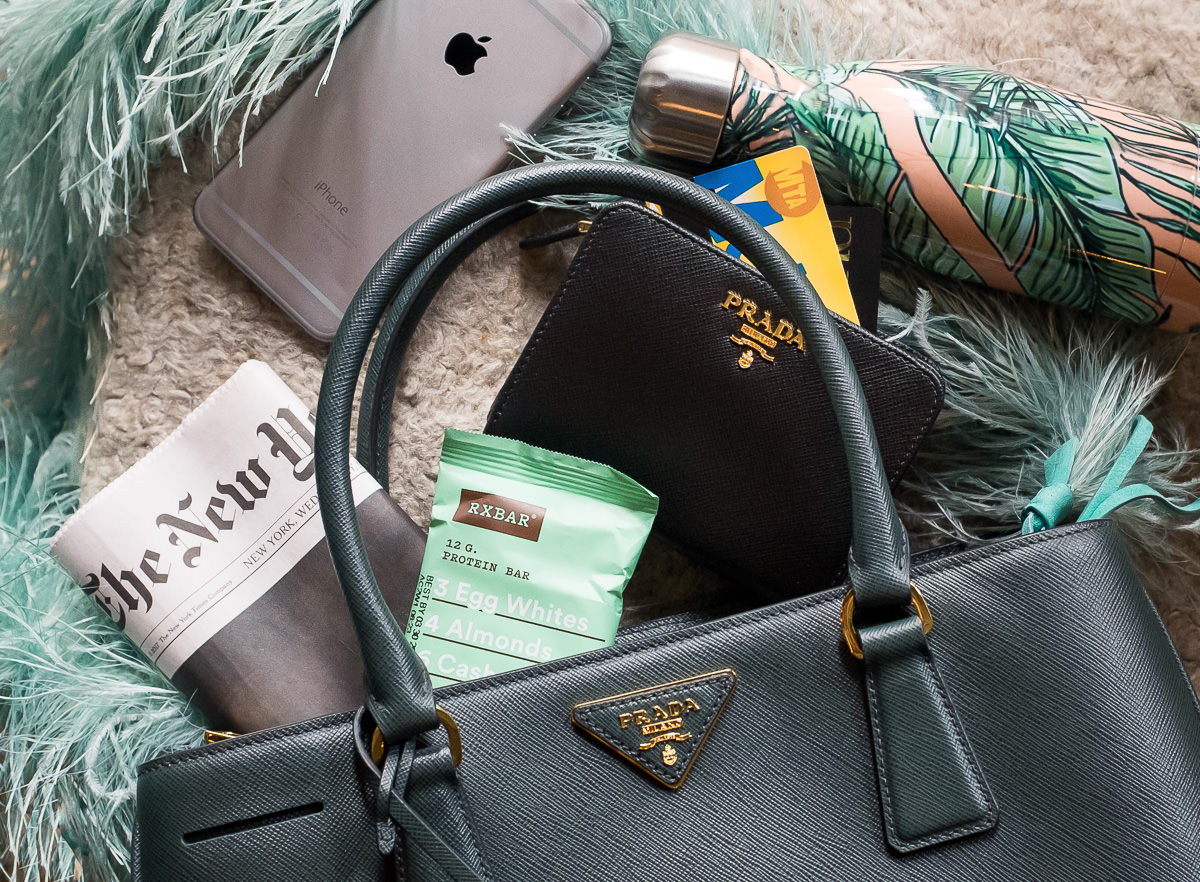 Bag: Prada Galleria in Emerald Green | $2,260
Strap: Prada Feather Shoulder Strap in Mint Green | $680
Photos by Emma Kepley and Vlad Dusil for PurseBlog.