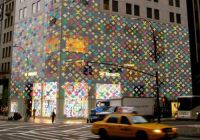 In case you had forgotten that the end of summer is generally a bit of a slow news period in fashion, we're here to remind you! The New York Daily News (with some help from Fashionista.com) counted down the most powerful global luxury brands of 2010 this spring, and although we didn't have a chance to post about it back then, we do now. Consulting firm Millward Brown Optimor comes out with this list every year, and the brands staking claim to the top spots in the middle of a bad economy for luxury likely won't surprise handbag aficionados.
Even though the industry as a whole is down about 3%, number one-ranked Louis Vuitton has still managed to grow its worth by 2% to nearly $20 billion, which appears to refer to just the brand and not the entirety of the LVMH conglomerate. Hermes, meanwhile, comes in at number two and has grown by 8% to almost $8.5 billion. Rounding out the top three, Gucci is up 2% with a little over $7.5 billion. What do all three brands have in common? None of them are bolstered by the high-margin cosmetics market (although Hermes and Gucci both have fragrance lines) and all three are most famous for their handbags and leather goods.
Two other brands with large presences in the handbag market also make the list: Chanel and Fendi, at number four and number nine, respectively. Both have lost value as companies in the past year (Is Karl Lagerfeld losing his touch? That's another post entirely), but they're still doing better than almost all of their competition. The article in the Daily News doesn't make mention of the brands' power in the handbag market, but the common thread seems hard to ignore.
Handbags have higher margins and are more widely marketable than a dress or even a shoe because they're perceived (and rightfully so) as having a larger number of practical uses and a more durable, long-lasting nature. But it's worth remembering: the money you spend on bags is making the people who design them extremely wealthy and powerful. At the very least, you should be getting a well-made bag and a great shopping experience in return. If you're not, vote with your dollars. Who would be on your personal power list?