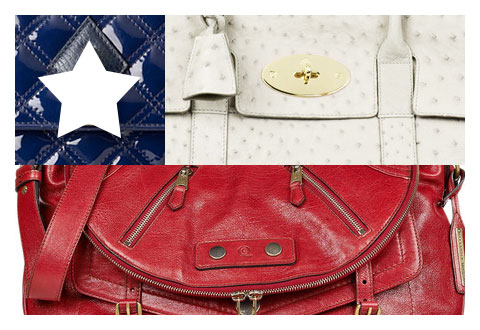 Just after midnight on October 13th, the first Chilean miner, Florencio Avalos, stepped out of the rescue capsule and onto land after 68 days of being trapped 2000 feet underground. For the next 23 hours the world watched the 33 miners be rescued one-by-one, in a seemingly impossible scenario that captivated the world bringing all together in hope, joy, and inspiration.
As much as we love designer handbags, there are some events that happen in this world that put everything in perspective. And the 33 Chilean Miners being rescued, along with their positive outlooks and unwavering determination, has been invigorating and uplifting for the entire world. So right now, we want to take a moment to chant: CHI CHI CHI! LE LE LE!
We picked three bags to re-create the Chile Flag. For the white we choose the Mulberry Ostrich Bayswater Ostrich [$5,000 via NAP], for the red we choose the Alexander McQueen Faithful Satchel [$1,450 via NAP], and for the blue we used the Marc Jacobs Quilted Single [$695 via Nordstrom].