Nancy Gonzalez's bags are so successful. First, the brand keeps costs down by sourcing most materials from its own farms, which means that Gonzalez's crocodile and python bags are among the most well-priced exotics in the mass-market luxury business. Second, Gonzalez & Co. let the rare materials take center stage, as you can see so well in the Nancy Gonzalez Python Satchel.
When you get down to the details, it's no surprise that
Multicolored python can become cheap-looking very quickly if the designer doesn't take care to maintain the integrity of the skin's natural pattern, but the blue and cream combination that we see here only enhances the python's inherent beauty.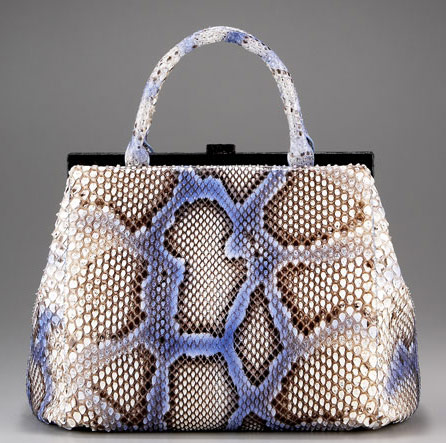 The color scheme makes this bag look a little bit like a map of the world (well, at least a map of some islands) when I glance at it very quickly, but I'm not entirely opposed to that effect. In fact, I'm not opposed to it in the least – the colors work together to create a sunny, summery bag with an elegant finish. If only every designer worked with exotics so well. Buy through Neiman Marcus for $2600.