Nancy Gonzalez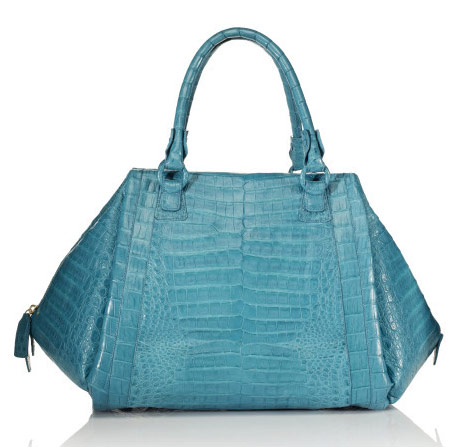 Images via Moda Operandi
This time of year was made for Moda Operandi. In case you're unfamiliar with the site about which we've posted several times recently, it's an online trunk sale operation that posts pre-orders for stuff that's just graced the runway. Because Spring 2012 shows just ended, Moda Operandi posts another amazing sale almost every day, and it's hard not to shirk my other duties and write only about them.
The thing about MO, though, is that the site is notoriously stingy with granting membership, and if you don't have an account, you can't look or buy. That's where I come in – even if you can't pre-order now, you can still check out what's going to show up in stores over the next few months in the photos that I've assembled after the jump. Today's loot? Nancy Gonzalez Spring 2012. (more…)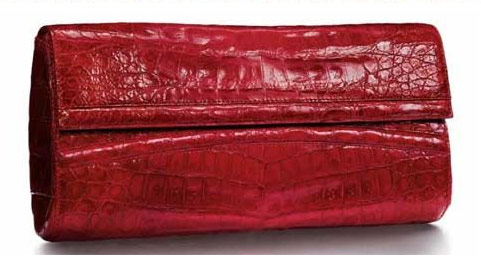 What if I told you that on Saturday, all you have to do is show up at a Neiman Marcus store with your smartphone for a chance to walk out with a free crocodile clutch from the crocmaster herself, Nancy Gonzalez? Believe it or not, that's what's going to be happening at an NM near you this weekend, according to Mashable.
If you don't have a FourSquare account, you might want to get one, because that's how you'll enter the Neiman Marcus Nancy Gonzalez Scavenger Hunt at one of 15 Neiman Marcus locations this weekend. We've got the details, plus some info about the other 41 Nancy Gonzalez clutches that Neiman Marcus will be giving away during the event, after the jump! (more…)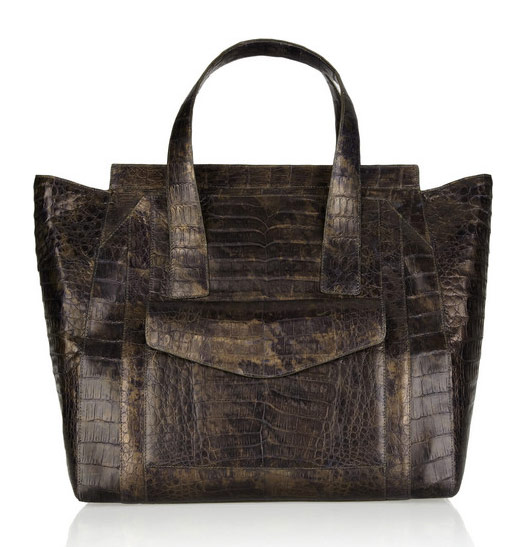 Nancy Gonzalez Metallic Crocodile Tote, $4000 via Net-a-Porter
As you guys are often quick to note, I'm usually the last person to say, "Hey, doesn't this bag look like the design was lifted entirely from that bag?" Let's face it, there are only so many shapes, sizes, leathers, handles and pocket configurations out there, and it's boring to make de facto rules about who can and cannot use quilted leather and chain straps.
That being said, I took one look at the Nancy Gonzalez Metallic Crocodile Tote, and all I could think was "Celine Luggage Tote." I even set aside the product page for a few days so that I could think about it, and the must-have Celine bag is still all I see when I look at this tote. Nancy Gonzalez normally does a great job of doing her own thing with little regard for passing trends or ideas, but this bag seems like a rather egregious example of the exact opposite. (more…)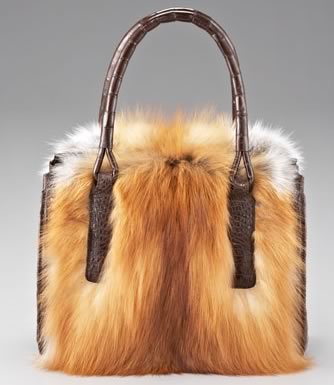 Nancy Gonzalez Croc & Fox Tote, $3950 via Neiman Marcus
Nancy Gonzalez usually wows the fashion crowd with her simple, wearable, exotic bags. But even the best fall down sometimes, and I'm afraid this is one of those times for the queen of exotics.
How is this bag on back order? BACK ORDER. That means people already paid $3,950 for this crocodile and fox fur tote and are anxiously awaiting its arrival. I'm trying not to knock it, but I simply cannot get on board with this design. Brown crocodile skin peeks out from behind the Pomeranian-esque fox fur. What better way to describe this bag then to turn to you and ask you to fill in the blank for us. Order via Neiman Marcus for $3,950.
Fill in the blank: The Nancy Gonzalez Croc & Fox Tote is ___________.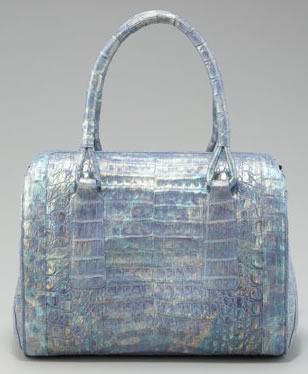 You know how much we love to play fill in the blank with you! I saw this Nancy Gonzalez bag and felt stumped. With a great shape and of course gorgeous exotic skin, it is hard for me to decide what I think about the translucent blue Caiman fuscus crocodile skin.
I immediately started thinking mermaid and have a hard time thinking anything else. I'm interested to hear what you fill in the blank with. Buy via Neiman Marcus for $3,350.
Fill in the Blank: The Translucent Nancy Gonzalez Crocodile Satchel is _______.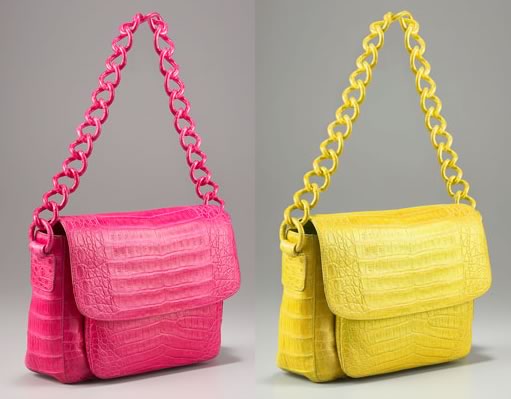 As I sit on my couch and look out the window, a bright blue sunny sky is all I see over NYC right now. Only problem is that it is still cold. I am sure for many of you these temperatures are not that bad, but I'm a Florida transplant and my fingers are almost too cold to type. You think I'm kidding? I'm not – take a peek at what I look like as I try to work today.
Anyhow, back to the bags. I may still be bundling up with a warm winter coat but I have spring on my mind. And for spring one of the major trends is having a bright bold ladylike bag adorning your arm. I would love to infuse color and an exotic skin into my collection with the Nancy Gonzalez Crocodile Chain-Strap Shoulder Bag. (more…)
The Rebecca Minkoff Morning After Bag. Do you see the resemblance also? The good news is that while there is a similar look, it is plenty different to not warrant too much of a copy-cat vibe.
Nancy Gonzalez is queen of exotic skin bags. We turn to her for every option under the sun when it comes to an exotic handbag. Gone are logos and over-designed elements, since Nancy Gonzalez implements a sleek and understated-designer vibe. Even with the similarities, I really like the Nancy Gonzalez Crocodile Bowling Bag. In fact, I probably like it because I like RM's Morning After Bag so much. (more…)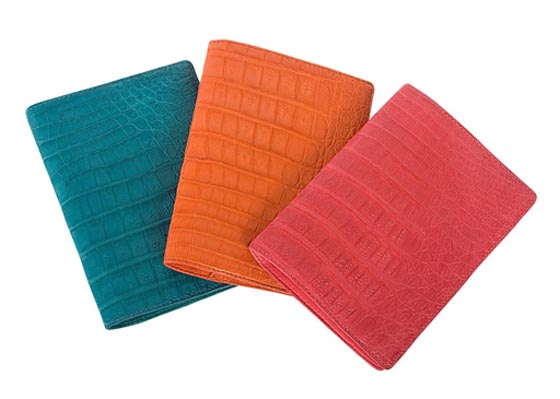 As if traveling wasn't fun enough to begin with, fashion has gone and found a way to make it even better: Nancy Gonzalez luggage.
Launching yesterday exclusively at Bergdorf Goodman in New York City, Gonzalez now makes a line of suitcases and small travel accessories in her company's signature crocodile skins. Manufactured to be excellent lightweight luggage in addition to being utterly luxurious, the collection includes items all the way from passport holders to iPad cases to rolling suitcases, priced between $400 and $8000. We have a preview of some of the collection's pieces, after the jump. (more…)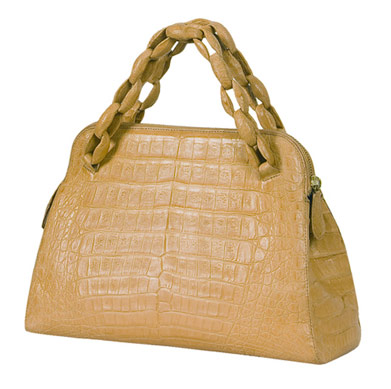 At this point, it might be entirely useless to try to review Nancy Gonzalez's Spring 2011 handbags, or any set of handbags from the Colombian accessories maven. She does one thing (exotics), and does it extremely well. You'll find no trend-chasing or gimmicks within this line, just piece after piece of luxurious exotic leather formed into handbags of every size, shape and color imaginable.
Spring 2011's pieces run the gamut from staid, perfect neutrals to bold brights to glam metallics and everything in between, including latice work and weaving on some of the collection's more casual pieces. All of this stuff is vintage Nancy Gonzalez, and although her collections may not change a great deal from season to season, there's something almost comforting about her consistency. And if you've never inspected one of Gonzalez's bags in person, I highly recommend it; they're among the best-planned designs on the market, which is just another reason to love what she does. (more…)