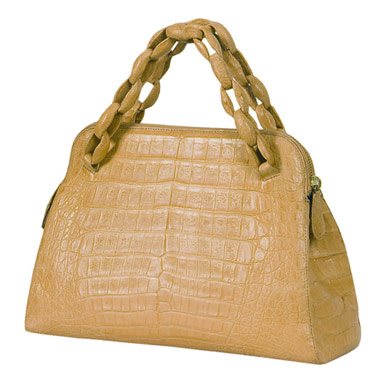 At this point, it might be entirely useless to try to review Nancy Gonzalez's Spring 2011 handbags, or any set of handbags from the Colombian accessories maven. She does one thing (exotics), and does it extremely well. You'll find no trend-chasing or gimmicks within this line, just piece after piece of luxurious exotic leather formed into handbags of every size, shape and color imaginable.
Spring 2011's pieces run the gamut from staid, perfect neutrals to bold brights to glam metallics and everything in between, including latice work and weaving on some of the collection's more casual pieces. All of this stuff is vintage Nancy Gonzalez, and although her collections may not change a great deal from season to season, there's something almost comforting about her consistency. And if you've never inspected one of Gonzalez's bags in person, I highly recommend it; they're among the best-planned designs on the market, which is just another reason to love what she does.
Photos via Style.com.