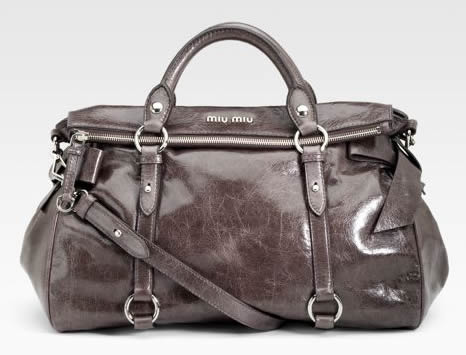 I spend so much of my time looking at, contemplating and judging handbags, that's it's rare that I give a bag a second look once I've decided that it's not for me. I know my own taste, I know how much I'm willing to pay and for what, and I know what I'll use enough to get my money's worth.
Miu Miu's Bow Bag is the exception. When I first saw it while surfing around the forum, I didn't really pay attention – I like Miu Miu's bags, but I'm not an enormous fan, and I've never owned one. At first, the Bow Bag seemed kind of plain, and I don't use satchels often. But then, forum member Vinyl asked me to update a thread she had made dedicated to the particular Miu Miu, and because I had to look at all of the pictures of Bow Bags that she had collected for the thread, I was forced to reconsider it.
And my, my. Was I surprised at what I saw! Suddenly, the chic simplicity of the bags has won me over, and I've been Internet stalking them ever since. They're relatively rare on the net, and seem to sell out before they ever come close to the sale section. The ones that Saks is currently carrying are in a shiny leather, but previous seasons have featured matte, smooth, soft-looking finishes, so there's a lot of different Bow Bags floating around out there for your viewing (or, if you're like me, stalking) pleasure.
Available through Saks for $1,195.00.