Is it possible that we don't give Michael Kors his due when it comes to handbags? I think it might be. Or perhaps the problem is that his brand doesn't emphasize it enough – I'm not exactly sure what the issue is, but the brand hasn't "caught" as a major power in handbags like one would expect when you consider the huge financial and marketing arm that the brand has behind it.
I talk about Princess Michael Kors himself every week in my Project Runway recap, but it's much more rare that we sit down and discuss one of his handbag designs in a serious way, despite the fact that His Royal Highness's brand put out a big line of bags every season. By the looks of the beautiful and reasonably priced Michael Kors Tonne Leather Hobo, we should do it more often.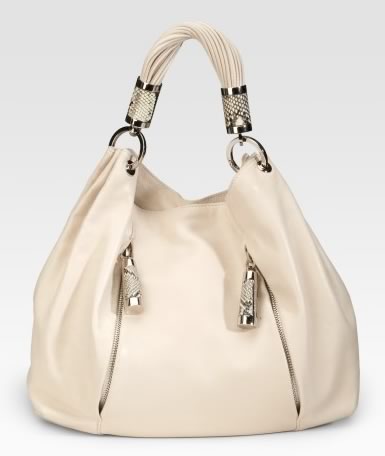 For some reason, this had me fooled into thinking it was a Jimmy Choo bag for a moment – you know, a Jimmy Choo bag from back when their bags weren't all covered in some combination of fringe, animal print and lightening bolts. My momentary joy at a reasonable-looking Choo bag was dashed, however, but it was replaced by considerable happiness that the designer was actually Kors. His handbags are almost always much less expensive, after all.
This particular hobo is even less expensive than I would have guessed. For less than $800 retail, you get a creamy, soft hobo that's incredibly elegant and clean-lined, while still being totally functional. You also get some of the best bold hardware in the business (really, this is where Kors has shined for the past few seasons), ringed in real python and framing a handle that somehow manages to be both minimalist and detailed at the same time. The finished product feels like a surprise weekend trip to Palm Beach, but it'll serve you well in pretty much any city that I can think of. Buy through Saks for $795.