This weekend, something truly strange happened – Atlanta had its first white Christmas since 1882, and thusly, I had my first white Christmas ever. When you're born and raised in a warm climate, snow of any kind still has the ability to attract you, wonder-struck, to a window like a kindergartener, and snow on Christmas? I felt like a kid all over again. I even had a snowball fight with my little brother. (I lost.)
In the Northeast, though, things are a little less spectacular and a little more inconvenient. For those of you stuck in your houses, I recommend ordering the Michael Kors Gia Shoulder Bag. Just take it outside and wave it at the snow; this little bag is so sunny and bright that you'll have that stuff melting in no time.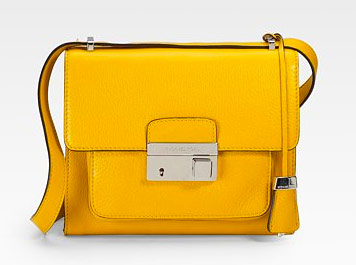 If you're not having snow problems in your neck of the woods, then I would also recommend this piece as an impromptu space heater or, if you must, an actual handbag. For once, a brand has chosen to do retro minimalism at a reasonable price point, instead of charging gobs of extra money for the pleasure of being on-trend. And on-trend this is – not only are the design's lines clean and vintage-inspired, but the color is perfect for spring's all-important brights trend. Buy through Saks for $595.