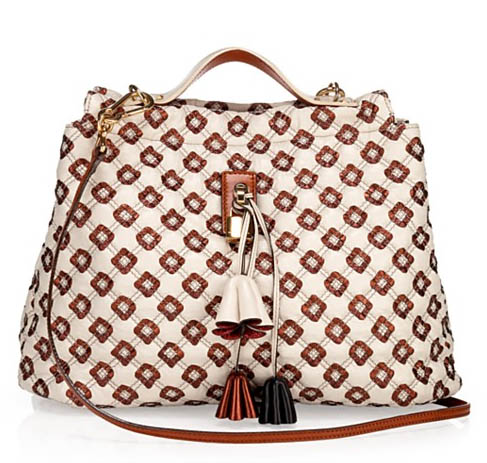 Yep, we're going back here again.
Sorry.
Honestly, though, I think these bags are worth a little more discussion, and not only because I've had a drinks this afternoon (trying to get the creative juices flowing, ahem. Also, because I just paid my taxes. And it hurt). So, we're going to talk about them a little bit more. Starting with the Marc Jacobs Robert Leslie Bag.

I'd strongly encourage you guys to at least see this collection in person to really get a feel for it before giving it a thumbs down. While I probably wouldn't buy any of these, they have an intricacy of construction that's hard to appreciate in pictures that is apparent when holding one in your hands. The combination of leathers and colors is innovative, particularly in the shades that this bag combines. They obviously take a good deal of work to manufacture, unlike a lot of bags for which we shell out our hard-earned dollars, and how many bags can we say that about? Not many – most of them are based on a simple pattern with fairly easy-to-attach exterior adornment. And after looking at a dozen or so bags a day, every day, it's nice to see something that doesn't look like everything else, even if it might break the rules of good taste a little bit. Aren't they made to be occasionally broken? Buy through eLuxury for $1995.