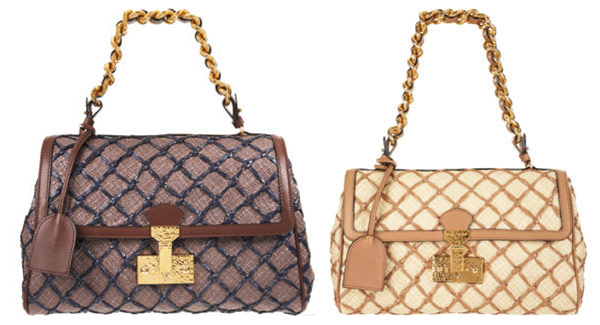 One of the biggest developments in handbag trends over the past few seasons has been the return of the reasonably sized handbag, called the "lady-scale" bag by some, in reference to the refined women who once carries purses of a similar size. Marc Jacobs was a major producer of giant, shoulder-aching handbags back when they were having their moment in the sun, but now that the entire spectrum of possible sizes is available retail, he's downsized a bit with the Marc Jacobs Baroque Ingrid and the slightly more petite Marc Jacobs Baroque Faye. The big question, of course, is do you like them?
Although these bags are probably best suited for someone with a more traditional or professional personal style than yours truly, they've grown on me immensely over the course of the past couple of days. Marc Jacobs tends to do texture variation very well, but he so often does it in bags that are too esoteric to appeal to the average consumer who needs a bag to at least mostly sane, so the fact that these bags could potentially work in many wardrobes is something of a boon to the design as a whole. They may not be everyday workhorses, but they're probably fun enough to bring out on the regular when the sun is shining anyway.
Buy the Marc Jacobs Baroque Ingrid through Barneys for $1350.
Buy the Marc Jacobs Baroque Faye through Barneys for $1195.