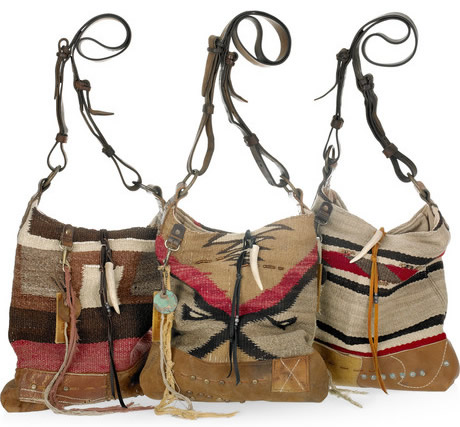 [poll id="81″]

I remember the Ralph Lauren Collection Vintage Blanket Hobo Bag strutting down the runway for Spring 2011 and found it interesting. Upon seeing the bag hit NAP, the price also caught my attention – a whopping $2,500.
Why is the price so high you ask? That is the same thing I asked myself and it seems that Ralph Lauren would like to charge that because these bags are one-of-a-kind and crafted from antique fabrics, meaning every single one is totally unique.
The materials used are vintage Navajo wool blankets and leather chaps and the bag is hand-loomed. Other decorations include luggage tags, metal studs, and glass beads. I actually really like the authentic Americana appeal the bag offers, but I can't imagine spending $2,500 for a bag that is made of old blankets. Buy via Net-A-Porter for $2,495.