I was looking at my handbag collection the other day and I realized that most of my handbags are very "safe". There are typical shapes you would expect, typical colors, and typical materials. I can't say that my collection is boring, but the day I was looking at my bags I felt the need for some spice and pizazz amongst my bags. I bought a new Marc Jacobs bag recently (reveal to come this week) that is so loud and edgy, it will surely bring an immediate burst of energy into my collection. But I am craving more.
After I saw the Louis Vuitton Spring 2010 handbags and accessories at the LV boutique in Bal Harbour, I ordered two items. One is the colored fox tail that continues to be seen adorning the Spring bags. The other item I will not reveal, as it is one of the four bags I am having you vote on. But I am second guessing my choice and want your help. Help me decide which Louis Vuitton bag from the Spring 2010 collection will add more spunk and character to my collection.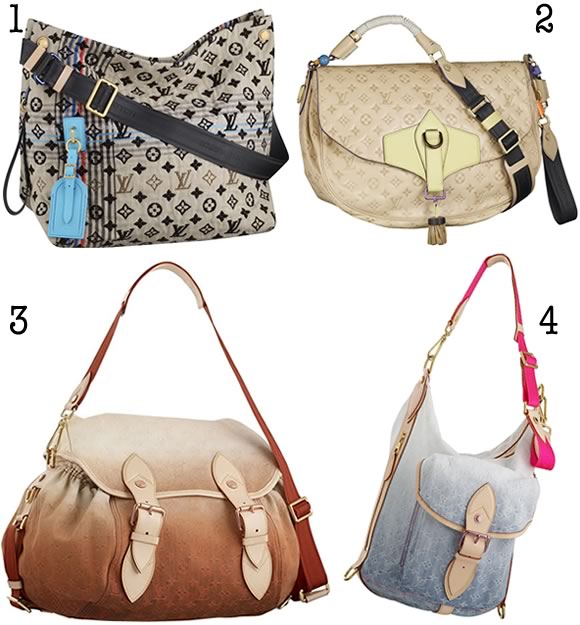 [poll id="59″]
The contenders are:
1) Monogram Cheche Bohemian – This line is named after a protective garment which is worn over the head and neck. This line of bags shows off contrasted fabric and texture, with black on beige Monogramed jacquard with lurex and fluorescent threads.
Price: $2410
Size: 16.9″ x 13.4″ x 10.2″
Colors: Bleu, Rouge
2) Monogram Underground Messenger – This collection uses supple Monogram-embossed goat leather with additional pompoms and headphone cords.
Price: $3730
Size: 9.4″ x 12.6″ x 4.7″
Colors: Crème, Mastic
3) Monogram Denim Sunrise – Denim is back. This time LV brings us colorful ombre denim bags with bright contrast straps.
Price: US$2640
Size: 17.3″ x 14.2″ x 10.6″
Colors: Orange, Bleu
4) Monogram Denim Sunburst PM – This large shoulder bag features a fading blue denim with a hot pink shoulder strap and accents.
Price: $2800
Size: 15″ x 7.5″ x 7.5″
Colors: Vert, Bleu
Please vote to help me choose which bag to buy. And if you do not like any of the options, tell me what bag you think I should consider. Looking forward to seeing what you all think!