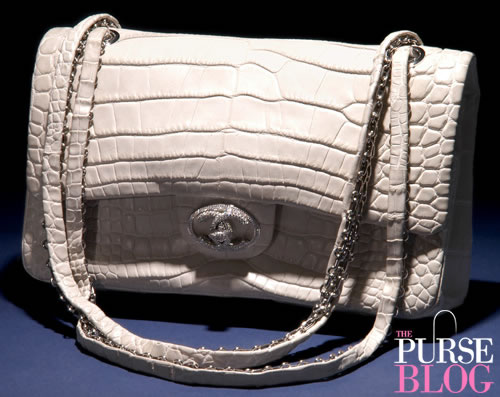 Image via Forbes
Big news in the handbag world. Chanel has announced the newest limited edition and highly coveted handbag. With only 13 available worldwide, this handbag sits upon the accessory throne as one of the most expensive luxury handbags in the world. The Chanel Diamond Forever Classic Bag will debut in December adorned with 3.56 carats made up of 334 diamonds, 18 carat white gold hardware, and white alligator skin. Five of these ostentatious handbags will be available in the states. The price tag on this number is a staggering $261,000. Yes the price is sky high, but these bags are masterpieces, works of art. With only 13 being made, owning one would be similar to an art collector owning a Picasso.
Let's discuss: Is this bag worth the price? If you owned it would you carry it or think of it as a piece of art? Who do you think will be one of the lucky 13?
Following up with her first article on the World's Most Extravagant Handbags, Hitha Prabhakar at Forbes interviewed me again for this article. Article and exclusive pictures below!
It's never too early to start thinking about your holiday wish list.

Sure to top it this year? Chanel's "Diamond Forever" tote (pictured left). In December, the company will debut 13 of these diamond and alligator handbags just in time for the holiday shopping crunch. Each is a stepped-up version of the classic Chanel shoulder bag, with the iconic Chanel "Cs" encrusted in a staggering 334 diamonds (a total of 3.56 carats) set in 18-carat white gold. The alligator skin is farmed and treated with a matte finish.

The total cost: $260,150.

While few may actually end up owning this bag, the demand for other high-end handbags has skyrocketed. Online retailer eluxury.com saw sales of luxury handbags (those over $500) increase 11% last year.

"People want to spend their money on frivolous things," says Pamela Danziger, author of Why People Buy Things They Don't Need and founder of luxury goods research company Unity Marketing. "[And] handbags definitely fall into that category."

Scarcity is also driving desire for these totes. Something that is hard to obtain or impossible to find will be more valuable, says Meaghan Mahoney, editor of the daily news and handbag review online site purseblog.com.

"A handbag [such as] the Chanel Diamond Forever bag is more of a collector's item than something you use on a daily basis," she says. "Like an exquisite car or a rare painting, it's the limited availability and high demand that make this handbag more valuable."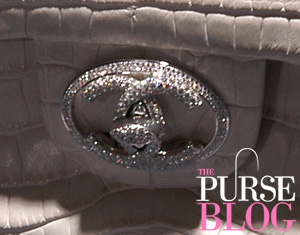 A bigger sized picture of this gem attached to the Purse Forum thread linked below!