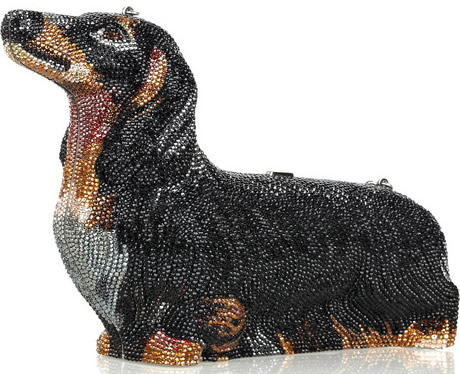 Only Judith Leiber would design a clutch in the likeness of a Dachshund.
You know what? I almost always am team Judith Leiber. I can find the fun and enjoyment each bag can bring to a different wearer or carrier. But the only person I can imagine loving the Judith Leiber Dachshund Crystal Clutch is a Dachshund lover. Don't get me wrong, there is a large group of people who love these cute dogs. But is anyone in this group also a handbag aficionado that wants to spend almost $6,000 on crystal clutch. I can't answer that. And that is why this clutch is a bit harder for me to stomach.
Many Leiber pieces are art pieces that I imagine being put on display in a cabinet behind glass doors in your home. And if you love Dachshunds, that may be exactly what you would do with this clutch. I have to hand it to Judith Leiber, the clutch closely resembles the adorable dog breed that has been known as the "weiner dog". Hey, weiner dogs even make a cute Leiber clutch. But is the appeal there to sell this bag?
This is not the Leiber piece for me, not by a long mile, but it is attention-grabbing enough to cover. Buy through Net A Porter for $5,795.