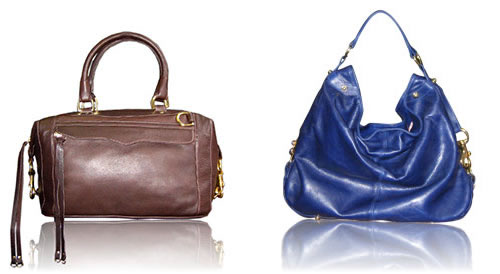 If you are looking for the next designer hitting it big, take a look at Rebecca Minkoff. Spotted on celebs galore, like Lindsay Lohan and Hilary Duff, Rebecca Minkoff bags reveal beauty in the detailing and quality in the materials. The line was launched by Rebecca in 2004 and since then has caught the attention of many ladies around the world. Well Rebecca, you have my attention now. I have been swooning and pining over the array of bags offered. Look for much more news on the Rebecca Minkoff front in the near future. Here are my four favorite:
Top left: The Rebecca Minkoff Morning After Bag. This is one of the most well known designs, which has double handles and brass rings. There is an inside and outside pocket. Slouchy and good dimensions make this bag double as a day or night bag, and of course, if you happen to be on your way home the morning after, you will still look great 😉 Buy for $585.
Top right: The Rebecca Minkoff Nikki. This shape is my favorite; it is slouchy and the perfect laid back everyday bag. The leather can even expand to fit a 12″ computer. Too bad my computer is 15″. Buy for $635.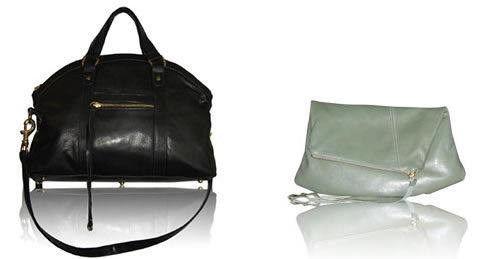 Left: The Rebecca Minkoff Elisha. Ample space and easy to either carry in your hand or over your shoulder, another great option. The shoulder strap is removable. Buy for $535.
Right: The Rebecca Minkoff Date Clutch. You all know me and my clutch obsession. The date clutch is perfect for date nights, and who does not love a date night?! Fold it over or wear it longer. Buy for $255.