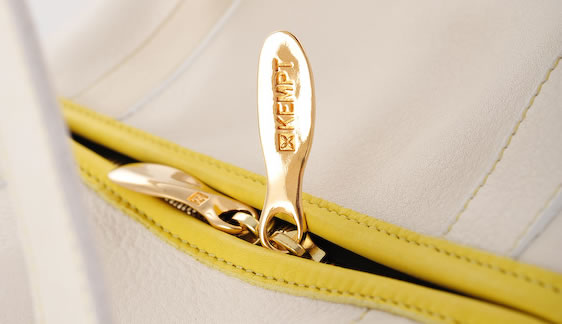 I have to say, I feel so lucky sometimes. An example of this would be the opportunities I have to interview new designers. But, more than that, when I speak with an amazing designer who makes gorgeous handbags, I can't wait to share everything with all of you! Not that long ago, I had the chance to talk with Erin Voorhies, the founder and creative designer of KEMPT handbags. We had a fantastic conversation over the phone where I was able to learn a little more about how she got into the handbag business, her line and herself.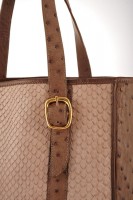 Erin was gracious enough to send us a few KEMPT handbag samples so we could see them in person. Erin and I agreed, purchasing handbags really is a complete experience. It was great to hold the bags, try them all, notice the amazing attention to detail and feel the amazing materials (ie: anaconda and ostrich) she uses. Vlad shot the bags here in our studio and he talked about how immaculate the quality of the bags was for days! We hope you enjoy the introduction as much as we did.
PB: How long have you been interested in handbags?
EV: Since I was a little girl, I have always been interested in accessories. My grandmother was a huge influence. For as long as I can remember I was always making bags for myself and my friends. In 2006 I started the collection. For me, if my hands aren't involved in creating something, I get antsy, I always need to be creating something.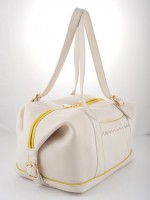 PB: What is your main inspiration?
EV: Materials. Ideas stem from the material, anything from swatches to thread can inspire me. All of the hardware I use is custom, actually, every part of each bag is customized.
PB: Do you see a big difference in the way you now design bags compared to when you first began?
EV: Ya, I learned along the way. I picked up on functionality along the way. At the same time I always wanted to take the feedback I received from users into account. I work on finding the balance between the feedback I get and staying true to myself. I find that a design is successful when it is functional, beautiful and timeless.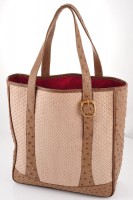 PB: Who are you designing for when you design your bags (what kind of audience fo you try and appeal to)?
EV: I don't really think it is about age. My designs are about sensibility and a fine eye. I want to appeal to people interested in classic pieces, those individuals who are sophisticated and not necessarily interested in logos or the latest fad.
PB: How do you think you would feel if you saw a celebrity carrying one of your bags?
EV: It would be great! But at the same time, it isn't something that I am searching for.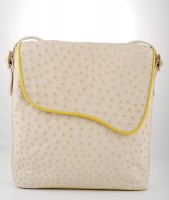 PB: What are the next steps for you and the line?
EV: Evening bags and smaller accessories like belts. Long term I would love to have an eclectic store which offers a variety of things.
PB: If you could vacation anywhere in the world, where would it be and why?
EV: Well, I am heading to Lake Placid which will be great. I love places where you can hike, but on the flip side, I love the ocean. So, I guess I would love the best of both worlds.
Speaking with Erin was wonderful. I could hear the passion for her handbags and the quality and care she puts into them. She is a designer who really holds the highest standard for quality and craftsmanship. Check out the rest of her handbags through the KEMPT website.
Thanks again to Erin!
P.S. Please consider supporting our small, bag-loving team by clicking our links before shopping or checking out at your favorite online retailers like Amazon, Neiman Marcus, Nordstrom, or any of the listed partners on our shop page. We truly appreciate your support!