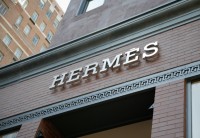 Do you ever get the sense that luxury monolith LVMH might be trolling Hermes, purely for CEO Bernard Arnault's amusement? With yesterday's report from British Vogue that LVMH's ownership percentage in the family-run French leather goods company has increased once again, the possibility seems not altogether unlikely.
The increase – from 20.2% to 21.4% – may seem tiny on its face and to those who haven't followed the story. In this case, though, context is important. The move comes in the wake of Hermes' redoubled efforts to block LVMH from gaining additional shares after news that Arnault had quietly acquired a full fifth of Hermes stock without the family's knowledge shocked the accessories world late last year. Will Arnault and LVMH stop before they own a controlling share in the seemingly boundlessly profitable brand?
That's the question we've been asking all along, of course, and LVMH is only giving us a few crumbs of information here and there. So far, the party line from the company is that it does not want to control Hermes and will not seek representation on the Hermes board, which would be good news with Hermes if it were true. That's a big "if."
Bigger lies have been told in the pursuit of profit, and if Bernard Arnault is anything, he's a stellar businessman who knows an opportunity for growth when he sees one. Hermes has shown double-digit revenue increases year-on-year, and there seems to be no place to go but up. If Arnault sees a way in, not taking it would be throwing away money, and anyone who knows the story of his career knows that it's not something he's shown the inclination to do in the past.
This is just speculation, of course – and it's all speculation at this point, no matter the source, with very few exceptions – but I couldn't imagine that LVMH is done with Hermes yet. Sure, owning over 20% of a company will make you a lot of money if the company in question is Hermes, but 51%? You guys can do the math on that. I don't know if Arnault will be able to restraint himself; perhaps more importantly, I don't know if he even plans to.