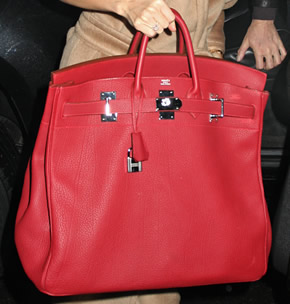 Katie Holmes has gone from the girl on the Creek, to the girl with the wacko husband, to the girl who dresses 10 years older than her age. I liked her on the Creek and I also love her chic style these days (though like I said she looks much older than she actually is). And now she is carrying a bag that literally weighs half her body weight, I kid you not.
Katie Holmes has been seen sporting a Hermes HAC around town, though not for travel, for day-to-day wear. The HAC, Haut a Courrois, was actually the original 'Birkin'. The HAC and the Birkin are indeed different; the HAC is taller than the Birkin and the handles are shorter. The HAC comes in a 28, 32, and 36 cm size whereas the Birkin is available in 25, 30, 35, and 40. The debate is on as to the size of Katie's HAC. I am sticking to my original assessment, it is a 50 cm HAC, but many members of our Purse Forum think it is a 40 cm. I am taking into account that Katie is very thin and 5'9, and since she and I are about the same height it looks very similar to the 50 cm I have tried on. The next debate is the leather and color. My guess, Fjord in Rouge VIF, but again, there are so many Hermes reds and I can be wrong. What many of us are in agreement on is that this bag is far too large for Katie. In my opinion this bag is meant for travel, not to carry to Good Morning America. What could she need to carry inside the show? Suri? Tom? A space ship? Anyhow, this bag will cost around $8,900, give or take, depending on the size and leather.



Click to enlarge thumbnails!