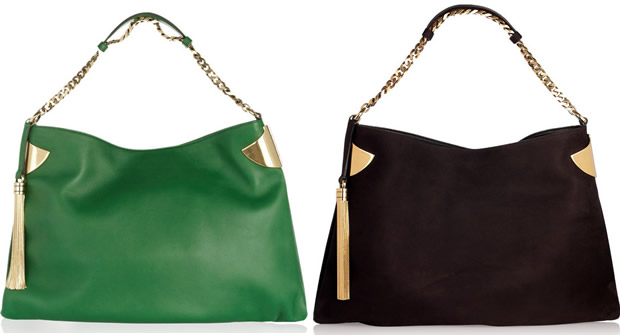 It's been a while since a new bag design has moved me enough to believe it will be the new must have bag. Celine is the brand that truly got everyone's attention and now that the Luggage Tote hype has dwindled a bit, there is room for a new bag to take center stage. I believe it may be the Gucci 1970 collection of bags.
Gucci delved into its accessories archives for their collection of SS12, and took inspiration from vintage pieces to create the 1970's shoulder bags. The graphic gold plaques give an art deco nod while the opulent chain tassel detail adds a 1920's flare.
There are a few versions of the 1970's shoulder bag, from different materials to different sizes. I can not decide which is my favorite, all I know is I desperately want one of these bags. Sturdy and luscious leather in taupe, black or green or black nubuck are the current offerings on Net-A-Porter. The simple shoulder bag shape is offset with a chain strap detailing.
Both classic and entirely current, it is hard to perfect a simple bag and make it beautiful enough for anyone to want to wear it daily. But Gucci has done this, and not only is this bag the stand out from Gucci's spring/summer collection but also it is a standout from every brand's offerings. Prices range from $2,100 to $2,650 via Net-A-Porter.