When I covered the Gucci Joy Boston Bag with Snowman and Elephant Print, the reaction was mixed (except on Facebook where most everyone disliked the bag strongly). But not me. I loved this bag from the moment I first saw it. You see, I recently took a look into my handbag collection and realized I was lacking playful and whimsical designs. My collection is overflowing with great leather bags, but I not only wanted but felt that I needed to add some bags that are meant to be taken lightly and meant to be fun. I found it in the Marc Jacobs Fluorescent Tweed Bag and I have found it in this Gucci Bag.
You know who else is drawn to it? Elle MacPherson.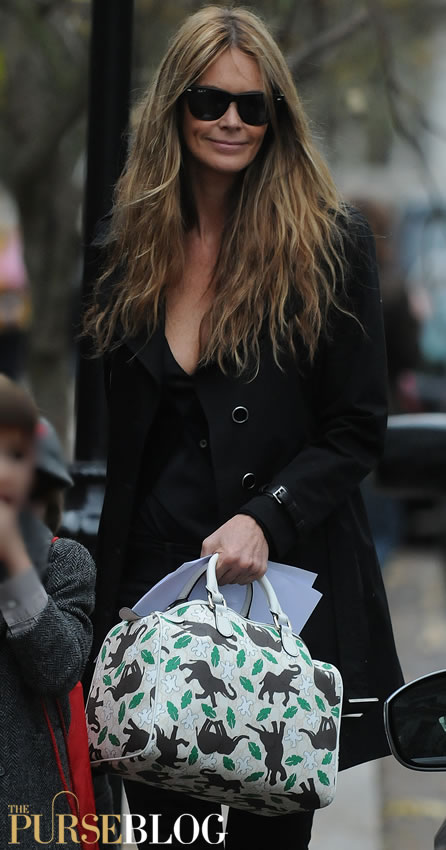 I must admit, I have had Elle MacPherson envy for years. She somehow pairs gorgeous with casual so well that it makes me mad. And in her all dark ensemble, Elle added a playful touch with the Gucci Joy Boston Bag with Snowman and Elephant Print.
I told you all I was going to order this bag, and I did. It arrived last week and Vlad and I plan on doing a photo shoot with it coming up soon. In person, it is great! This bag is not meant to be taken super seriously, rather it is all in jest (while also being for a good cause). I am looking forward to pairing it with a crisp white top and summer khaki pants! Buy through Gucci online for $695.