Few other designers have had such a large impact on a singular brand and the fashion industry as Gucci's Alessandro Michele. With Michele at the brand's helm, the House of Gucci has truly blossomed, and each collection has become more and more coveted amongst shoppers. While our eyes are, of course, on the bags, it's more than just handbags that have catapulted Gucci to its place today. There have been cult-favorite shoes, ground-breaking collaborations and multiple revivals of some of the House's most storied silhouettes. Arguably, though, some of the designer's most popular bags, now part of the House's Gucci Beloved lines, are ones that made their debut with Michele's first few collections for Gucci.
Gucci by Alessandro Michele
Michele and his team debuted the Fall 2016 collection to much fanfare a year into the Creative Director's tenure. The designer was already breathing new life into the brand, with coveted knocked-it-outta-the-park hits like the Dionysus and the Horsebit Loafers under his belt, when he released a new line that was an instant hit amongst shoppers thanks to its distinct Gucci branding and ease of wear. Yes, we're talking about the Gucci GG Marmont.
Like so many of his designs, the GG Marmont takes inspiration from the House's archives. But it wasn't a specific silhouette but rather a singular detail, a belt buckle from the 1970s to be exact, that inspired the design. The Marmont became a fan-favorite thanks to its design, which feels modern despite its throwback vibe, but also due largely to the many silhouettes and sizes offered. The Marmont offers a relaxed yet structured feel, a hard balance to strike, and is a great day-to-night option.
Gucci Beloved
The Marmont has remained a mainstay for the House, now considered to be a Gucci Beloved line. It has been reimagined countless times over its 6-year lifespan, both in new colors and fabrics, as well as added shapes and silhouettes. The latest additions to the Marmont family include two of-the-moment shapes, a half-moon shoulder bag, which has a distinctly retro feel thanks to its crescent silhouette paired with the iconic codes of the Marmont. Then, there's a tiny tote, which is very reminiscent of '90s trends, and was introduced as part of Gucci Love Parade. Tiny but mighty, this mini bag presents some of Gucci's most recognizable elements playfully shrunken down.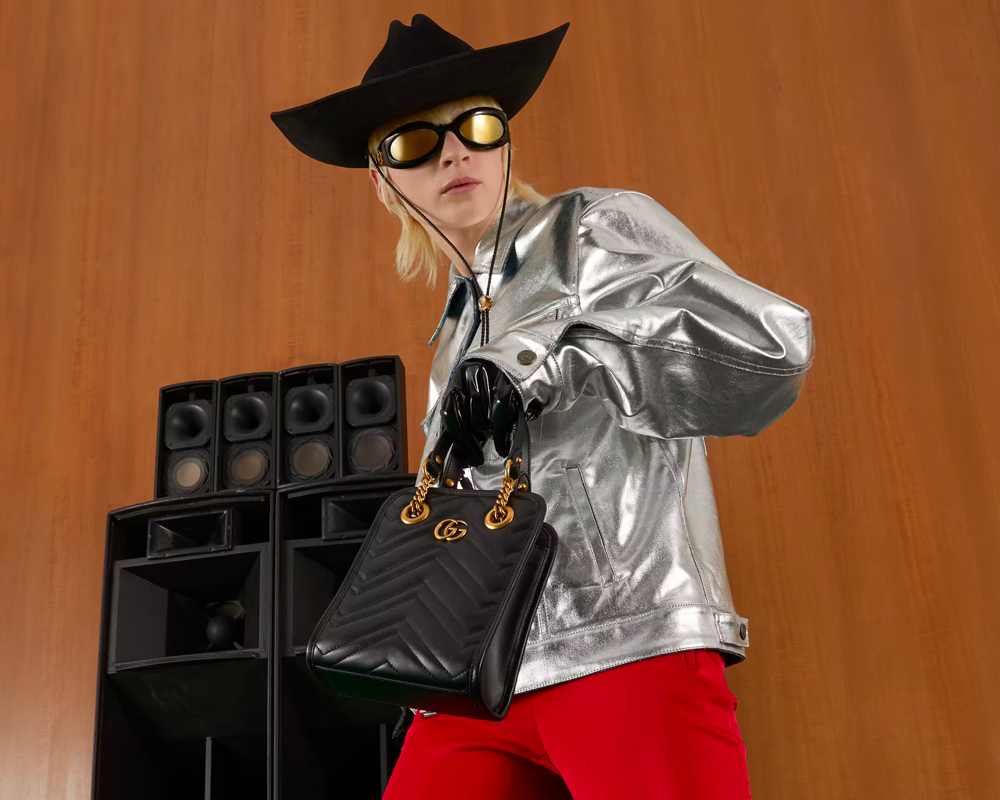 An Original, Revamped
If you're looking for a fresh take on the original, then Gucci's newest black-on-black monochrome Marmont bags are the ones for you. Sleek and chic, these bags are a new take on the original matelassé chevron leather, which was first introduced in the fall of 2016. Reimagined for Gucci Love Parade, the Monochrome bags feature black brass hardware with a ceramic effect finish, giving these bags a modern and chic feel. Iconic then and now, there's a Marmont for all. Discover the full range of Marmont bags below.