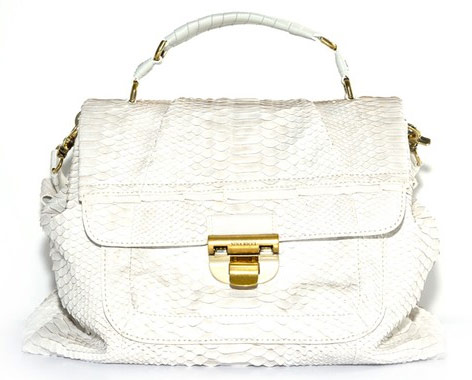 Although French brand Nina Ricci has more of a niche following than some of the huge global powerhouses that we cover, its fans are no less devoted and its bags no less gorgeous. Ricci is known for its unabashed and unfettered Parisian girlishness, which makes for incomparably gorgeous ready-to-wear that's a favorite among fashion's big-budgeted elite. For those who don't have a day-to-day need for a cocktail dress made of delicately frayed grosgrain ribbon, the Nina Ricci Resort 2011 offers a more functional option for those who want a piece of modern French femininity.
This collection strikes me as more joyous than Ricci bags from the past, and the frills and frays seem easier and more natural. The brand's accessories department may well be hitting its stride, and if this is a preview of the Spring 2012 line to come, I can't wait to see it. The ivory python satchel and ruffled orange shoulder bag are the obvious winners of the group.
Photos via Women's Wear Daily.