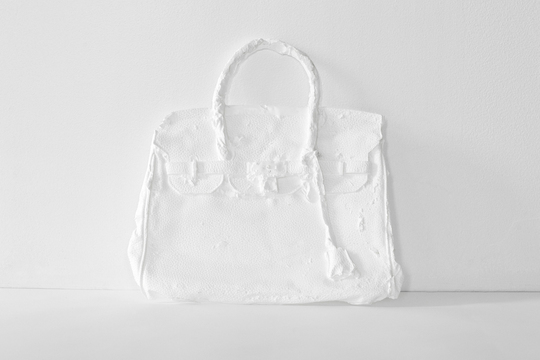 Have you ever noticed that there's a certain subset of people who (incorrectly) think they're very clever because they dislike the fashion industry, or they think they've got it all figured out? It seems like artist Shelter Serra, seller of the resin-casted Hermes Birkin pictured above, might be part of that group.
According to Refinery29, Serra calls the two-dimensional "art piece" a commentary on how an object that costs several months' rent does little more than the function of a simple plastic bag, and he thinks we take such things for granted. This whole premise is annoying for a couple of reasons that we'll explore after the jump, but first and foremost, it's annoying because it still costs $2500 and does even less than a simple plastic bag.
Don't get me wrong, I love contemporary art. The weirder the better! But not only does this piece miss the mark in an attempt to make some sort of commentary on fashion price levels and what that means in a larger sense (people in glass houses shouldn't throw stones, art world), but it's pretty hard to argue that a functional piece of finely crafted, expertly constructed Hermes leatherwork is overpriced when a sloppy resin copy is being unironically sold via Grey Arena for (using the artist's word choice) more than what most people pay for a couple months' rent. I would posit that this was perhaps part of the commentary, but not only would that likely be giving Serra too much credit, it also doesn't appear to be true.
What almost bothers me more, though, is that the cast seems to have been made from a fake Birkin, and a bad one at that. So if the artist is so clever and full of social commentary, where's his Baudrillardian epiphany about making copies of copies and how it dulls our collective sense of reality and authenticity? Or did he just not think of that, in favor of making the point of, "Like, Birkins are totally expensive, yo." Because no one's ever said that before. Certainly, no one's ever charged you $2,500 to say it. And Serra's (literally) useless resin Birkin is being made in a collection of 20, so, you know. Stock up.
P.S. Please consider supporting our small, bag-loving team by clicking our links before shopping or checking out at your favorite online retailers like Amazon, Neiman Marcus, Nordstrom, or any of the listed partners on our shop page. We truly appreciate your support!