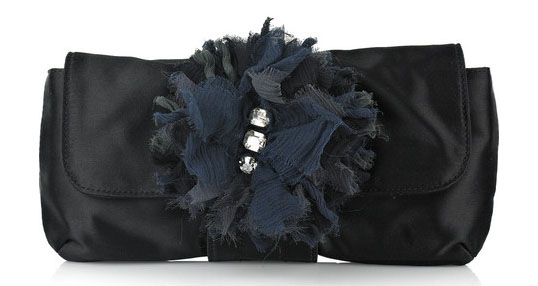 I am forever suspicious of satin. Satin bags, satin shoes, satin dresses – owning any of it seems like a cosmic challenge to no longer be myself. Which is, more or less, a challenge to not spill food, to not wipe my fingers on my clothes when I don't have a napkin, and to suddenly start sitting in such a way that I don't wrinkle anything. All in all, none of that is going to happen. Ever. I have ONE satin piece of clothing, and it has a greasy fried chicken stain on it.
Knowing me, I don't think I could ever put a thousand dollars into a satin clutch, even one as lovely as the Lanvin Oulala Satin Clutch, but could you?
I appreciate that they did a formal bag in navy instead of black – it's a much more interesting visual choice when paired with a silver or grey dress, and I think it could even be really chic when paired with black. The color choice provides a little quirk above and beyond your average evening bag, and also hilights the details of the shredded, rumpled flower much better than black would.
Speaking of the flower, it's very existence on a formal bag reinforced the quirky nature of the color choice. Most satin clutches are so precise and buttoned-up that they don't appeal to a young audience, but this is the exact opposite, and it puts it in a place by itself. Buy through Net-a-Porter for $1090.