By my estimation, the Grammy Awards awlays have the weirdest red carpet of all the major awards shows, and the 2013 Grammy Awards went on to uphold that tradition in spite of some odd dress code restrictions placed on attendees by the fun-haters at CBS. Plenty of people found ways to skirt those restrictions (ahem, J.Lo), but thankfully, none of the rules but any kind of limits on handbags.
For reasons I don't entirely understand, though, a lot of celebs at Sunday night's ceremony tossed their bags to their handlers before taking to the red carpet for photos. That's a little bit lame, but it didn't stop us from sifting through all of the paparazzi pics and picking out a few stars with some truly noteworthy evening bags to highlight. (Speaking of noteworthy - based on the pictures, it would seem that I am more famous than at least 30% of the people who attended the Grammys, which makes me wonder whether my invitation might have gotten lost in the mail.)
1 / 6
The only appropriate place to start is, of course, with Queen Bey. Beyonce accessorized her sleek, skintight Osman jumpsuit with an equally modern Swarovski Gemma Clutch. Shop Swarovski bags via Swarovski.com.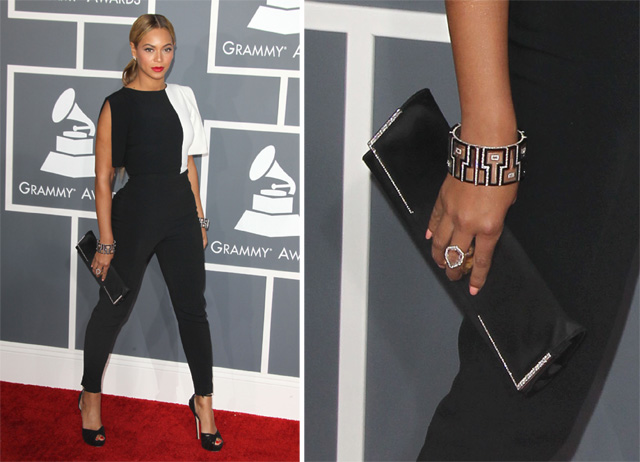 2 / 6
To balance out her heavily patterned two-piece ensemble by Genelle Brooks x Love Collins, Estelle chose a textured silver Judith Leiber clutch. Shop Judith Leiber via Neiman Marcus.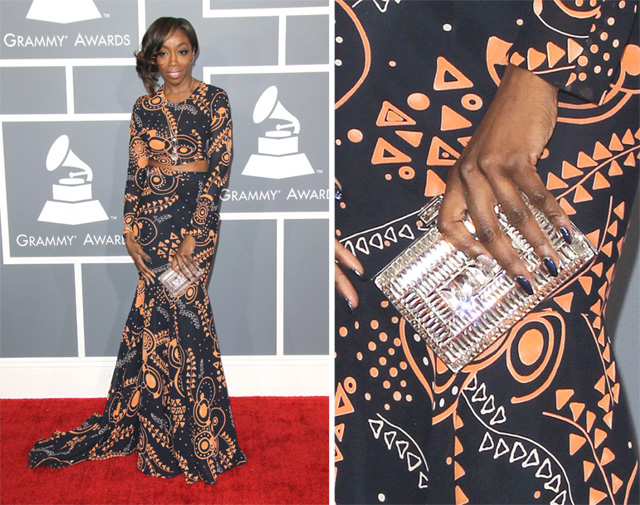 3 / 6
In my mind, Florence Welch won the night - not only did Givenchy custom-make her a shimmering emerald dinosaur gown for the evening, but the brand made her a matching Givenchy Abstract Flower Minaudiere in the same green sequins. Pick up the black leather version for $1,600 via Barneys.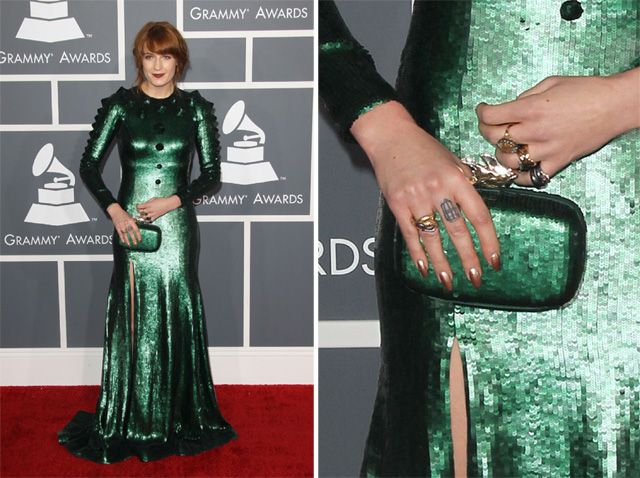 4 / 6
Jennifer Lopez is notorious for her eye-popping Grammy dresses, and this draped black Anthony Vacarello number was accented perfectly by her Jimmy Choo Envelope Clutch. Shop Jimmy Choo via Net-a-Porter.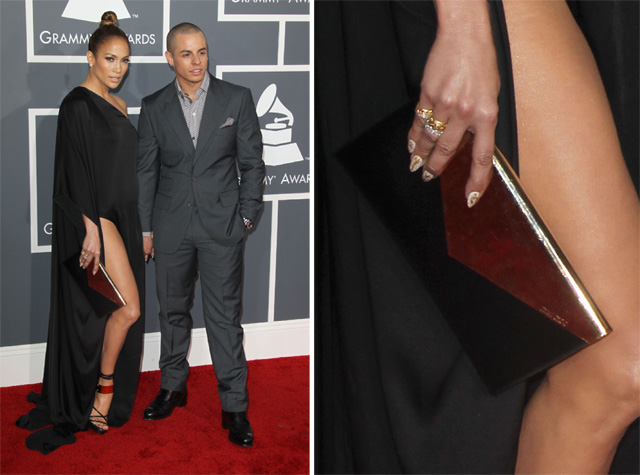 5 / 6
The Big Bang star Kaley Cuoco accented her rockstar ensemble with a Stark Brilliance Clutch. Shop Stark clutches via farfetch.com.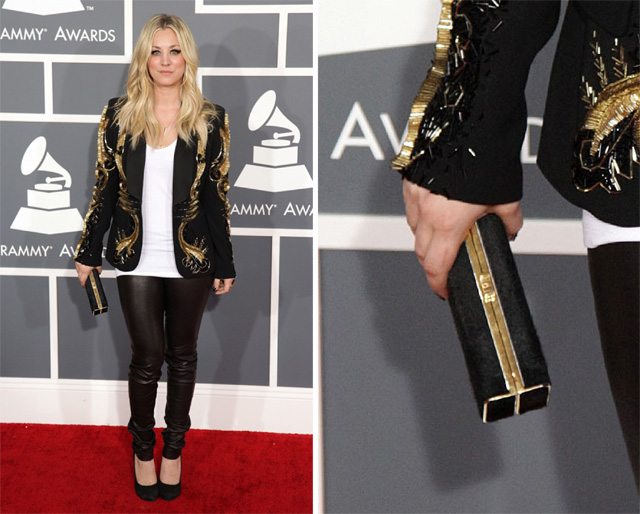 6 / 6
We're not quite sure what kind of clutch model Chrissy Teigen was carrying with her Joy Cioci dress, but it's so nice to see a pop of color that we decided to include it anyway. Plus, Chrissy is hilarious on Twitter.