I'll be straight up with you: the last time I owned a pink bag was in middle school, when I thought there was nothing cooler than carrying around a Coach pochette in the brand's classic logo print in bright pink. I loved that bag, and I used it until the corners were worn and it was on its very last leg. These days, I still have a whole lot of love for monogram, but you guys know me well enough by now to know that I don't often think very pink. I tend to steer towards moderately trendy bags and shapes, but in classic, neutral colors like black, white and nude. I envy those who are bold enough to take risks and carry colorful bags. I truly wish I was one of those people! I'm more than just a jeans-and-tee kinda girl, but you also won't catch me in five-inch pumps every day. My everyday look could easily be elevated with a nice pop of color, but the closest I've come to color is lusting after a red bag. Pink is really pushing it for me, so I was surprised at how much I loved the Lady Dior Bag in hot pink.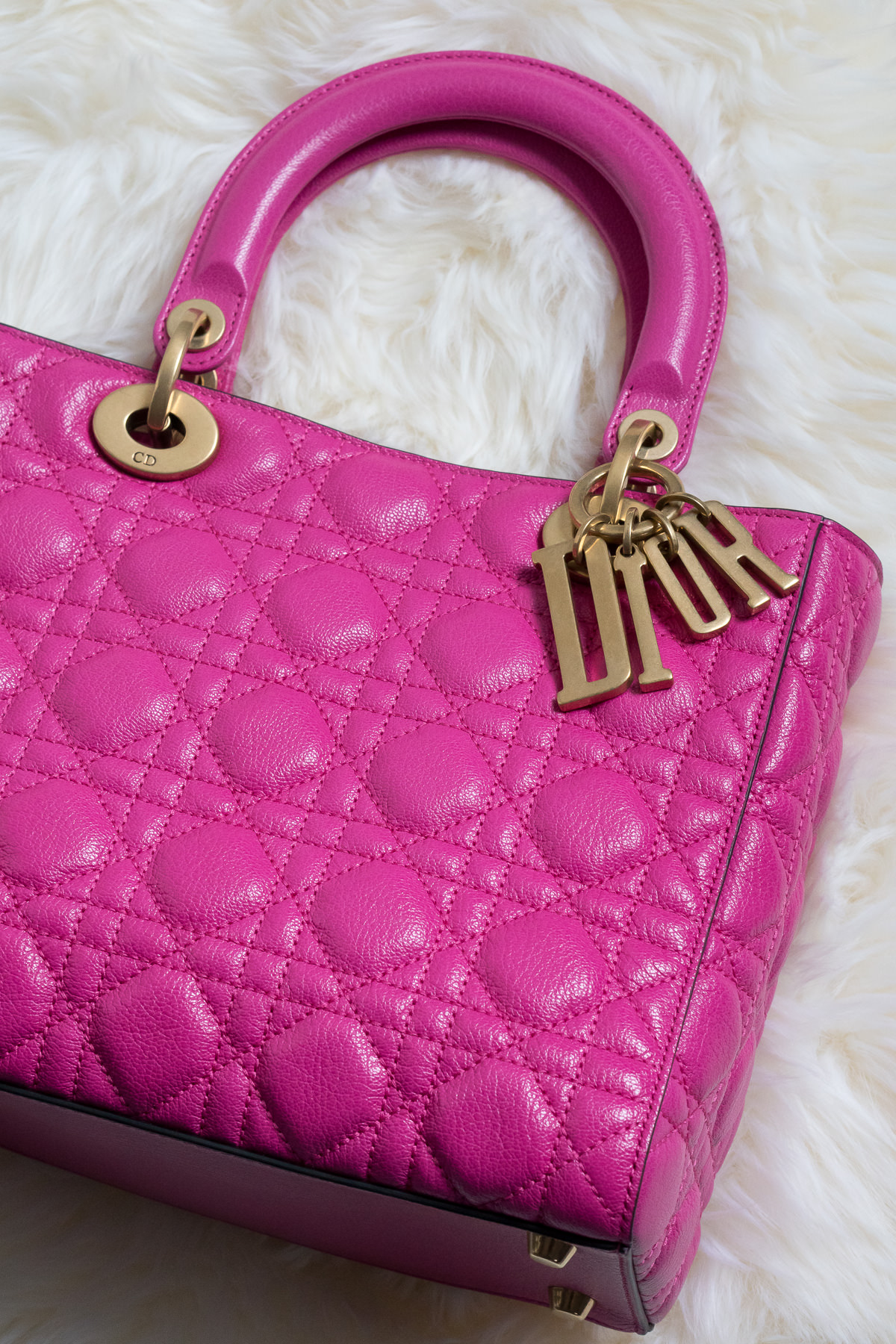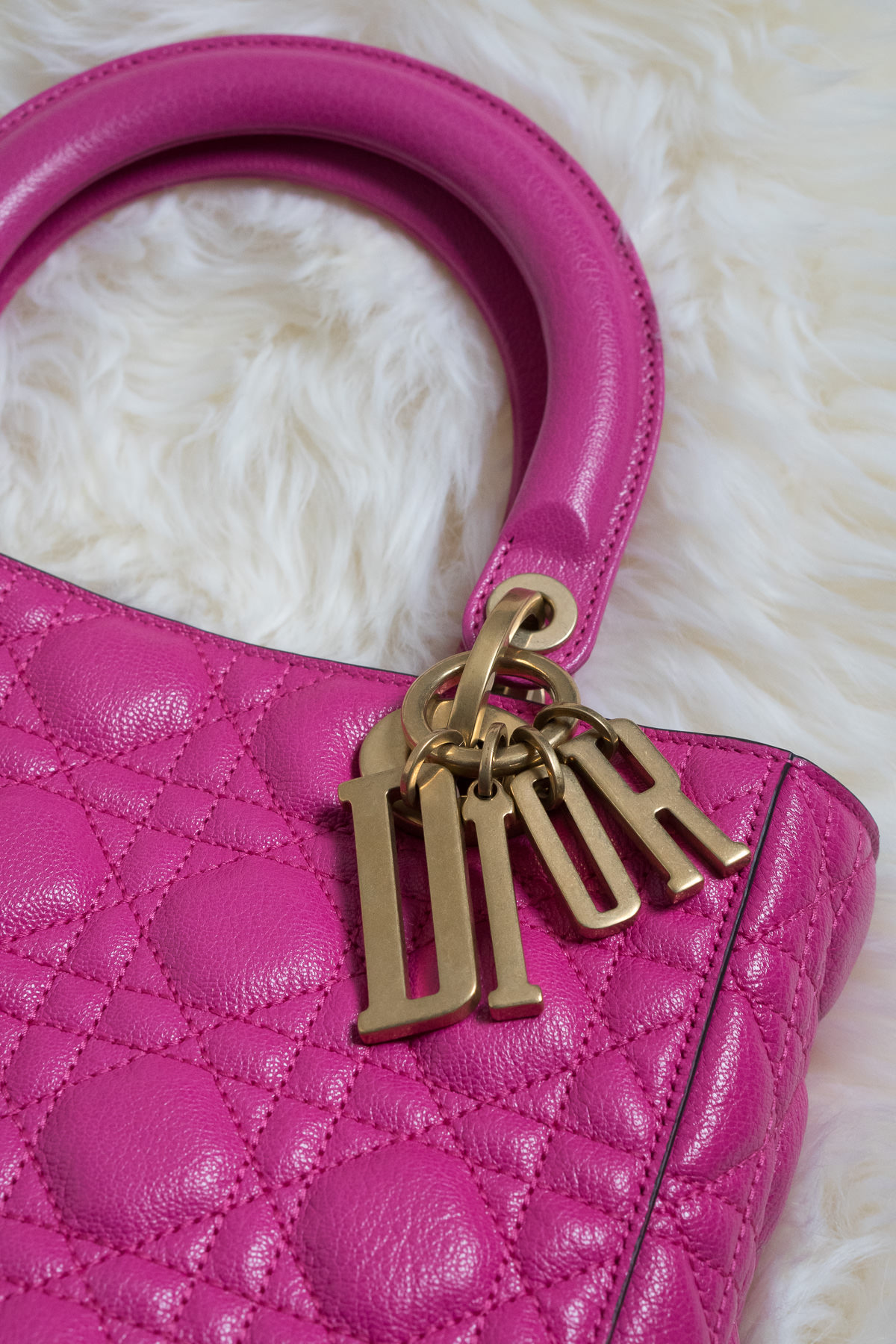 I've got a serious color crush on this bag, and while it's not a crush I'm likely to act on, I wouldn't mind someone dropping this lady on my doorstep! I'm not at the point in my life yet where I can afford to buy more than couple of bags a year, if that, so I still tend to steer towards neutral bags. The Lady Dior is high on my list in black or nude, but if you're the type to do color, this is the way to do it
There are so many things that I love about this bag. For starters, it's beautiful in an understated way and is incredibly chic and timeless. It's an elegant shape that will never really get old. This bag stands out, especially in pink, and falls perfectly in line with Dior's classic, ultra-feminine appeal. The bag is well crafted of grained leather with matte gold hardware. While some Lady Dior Bags have a top zip, I love the ease of use that the top flap provides on this Lady Dior.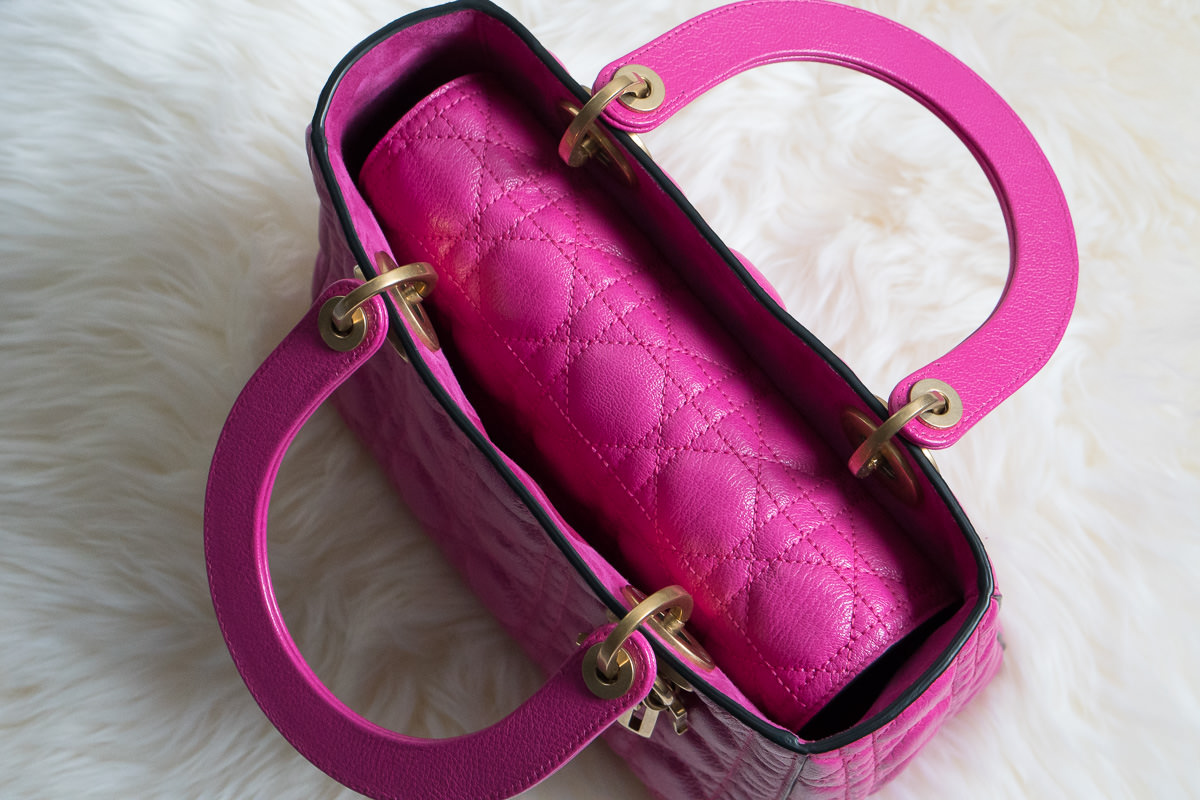 Inside, you'll find a zip pocket on the back wall of the bag, as well as a slit pocket on the front wall. With dimensions of 7.9″ x 6.7″ x 3.5″ this bag is the perfect size. It's able to fit everything you need for the day, and could easily fit some extras like a planner, notebook or a novel, all of which I carry from time to time! It's compact, but not overly tiny, and it's fairly structured but still soft and luxurious. With spring around the corner and this bag coming soon to Dior boutiques, we want to know: would you rock this hot pink Lady?
Shop Dior via Vestiaire Collective.