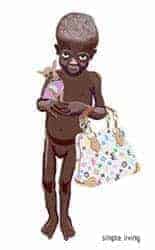 Louis Vuitton has proven in the past that they do not take it lightly when their intellectual property rights are violated. Evidence of this is the recent lawsuit in which Louis Vuitton successfully sued Sony BMG and MTV online. Louis Vuitton is now suing Nadia Plenser, a Danish student artist and designer, over her "Simple Living" campaign, a fundraiser that benefits the Divest for Darfur organization.
Plenser drew an image of a young Darfur child holding a Tinkerbell-like dog and sporting a designer bag, made to resemble the famous Louis Vuitton's Murakami Multicolore canvas pattern. Her goal was to imitate the constant media coverage that celebrities like Paris Hilton were getting and giving it to those who really deserved and needed it. Her image has been selling on t-shirts and posters, raising money for the good cause.
Problem is, LV is not exactly fond of the campaign, despite 100% of Plenser's profits are being donated straight to Divest for Dafur. Vuitton sent her a C&D letter in February, which was followed by a lawsuit on April 15th:
Louis Vuitton now demands $7,500 (5,000 Euro) for each day she continues to sell Simple Life products, $7,500 for each day their letter is published on the website and $7,500 a day for using the name 'Louis Vuitton' on her website. In addition they want her to pay their lawyer costs and $15,000 to cover other expenses they have incurred in protecting their 'intellectual property'.
How do you feel about this lawsuit? Property rights infringement and defending of LV's trademark or artist's freedom of expression and frivolous lawsuit?
Read the full story on TorrentFreak.