In today's installment of Closet Confessionals, we meet a Doctor hailing from Texas whose collecting story proves that waiting until the time is right can make your dream come true bags feel that much sweeter! CC 147's love of bags dates back to the mid-2000s when she was just a student in med school, receiving the occasional Coach bag from her parents. From there, this confessor went through her fellowship and the start of her career, dreaming of designer bags. Then, in 2020 the time was right, and this smart shopper made partner and felt it was time to really dip her toes into the designer bag pond.
With the means to afford the bags she dreamed about while working hard to build a career, this collector purchased her first Chanel and the rest, as they say, is history. These days CC 147 has amassed quite an amazing collection featuring Chanel, Bottega Veneta, Gucci, and more. Read more of CC 147's sweet story below and check out photos from her stunning collection!
PS: don't forget to submit your own CC!
[sc_cc_callout]
The Basics
Age: 36
Gender Identity: Woman (She/Her)
Location: San Antonio, TX
Occupation: Physician
Industry: Healthcare
Salary: $1,100,000
Household Income: $1,200,000
The Bags
Are you a PurseForum member? Yes
How many bags do you own? 17
What bags are in your collection?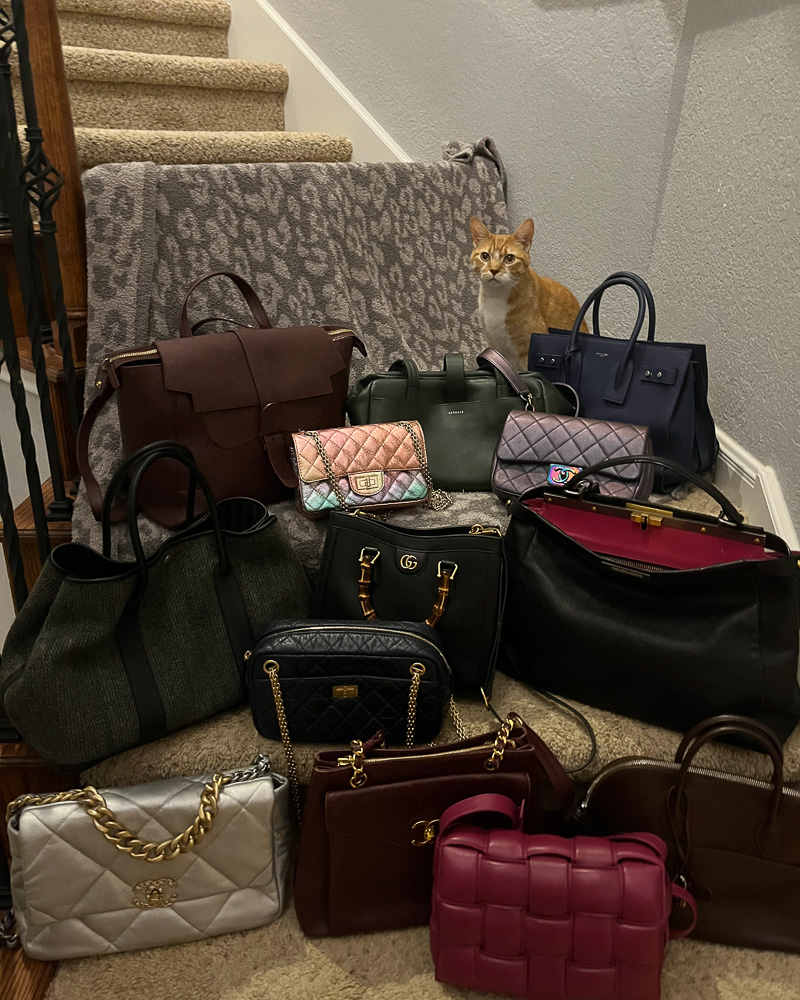 How much is your collection worth? $39,000
What is your most expensive bag? Chanel 19 Goatskin – bought after I made partnership in my practice and completed my buy-in, and because we didn't get to go on our planned celebratory vacation – thanks, pandemic!
What are the most important brands or pieces in your collection? I have curated a pretty good collection of Chanel, and they all feel like pieces that are pretty special. I've purchased most of my bags pre-loved, so I look for the silhouettes that I that are in great condition, especially for the non-Chanel pieces that don't hold their resale value quite as well.
What age did you get your first designer bag, and what was it? My parents started getting me the occasional Coach bag when I was in medical school in the mid-2000s. My first high-end designer bags that I purchased myself were in 2020 – the Chanel front pocket tote and the reissue camera bags. Both were purchased pre-loved in great condition. The tote is a stellar work bag with lots of pockets, and the camera bag is a perfect little bag for daily carry, goes with everything.
It was a big deal for me. The Coach bags were what I carried in college until I started to make some progress on my student loans and had some real income. I finished my fellowship in 2018 and went from making about $50K a year to $250K, until I made partnership in 2020. I looked at Birkins and Kellys and Classic Flaps all the way through training!
Is there a specific bag you are looking to purchase next? I have obtained relative purse peace after my most recent purchases (the Gucci Diana, which was new, and the Peekaboo, which was preloved). I'm planning on starting my Hermès journey when the new boutique opens in Austin, probably an Hermès Jypsiere.
Any particular bag that holds a special sentimental value? The Chanel Metallic Mini Reissue – I stared at them for a long time, waiting for the perfect color story, and my husband pushed me to buy it!
My Senreve Maestra was the bag that I bought after I signed my contract for after I finished fellowship and I used part of my signing bonus to buy it. Underrated and super-versatile!
Do you feel like your bags change people's perceptions of you or how you're treated? Definitely. Until recently, I was in mostly plus-sized clothes and when I went shopping in boutiques or department stores, I felt like I would get ignored. When I carry my nicer bags, I definitely get more attention from SAs.
Amongst my fellow women physicians, there is a general appreciation for nice handbags and accessories in general. We know who the fellow enthusiasts are and are always admiring each other's bags!
Have your bag-carrying habits changed since Covid? I've never been very precious about my bags – they are meant to be loved and carried!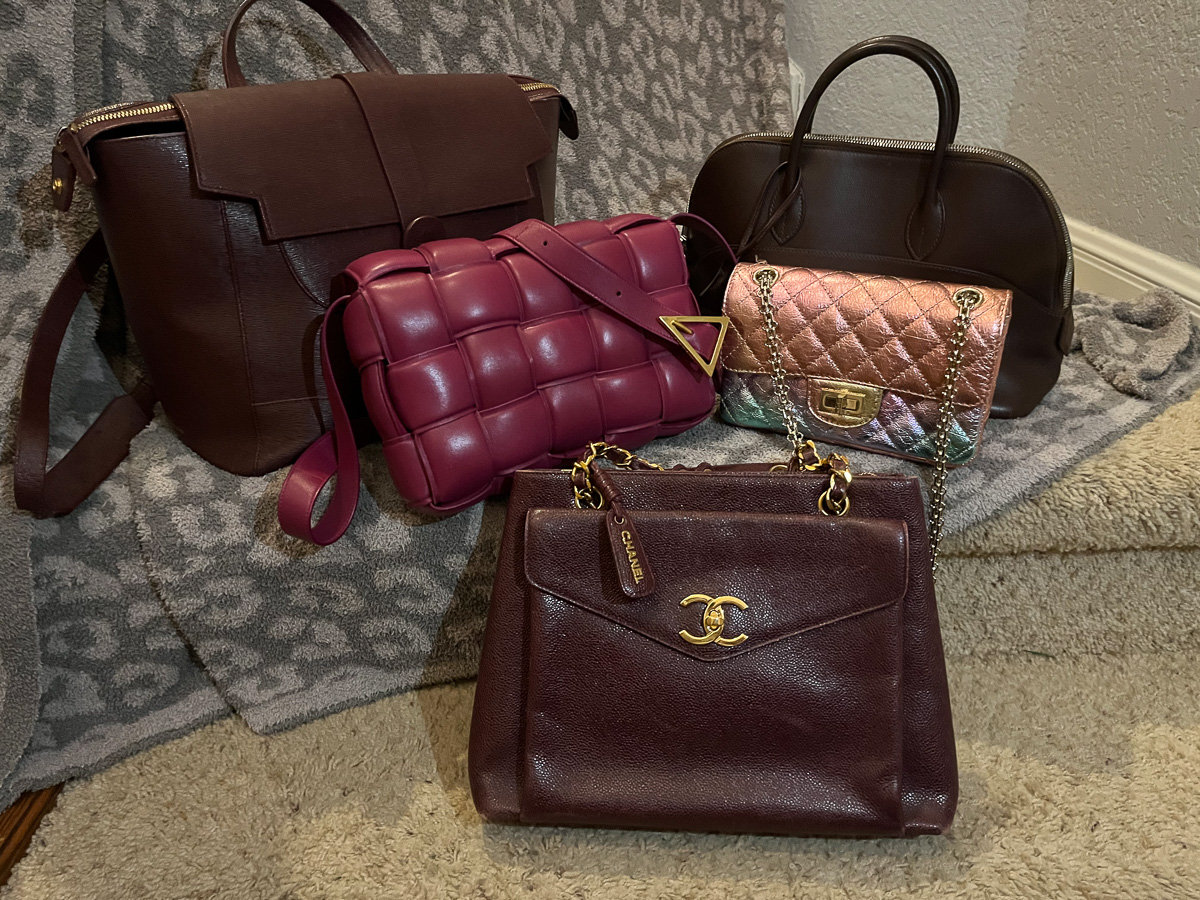 The Shopping
How often do you buy new bags? Once or twice a year for new designer bags. Pre-loved more frequently – a few times a year
Has the Coronavirus pandemic changed your shopping habits or overall attitude towards luxury? I don't make it into Dallas or Houston as often as I'd like to, to shop at the bigger boutiques. I'm always browsing the resale sites but have gotten a lot pickier about what I'll spend money on.
Which stores do you frequent the most? Neiman Marcus – has our Chanel and Saks – has Gucci.
Do you ever buy second-hand bags? Where do you buy used? I shop Fashionphile for the most part, but will look for specific things on The RealReal and Rebag.
Do you sell old bags to pay for new purchases? I haven't yet, but I've been tempted to offload some of the bags I own that haven't gotten as much love.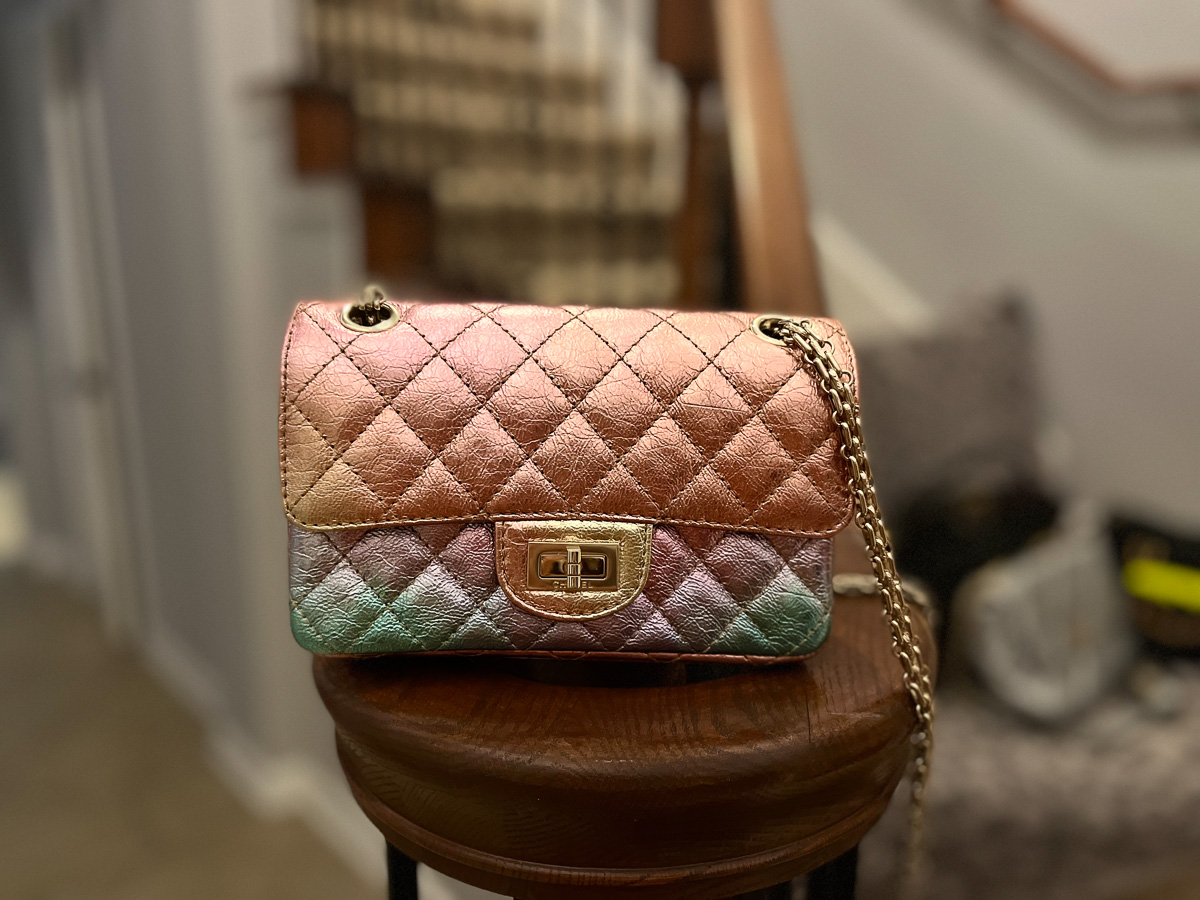 Do you ever feel societal pressure to purchase more bags? Not really – I purchase what I like!
Do you consider your bag purchases investments? The Chanel pieces, definitely.
Who influences your buying decisions? My physician friends! We have a nice network and will help set each other up with SAs and arrange events in stores. I also follow a few influencers on Instagram and TikTok, but I can't say I've bought anything explicitly because of them.
Are sales associate relationships instrumental to your shopping? I've made some contacts with SAs locally in the last few months and have been trying to keep in contact pretty regularly so that I can hopefully access some newer releases.
Why do you enjoy shopping, beyond just acquiring something new? I love the way a bag can pull together an outfit. I tend towards a lot of pops of color, to the point where my Gucci Diana bag was the first black bag I've bought in over 10 years. I look for pieces that bring me joy – that little flutter that you get when you look at or touch something you really love!
Have you ever felt like you received inferior service at a store or boutique due to your appearance, ethnicity or gender? I'm heavier-set, and it's sometimes hard to get attention at a boutique without an appointment because I don't always fit the brand image. I used to try to compensate by dressing up – I still carry my good bags because I think it helps to show that I'm serious about spending money there, but I'm less tolerant now of being ignored and will take my money elsewhere.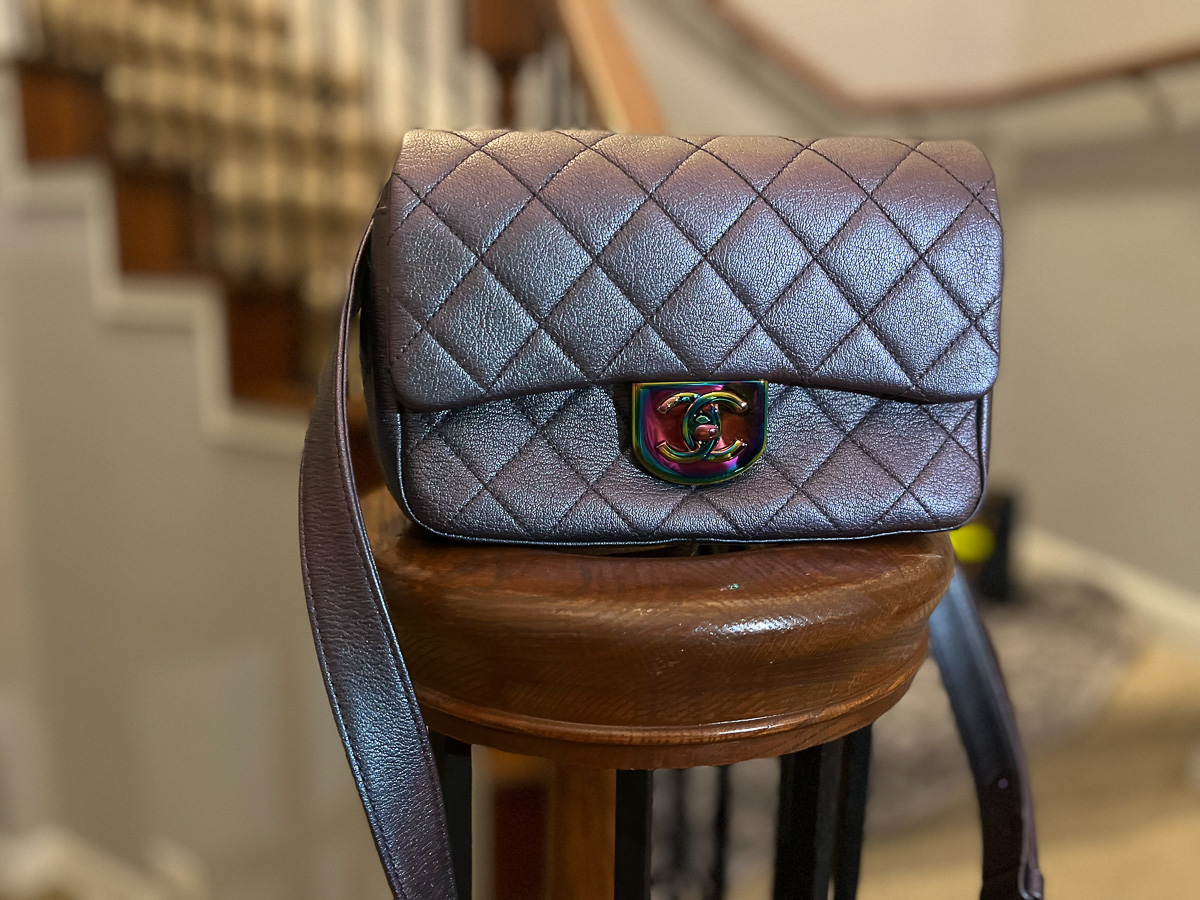 The Money
Who pays for your bags? I do!
Do you set aside a budget for your bag purchases? I don't set aside a budget, but I do involve my spouse in any purchases over a set dollar amount (usually $3,000).
The Taboo Topics
Have you ever purchased a counterfeit because you couldn't afford a designer item? No – I would rather carry the real thing. The quality and the symbolism of being able to afford it means something to me.
Do you ever hide purchases from your significant other? No – he doesn't really care, as long as I'm happy and I use them!
What's the craziest thing you've done to afford a bag? Worked my tail off in college, med school, and residency so that I could get a job where I work 80-100 hours a week. Really, though – I've never had to do anything crazy to afford a bag.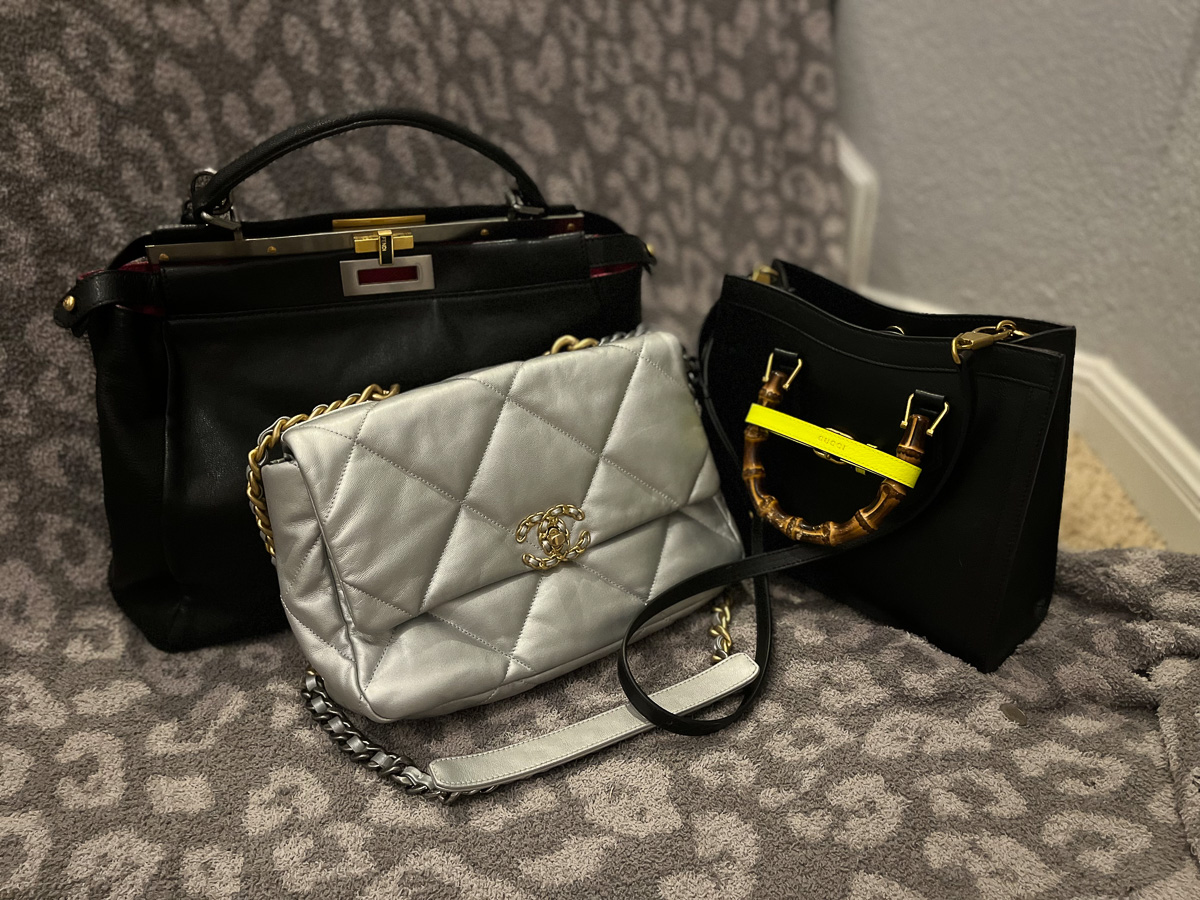 Do you think your shopping is ever a problem? Have you ever felt like you were struggling with a shopping addiction? I think that sometimes, I'm chasing dopamine, but it's more of a problem with purchasing clothes than with the bags. I lost a lot of weight recently, and it's been a weird time experimenting with what fits and looks good. I'm trying to be more intentional about what I buy now, at least in terms of clothing.
The Rest Of It
Any other expensive hobbies or passions? I love to cook, and have always prioritized having really nice kitchen implements. I have a whole collection of Le Creuset cookware that I built one piece at a time, buying saving and buying factory seconds. But I also don't expect anyone else to spend that kind of money on me – when got married, we only made a registry at Target because my mother insisted.
Anything else you would like to include? Buy the things that you love and can afford – don't go into debt for a bag that you can't afford. Save and wait so that you can truly enjoy your pieces!