Celine's Triomphe logo remains integral to the brand's DNA. Rooted in history, the Triomphe logo dates back to the brand's earliest beginnings and its founder, Céline Vipiana.
It's likely you've heard the story before, but we'll give you a quick refresher just in case! Céline Vipiana's car broke down in Paris, right in front of Paris' iconic Arc de Triomphe monument. Instantly, she was inspired by the chain that surrounds the Arc, and shortly thereafter, the Celine Triomphe was born.
The Triomphe combines Celine's history with its Parisian beginnings as the inside of the double links represent two Cs. Since its creation, the Triomphe has become one of the House's most important motifs, reimagined in countless ways.
While in years past, the Triomphe has taken a backseat, current creative director Hedi Slimane has embraced its richness, bringing the Triomphe back. Front and center, it remains an integral part of Celine's handbag line-up collection after collection, and this season, a new Triomphe bag enters the chat.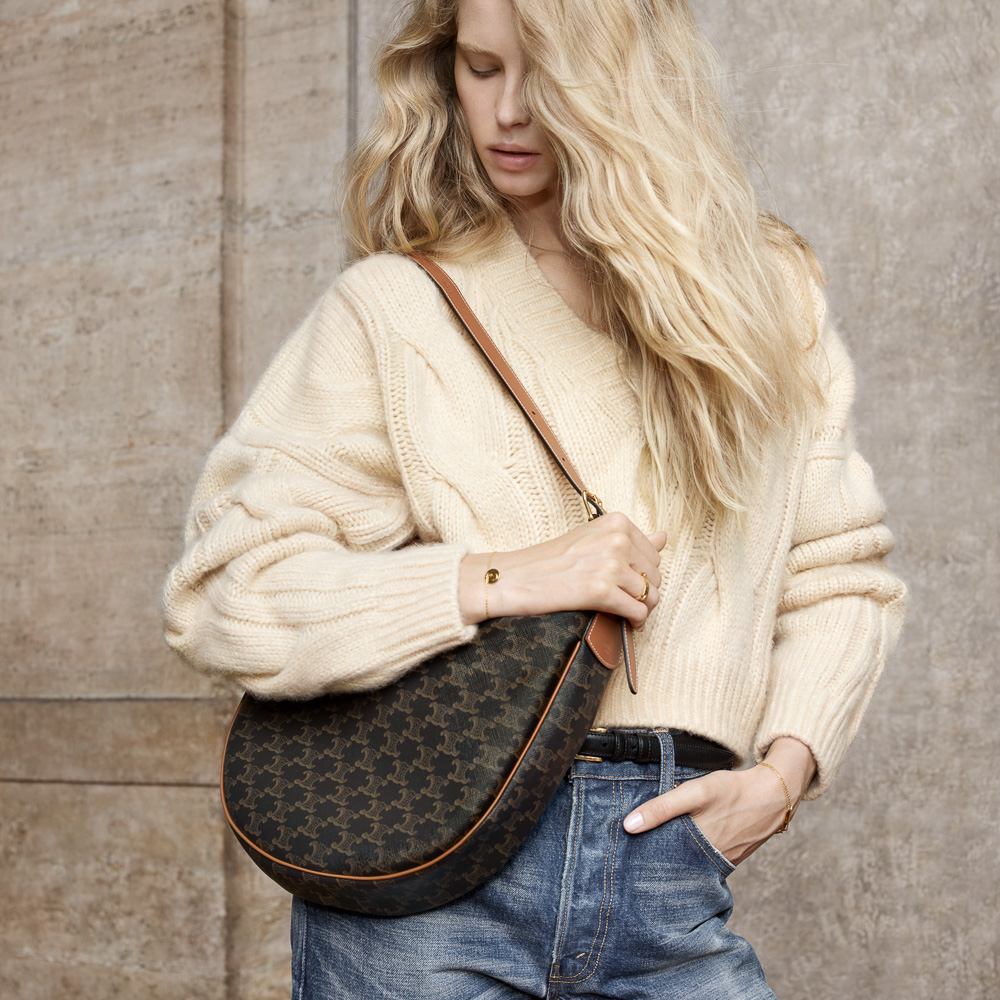 Introducing the Celine Heloise Bag
Staying true to Celine's relaxed but always chic Parisian spirit, the Heloise bag is ideal for daily wear, and it provides functionality thanks to the roomy interior of its hobo shape. Offering a relaxed, cool-girl vibe because of its supple silhouette, the Heloise is defined by its curved lines and further finished with a storied touch: iconic Triomphe.
Appearing in soft leather, the Celine Triomphe is the focal point of Celine's latest bag, which is shaped using traditional artisanal techniques. Crafted from two pieces of calfskin and one gusset, it is assembled by piping, which emphasizes the bag's distinct round shape.
Featuring an adjustable shoulder strap with gold hardware detailing, the Heloise is lined in suede and has one interior zippered compartment. Overall dimensions are 12″ x 11″ x 3.
Newly launched, the Heloise arrives in Slate Gray, Tan, and Moon leather, with a bold embossed Triomphe feature, and a Triomphe canvas version is available as well. Discover more below as seen on friends of the House Kaia Gerber and Lisa of Blackpink, and shop via Celine for $3,450.