I guess the first question I should ask before we delve into The Many Bags of Miley Cyrus is, do you like her new haircut? I do, but I've had an intense affection for Miley ever since she started to rebel a bit against her Disney Tween Queen image and wear combat boots and Rick Owens and lots of spikes and skulls, so I might be biased. Every young woman should do something spontaneous and maybe a little bit extreme with her hair at least once, and there are far worse ways to indulge that impulse than by going to the same world-famous LA hair stylist who created The Rachel. A desperate Britney head-shave moment it was not.
Beyond the haircut, Miley seems to be quite busy these days - filming a movie in Philadelphia, recording new music, planning a wedding to fiancé Liam Hemsworth, going to pilates. (Seriously, she hits the gym like a fiend.) Here's hoping that she continues to avoid the curse of childhood fame and keeps on just bein' Miley - always with a fabulous bag in tow. Check out our favorites from her collection, from Balenciaga to Prada to Chanel, after the jump.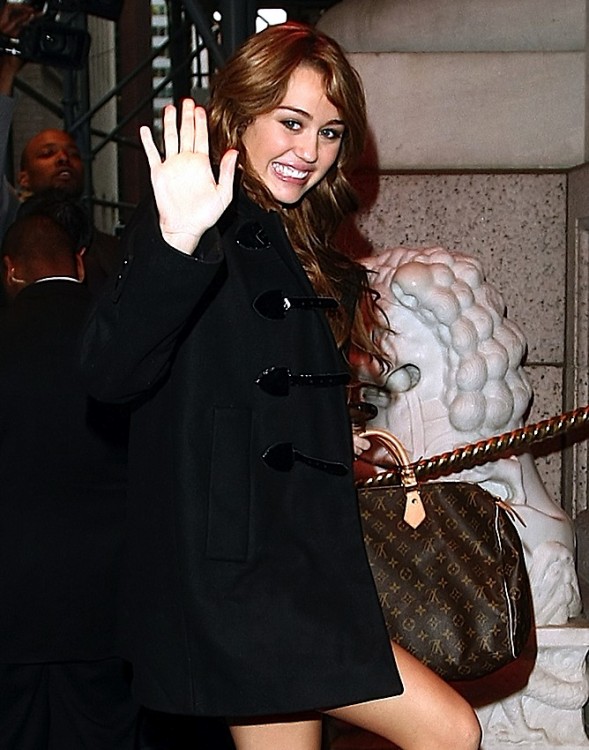 Let's start back when Miley was a well-polished tween star on the rise - naturally, a pea coat and a Louis Vuitton Speedy are a look that most moms can get behind. Speedys, after all, are many young women's first introduction to the world of handbags. Get your own Speedy via Louis Vuitton for $815.
1 / 19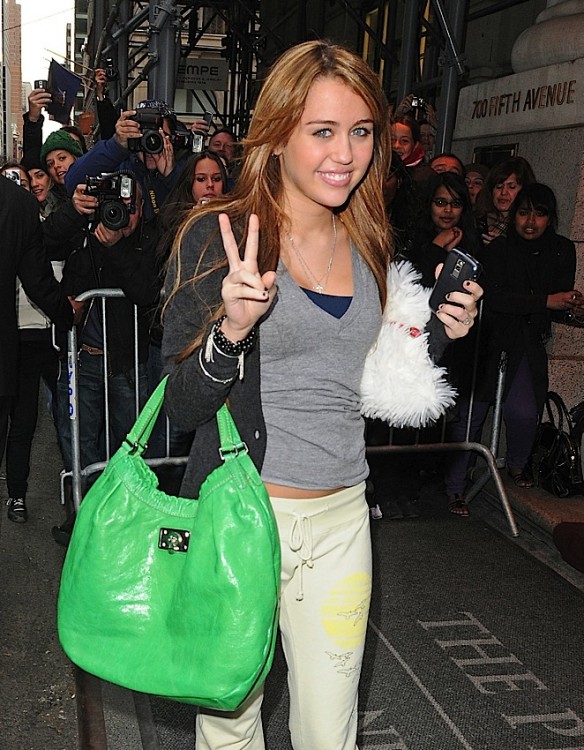 Back in the day, Miley was also a big fan of bright Marc by Marc Jacobs bags, which makes sense when you consider both her age and her target audience. The green Marc by Marc Jacobs Picnic Tote that she's carrying in these photos is no longer available, but you can shop Marc by Marc Jacobs bags via ShopBop.
2 / 19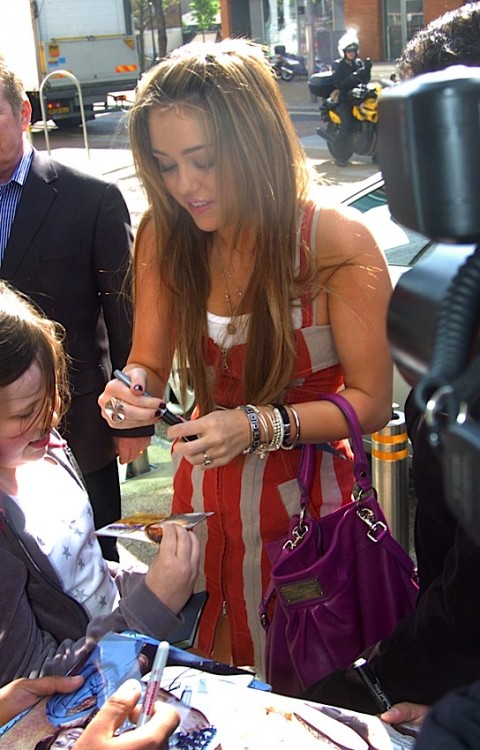 Miley's love for Marc also extended to this Marc by Marc Jacobs Classic Q Hillier Hobo. You can pick up the black version at Net-a-Porter for $428.
3 / 19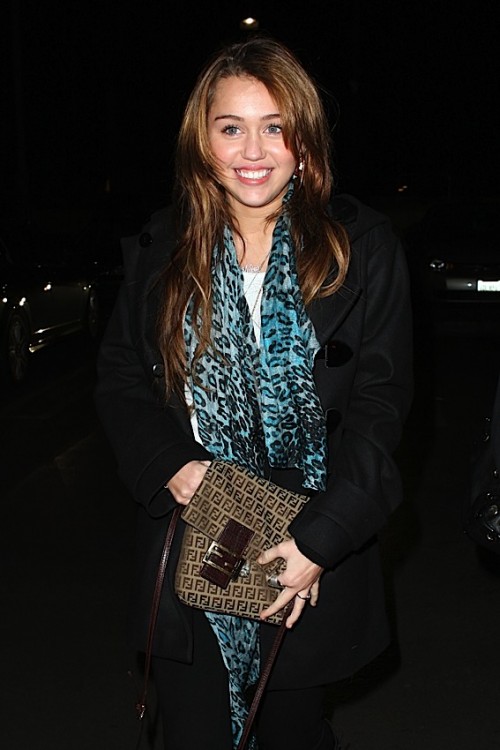 It wasn't long, though, before Miley's tastes got a little more expensive. This Fendi Zucca Crossbody had her on the way to pricier designer duds. Grab a newer version of this bag for $860 via Neiman Marcus.
4 / 19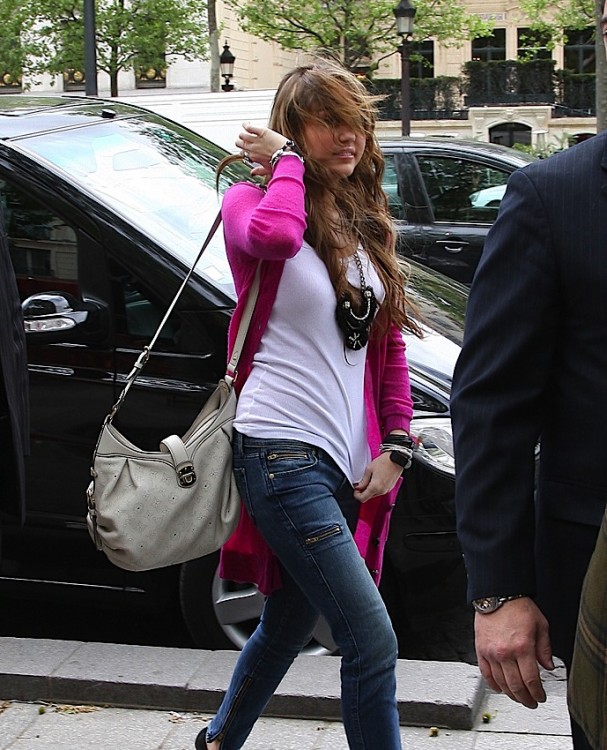 Next up? An upgraded LV, of course. This white Louis Vuitton Mahina Shoulder Bag is not a bad foray outside of monogram canvas, is it? This particular bag is no longer available, but you can get a similar style via Louis Vuitton for $4350.
5 / 19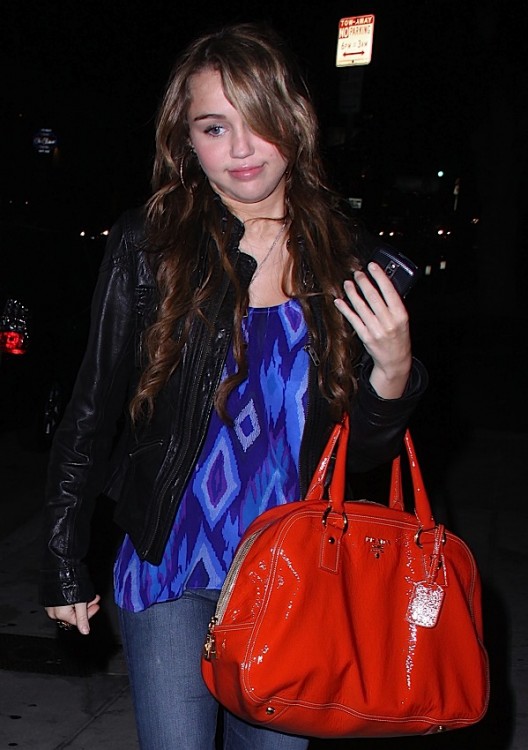 After that, it was a veritable handbag free-for-all, just how we like it. This hot orange Prada Patent Satchel is not playing around. Shop Prada via Neiman Marcus.
6 / 19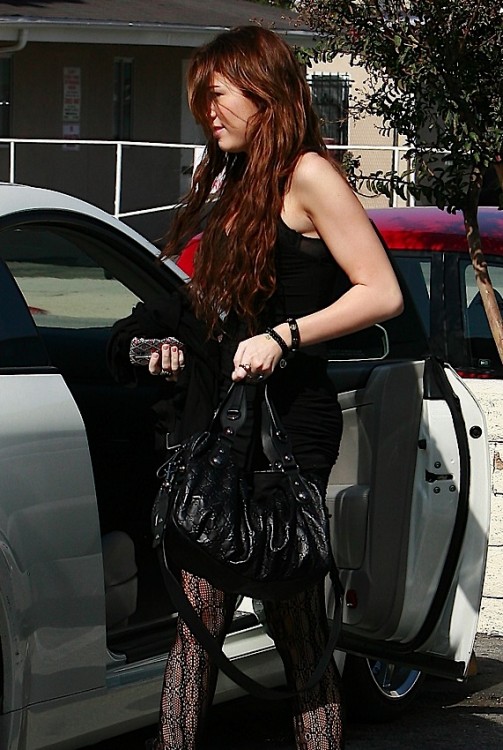 And then there was this black Gucci Icon Bit Boston Bag, just for variety. Miley's collection includes lots of different brands, which is one of my favorite things about it. Shop Gucci via Net-a-Porter.
7 / 19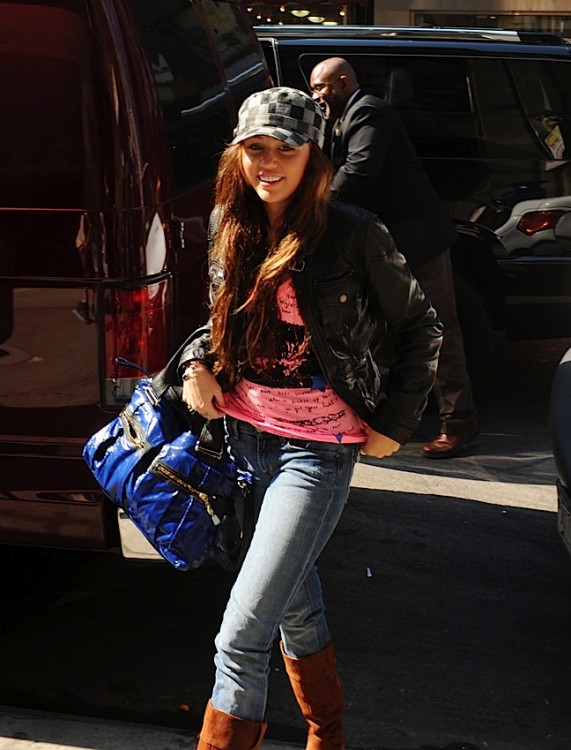 That doesn't mean that Miley has lost any love for contemporary brands, though. She and this See by Chloe Daytripper Satchel seem to get along just fine. Shop See by Chloe via Nordstrom.
8 / 19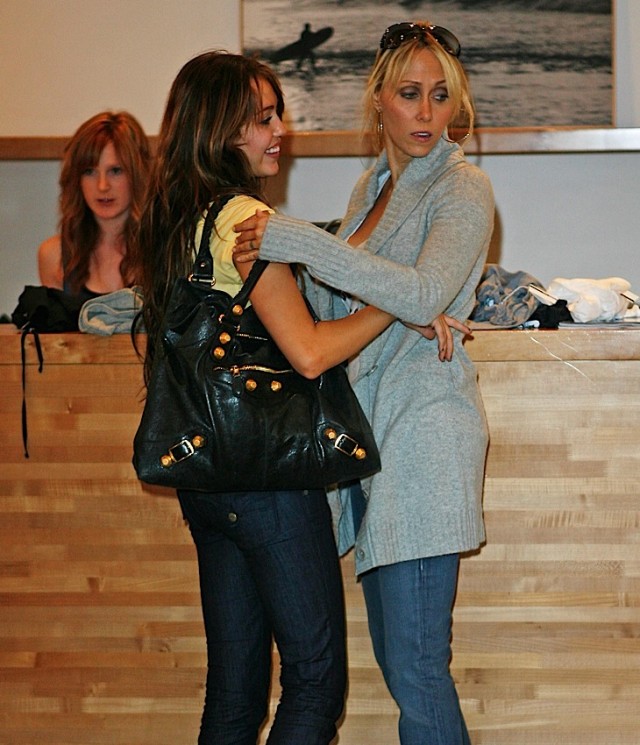 Around the same time, though, Miley started getting into Balenciaga with this Balenciaga Giant Brief. To this day, Miley still uses her Bal bags regularly. Balenciaga's most similar current style, the Giant 12 Velo, can be had for $1895 via Neiman Marcus.
9 / 19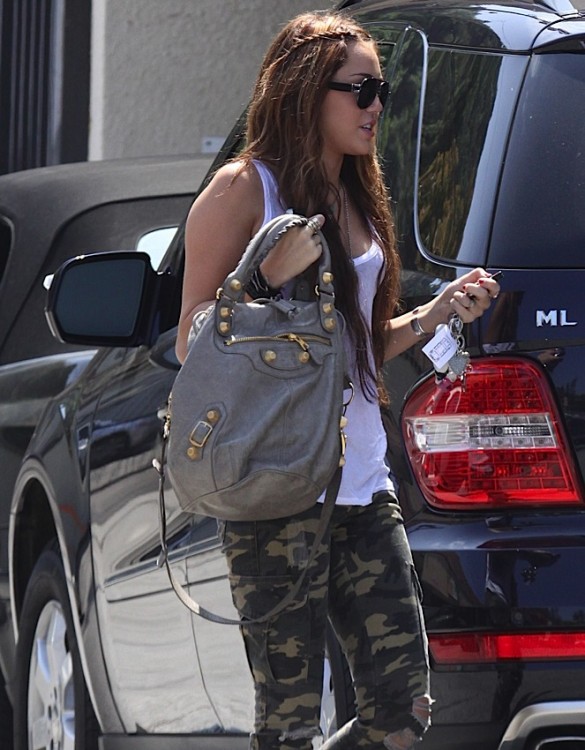 This Balenciaga Giant Pompon might be Miley's favorite bag, based on how often she carries it and how long she's had it. The classic version retails for $1545 at Barneys.
10 / 19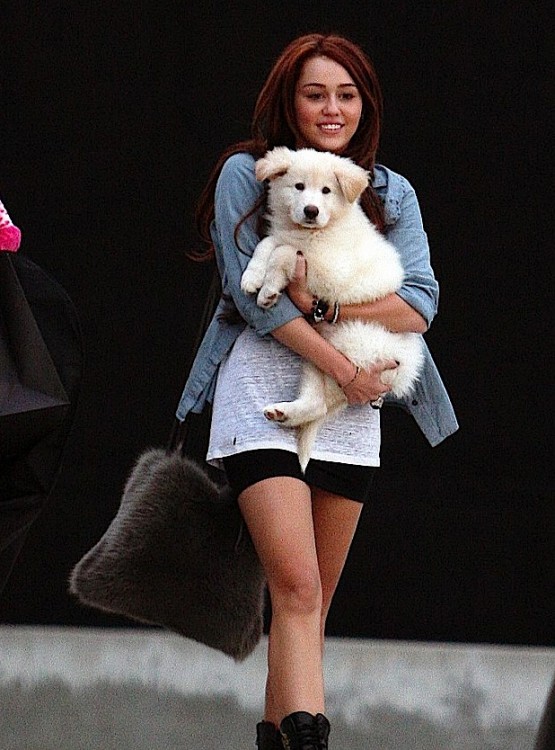 Seeing Miley pick the directional and challenging Rick Owens Fox Fur Messenger long before fur bags were a big deal is what really made me decide that I liked where she was going with her personal style, although juxtaposing a fur bag with a fluffy puppy is...an unfortunate visual, to say the least.
11 / 19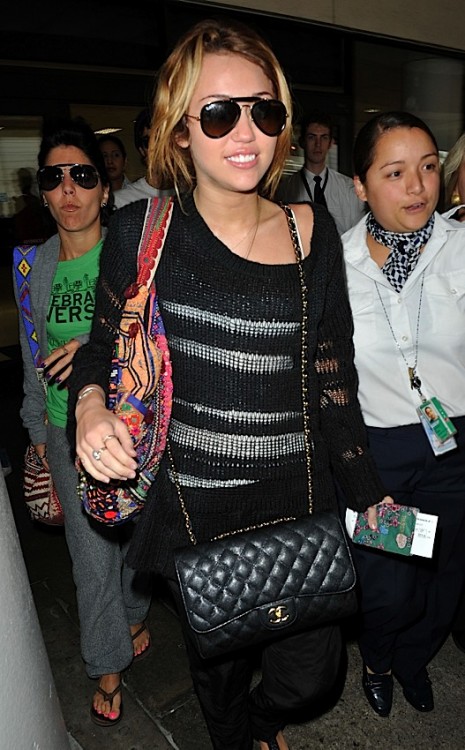 Next, Miley moved on to Chanel. Specifically, the widely loved Chanel Classic Flap Bag, which she carries often, always as a crossbody or long shoulder bag.
12 / 19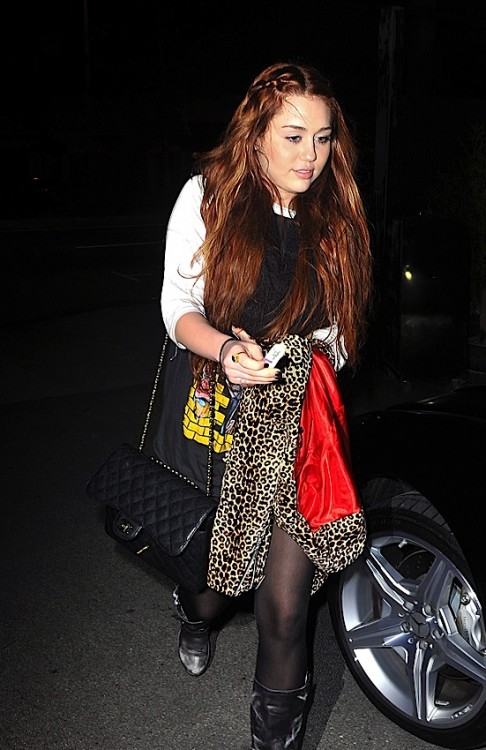 And again with the Chanel!
13 / 19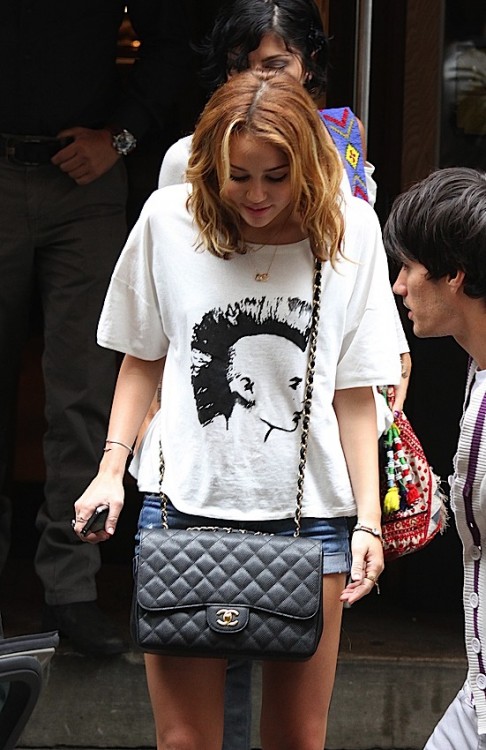 And once more, just for good measure. Miley really, really liked her Classic Flap for a while there.
14 / 19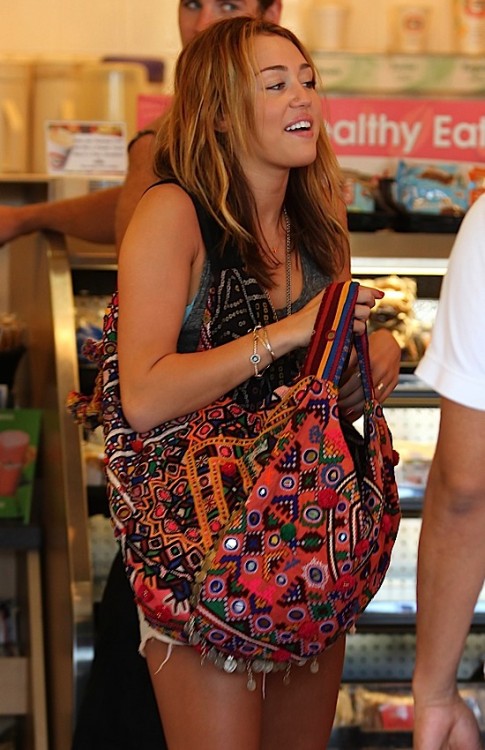 Sometimes, though, everyone opts for something completely different than the other stuff they carry. Miley's Simone Camille Moon Embroidered Tote is certainly aesthetically distinct from her collection of Balenciaga and Chanel bags we've already seen. Get your own for $2307 through Luisa Via Roma.
15 / 19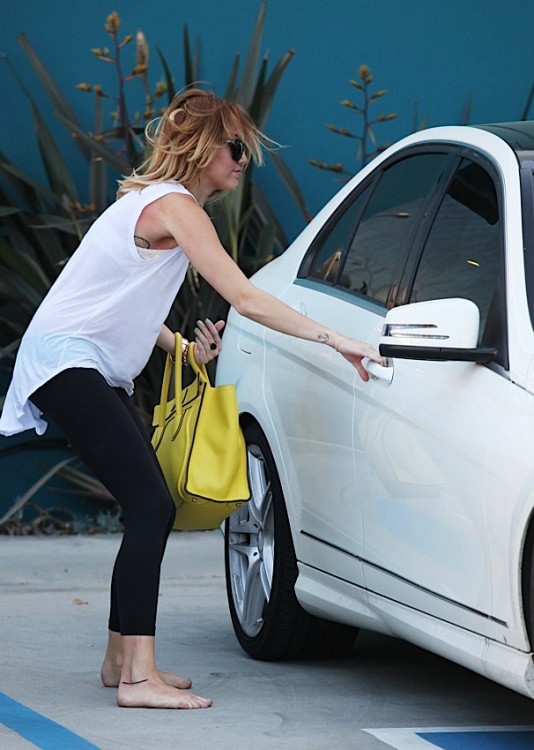 Although it doesn't entirely fit her personal style as of late, Miley also has the obligatory Celine Luggage Tote in her collection. I would have pictured her as more of a Phantom Cabas girl.
16 / 19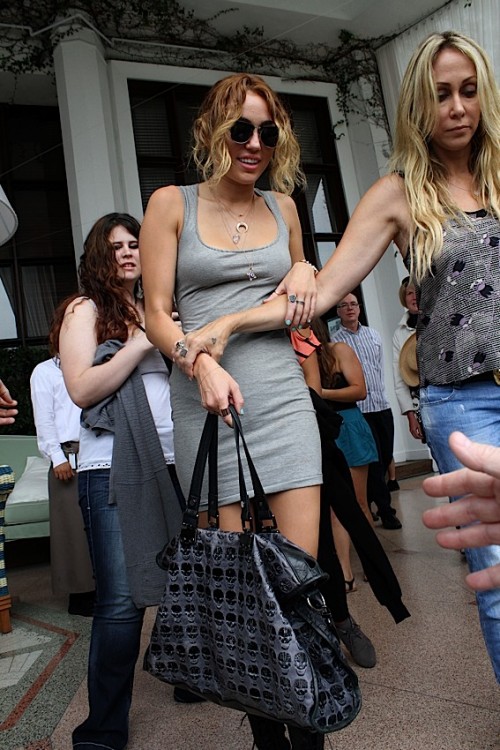 Even with all the money she's earned over her career to this point - and the fact that she now has access to it because she's over 18 - Miley still digs a good contemporary price point. Her Treesje Mortale Tote is perfect for her dressed-down, slightly industrial personal style. If only it were still being made!
17 / 19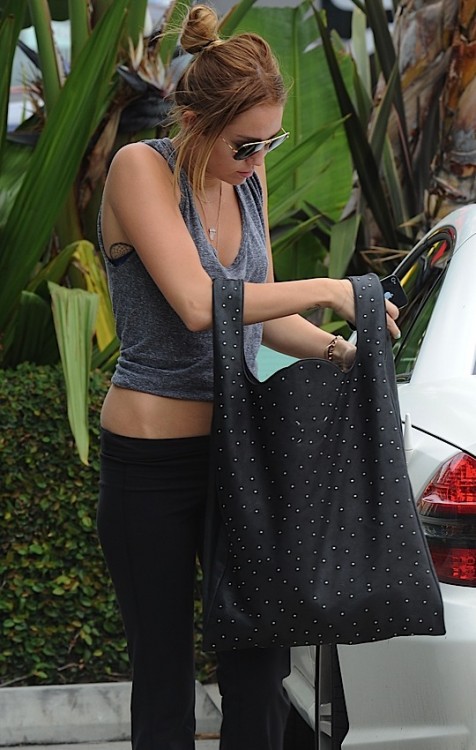 Late, though, Miley seems to prefer big bags that double as gym totes, like this MM6 Maison Martin Margiela Studded Shopper. Get this suede version at ShopBop for $555.
18 / 19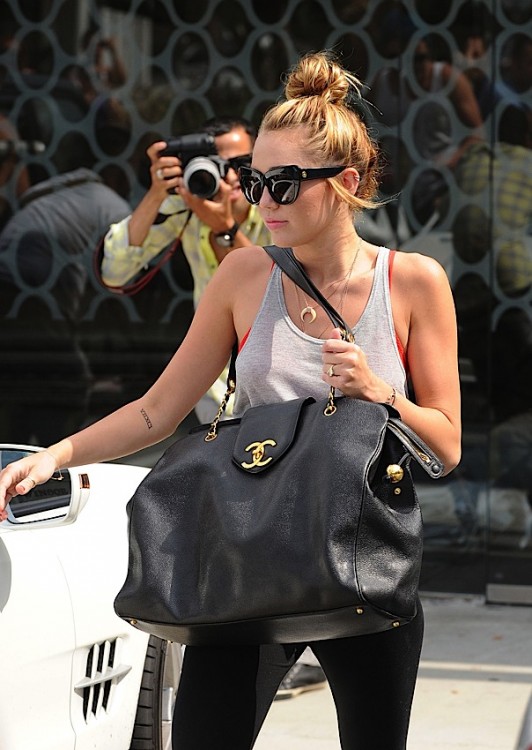 I should have saved my "she's just being Miley" joke for this bag - Miley's carrying a giant Chanel Tote, possibly of the vintage variety, as a gym bag.
19 / 19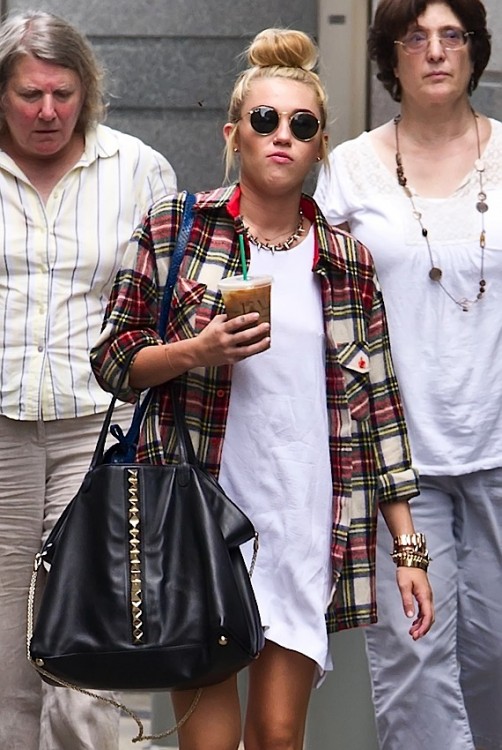 Last but certainly not least, the bag that appears to be Miley's most recent acquisition - the Valentino VaVaVoom Tote. You can pick up the python version at Neiman Marcus for $4995.
P.S. Please consider supporting our small, bag-loving team by clicking our links before shopping or checking out at your favorite online retailers like Amazon, Neiman Marcus, Nordstrom, or any of the listed partners on our shop page. We truly appreciate your support!