Back when Anne Hathaway was cast as Catwoman in Dark Knight Rises, there was a lot of hemming and hawing over whether or not she'd be able to pull off the beloved comic book role. Inexplicably (to me, at least), people have some harsh opinions about Anne, despite the fact that she seems to be, at worst, a perfectly competent actress and a pleasant, intelligent person in interviews. Even I was worried about Anne's Dark Knight potential, though - Catwoman is my favorite comic book character of all time, and Anne seemed too nice to achieve the darkness and edge necessary to make her come alive.
When I saw the movie on opening weekend, though, I was pleasantly surprised; Hathaway's was one of the best performances of the film, and I found her totally believable in the role, much to my own surprise. My affection renewed, now seems like as good a time as ever to take a closer look at Anne's fashion choices, and in particular, her bags. Join me after the jump for The Many Bags of Anne Hathaway.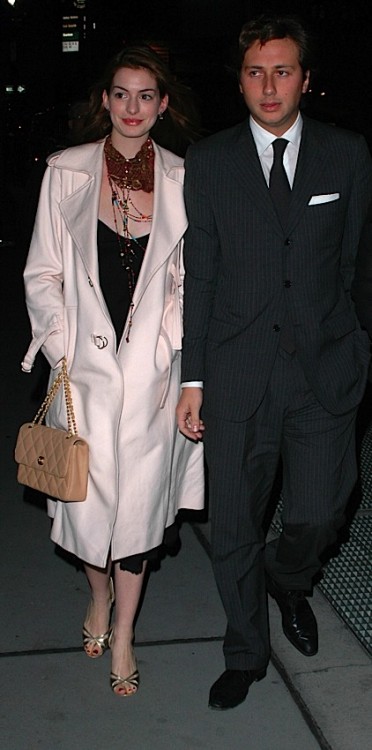 Let's start way back when Anne was still dating that crazy Italian dude who screwed her over and got deported. (If anything, I would think that whole fiasco would make women everywhere sympathetic toward her!) Raffaello was always in a suit, no matter what, and Anne's own personal style reflected some of that formality during her years with him. What's better for that look than a Chanel Classic Flap Bag? Nothing.
1 / 16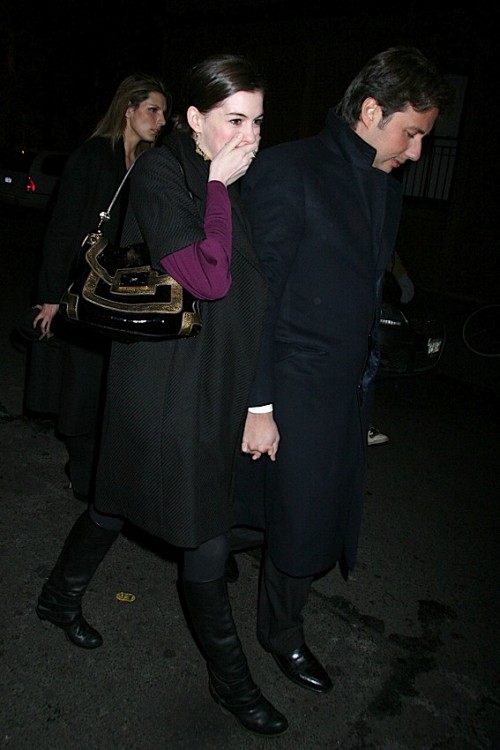 This Anya Hindmarch Lautner Day Bag also makes for a traditional accompaniment to the wool-overcoat-and-tights look. Shop Anya Hindmarch via Net-a-Porter.
2 / 16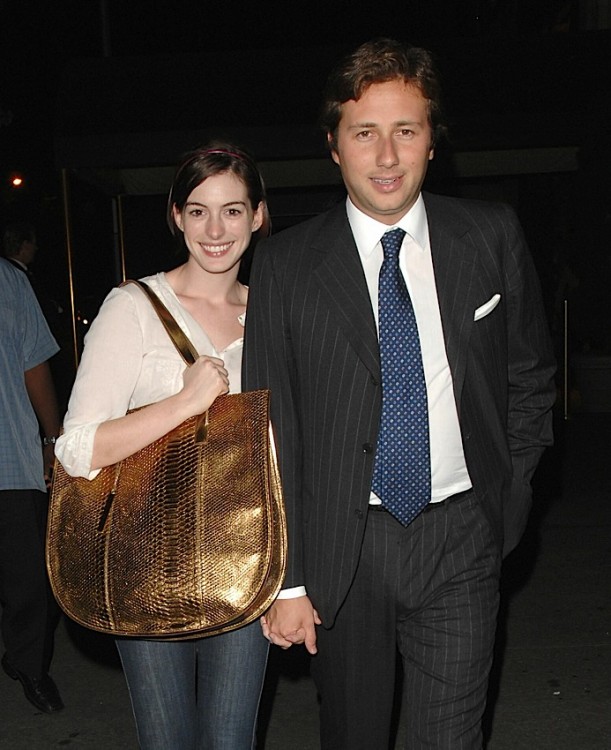 Even during her relationship with Raffaello, though, Anne's preference for the casual, easy style she has today came through from time to time. Hathaway's jeans, t-shirt and inexpensive Devi Kroell for Target Python Print Tote make a sharp contrast to his pinstripe suit in this photo.
3 / 16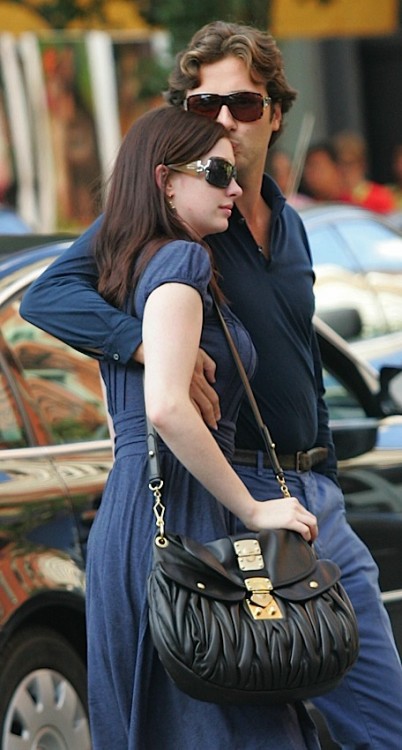 A rare photo of Raffaello, sans suit! I'm definitely more interested in Anne's lovely, plush black leather Miu Miu Coffer Shoulder Bag than anything else in this photo, though. Grab your own Coffer for $1595 via Saks.
4 / 16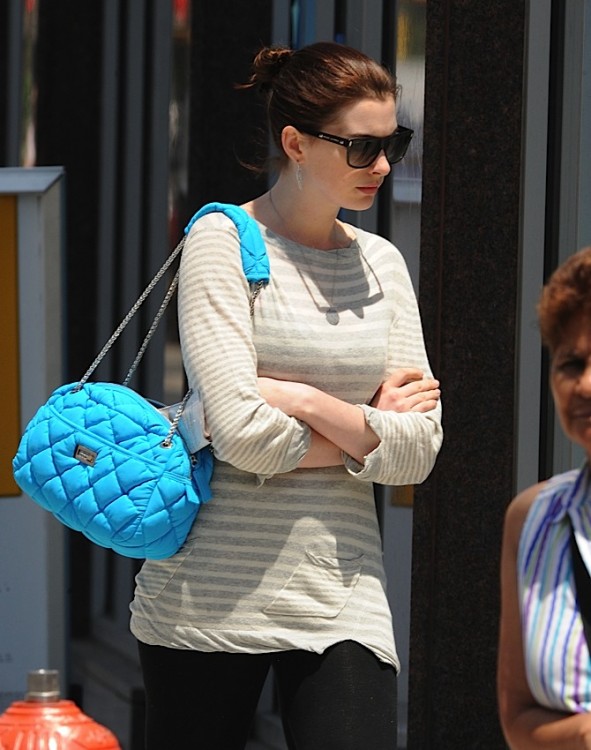 In the collections of almost every celeb we've profiled on PurseBlog, there's one bag that seems like a complete non sequitur to the star's other bag choices. In Anne's case, it's this neon blue Chanel Quilted Nylon Bowler.
5 / 16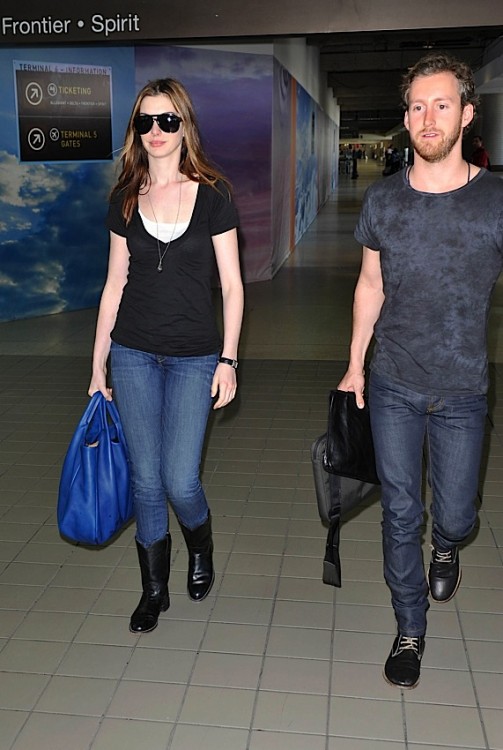 When examining a notable star's handbag wardrobe, it's also important to consider existing endorsements. Anne is the face of Tod's, so it's naturally to see her carrying a Tod's 24H Shopping Grande Bag at the airport (and with her current boyfriend - not more suit dude). Pick up your own via MyTheresa for $1551.
6 / 16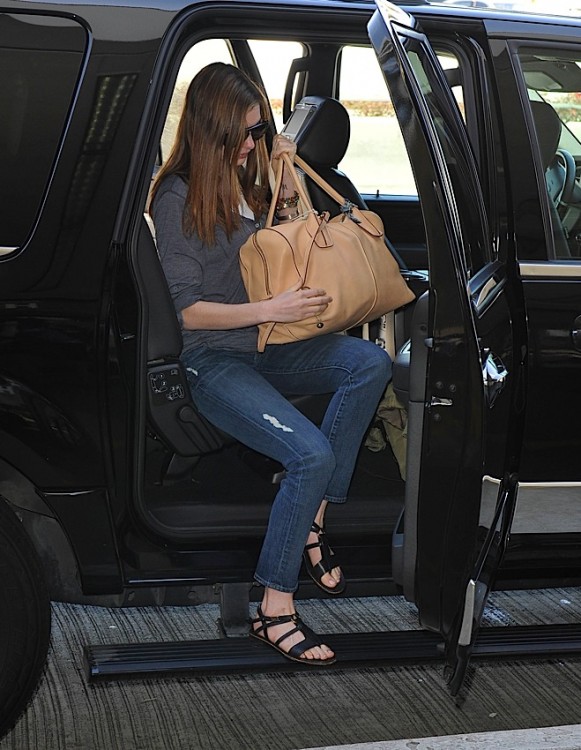 Here's Anne doing her Tod's thing again, this time with a Tod's D-Styling Bauletto Bag. MyTheresa has the same bag for $1833.
7 / 16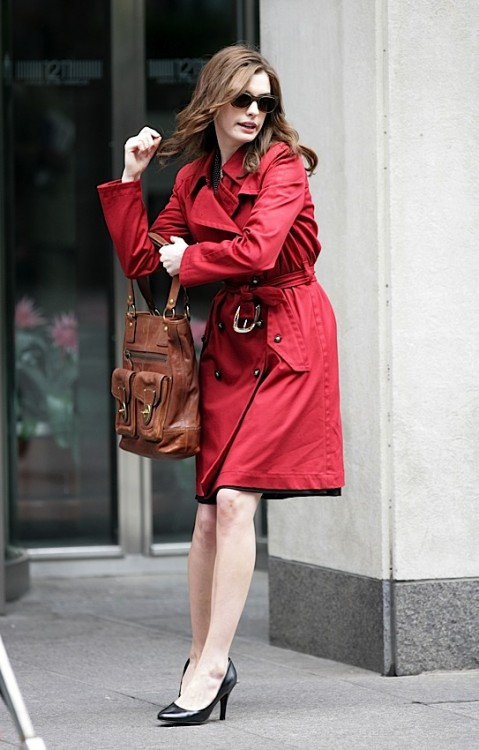 Do the bags that Anne carries in movies count? On the set of Bride Wars, Hathaway carried a Coach Gigi Leather Tote. Shop Coach via Coach.com.
8 / 16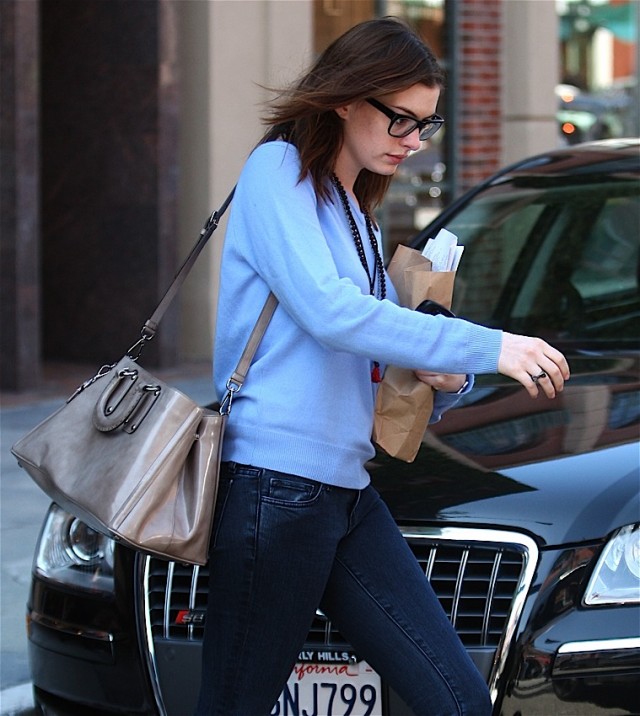 These days, Anne seems to prefer a shoulder bag with a long strap, a la this Prada Convertible Tote. Pick up a similar Prada tote for $2125 via Bluefly.
9 / 16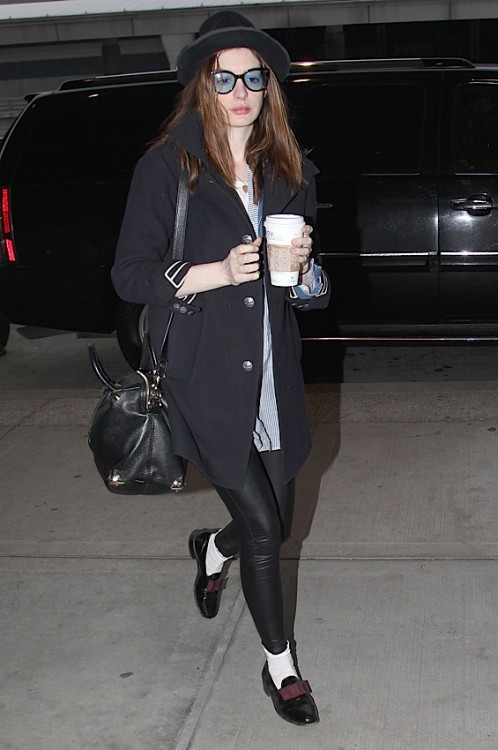 For a harder-to-identify option, Anne chose the Viktor & Rolf Just In Case Bag. Don't let the corner caps fool you - it's not Alexander Wang! Back when it was available, this bag retailed for $1070 via ShopBop.
10 / 16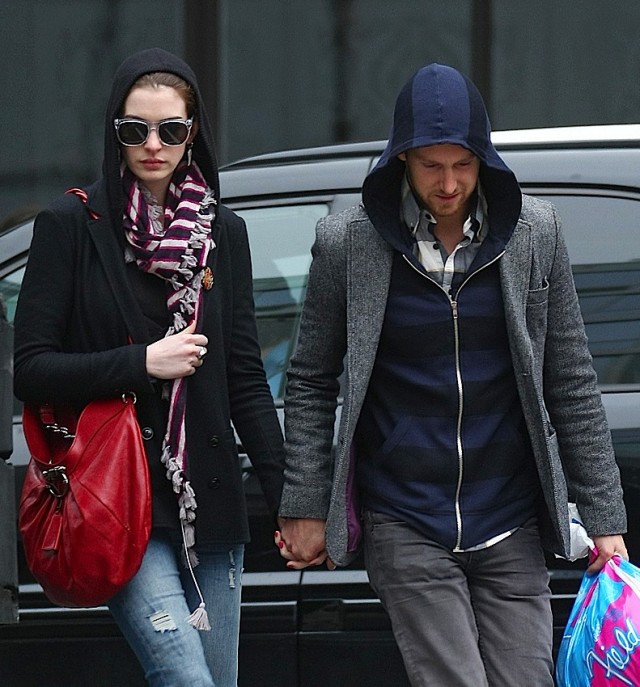 For a little color, Hathaway chose the Salvatore Ferragamo Gathered Leather Hobo. Shop Ferragamo via Neiman Marcus.
11 / 16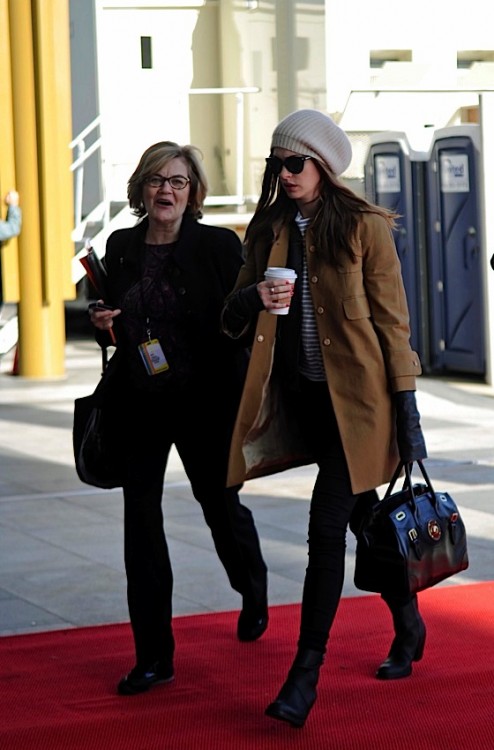 That's not to say that Anne can't do tailored bags, of course - her black Ralph Lauren Ricky Bag is beautiful. Pick up your own via Ralph Lauren for $3950.
12 / 16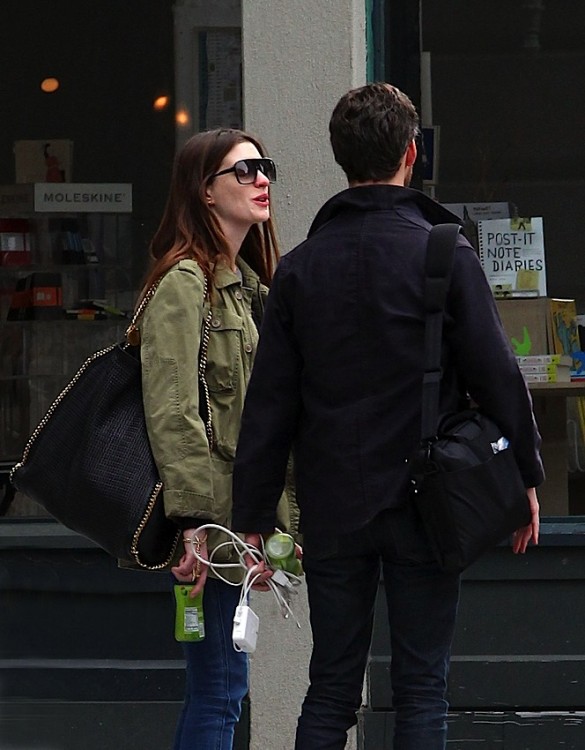 Hathaway is one of many leather-wearing celebs that likes the Stella McCartney Falabella Bag enough to go vegan for a day. Pick up your own for $1195 via Net-a-Porter.
13 / 16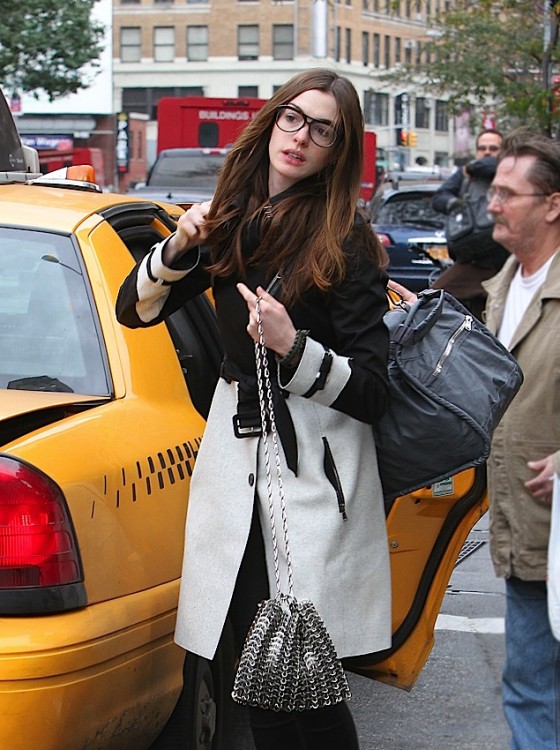 Remember what I said a little while ago about that blue Chanel bag being Anne's non sequitur piece? Well, it might be this metal mesh Paco Rabanne Chain Link Bag. The half-metal, half-leather version can be had for $1396 via MyTheresa.
14 / 16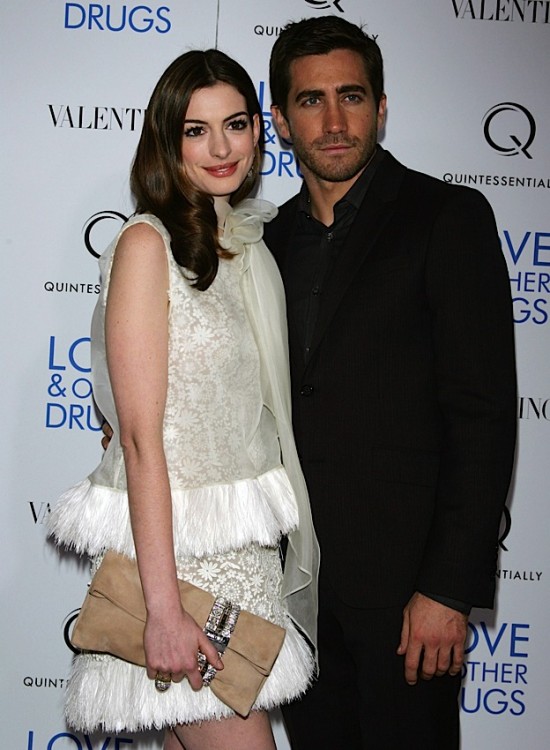 Where many of us are probably most used to seeing Anne, though, is on the red carpet, where her handbag choices are just as interesting. This larger-than-an-evening-bag Jimmy Choo Chandra Clutch is a nice choice for a short premiere ensemble. Get a similar version via Net-a-Porter for $1250. (Also: Hey there, Jake Gyllenhaal.)
15 / 16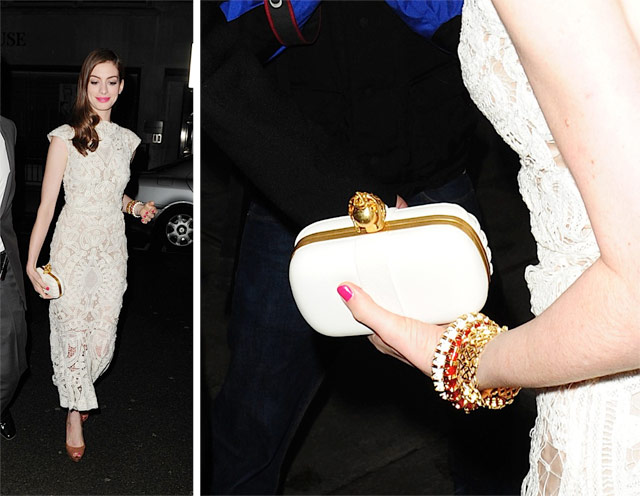 What to carry with a heavily detailed Alexander McQueen frock? An Alexander McQueen Skull Clutch, naturally. Shop a full range of McQueen's Skull Clutches at Net-a-Porter.
16 / 16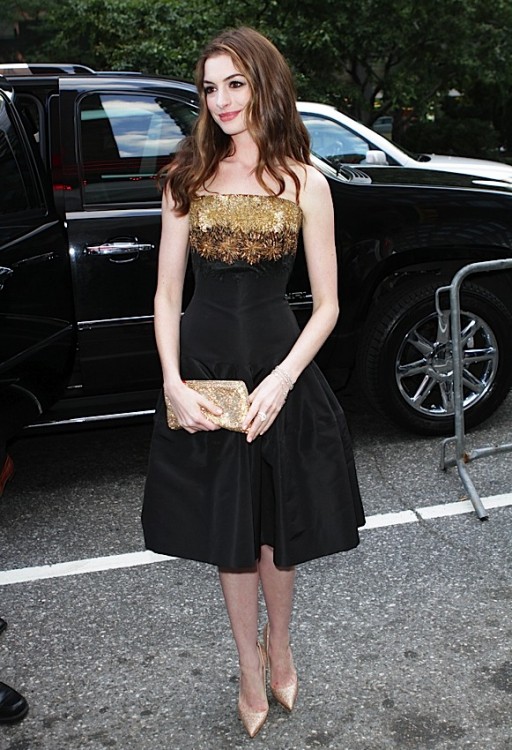 Forget the Christian Louboutin Maykimay Clutch; I can't get over how utterly lovely Anne looks in this ensemble. (Okay, maybe don't forget the clutch.) You can get your own sparkly little Louboutin evening bag for $2695 via Barneys.
P.S. Please consider supporting our small, bag-loving team by clicking our links before shopping or checking out at your favorite online retailers like Amazon, Neiman Marcus, Nordstrom, or any of the listed partners on our shop page. We truly appreciate your support!