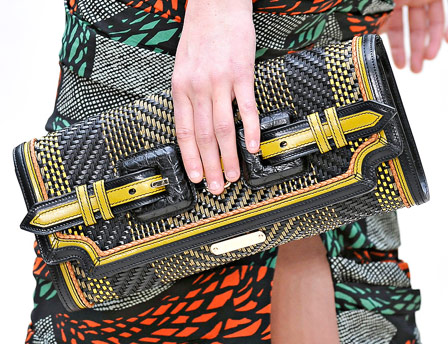 Images via Vogue.com
Burberry and I have an odd relationship. I find myself lusting after the brand's ready-to-wear and outerwear every season without fail, and often its boots as well, but my feelings about the British brand's bags are often a tad…fraught. I can honestly say, though, that there's not a single bag from Burberry Spring 2012 that I wouldn't carry.
Perhaps the biggest surprise from the collection was how little leather it included. In fact, only a few of the woven clutches were entirely leather and a couple of the larger totes were suede and croc (be it real or faux, I'm not sure), but the overwhelming majoring were woven raffia with croc trim. That's something of a departure for the brand, and the resulting totes and clutches felt on-trend (expect to see lots of raffia for spring) and modern. Particularly the fun little clutches, which may have a rather small retail audience but which I'd be delighted to carry to any summer party.