When a new Creative Director joins a luxury House, their vision spans well beyond the designs of a brand's clothing, shoes, and accessories. Rather, a designer's creative vision often impacts all areas of a brand, from its typeface and logo to its packaging and store design.
At Bottega Veneta, that became instantly apparent when the brand first changed hands in 2019. Now, with the appointment of Matthieu Blazy comes a new chapter in its modernization: a brand new store design. The first store under the creative direction of Matthieu Blazy is here. Located on the famed Avenue Montaigne, I was there to discover it all as the doors to the brand's Paris flagship reopened on day one.
It felt like fate that my holiday to Paris aligned with the store opening. Though I wasn't traveling for business, immediately upon entering the boutique on the first day that the store re-opened its doors to the public, I went into work mode, taking in all the details of the space.
A Combination of Craft and Modernism
I was instantly wowed upon walking into the space at 12 Avenue Montaigne. The store renovation took nearly eight months, and the impeccable attention to detail and craft that Botttega Veneta is known for is echoed in the space. The entire boutique is dressed in warm Italian walnut wood, which draws you in as soon as you enter.
A beautiful staircase to the right leads to the boutique's upper level, but the surprises don't stop there. As you walk towards the back of the store to discover more products, a small, curved hallway leads you there, which feels luxe and almost like a museum. Behind glass windows located within the corridor, you'll see products like jewelry or a Murano glass-handled Sardine Bag in purple, which stopped me dead in my tracks.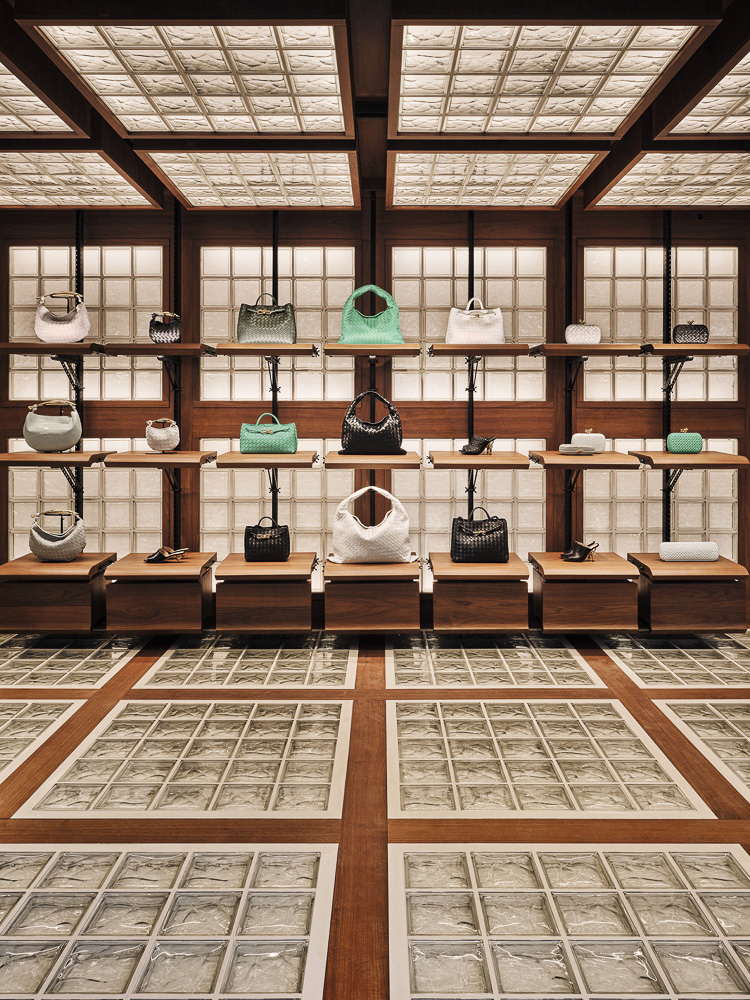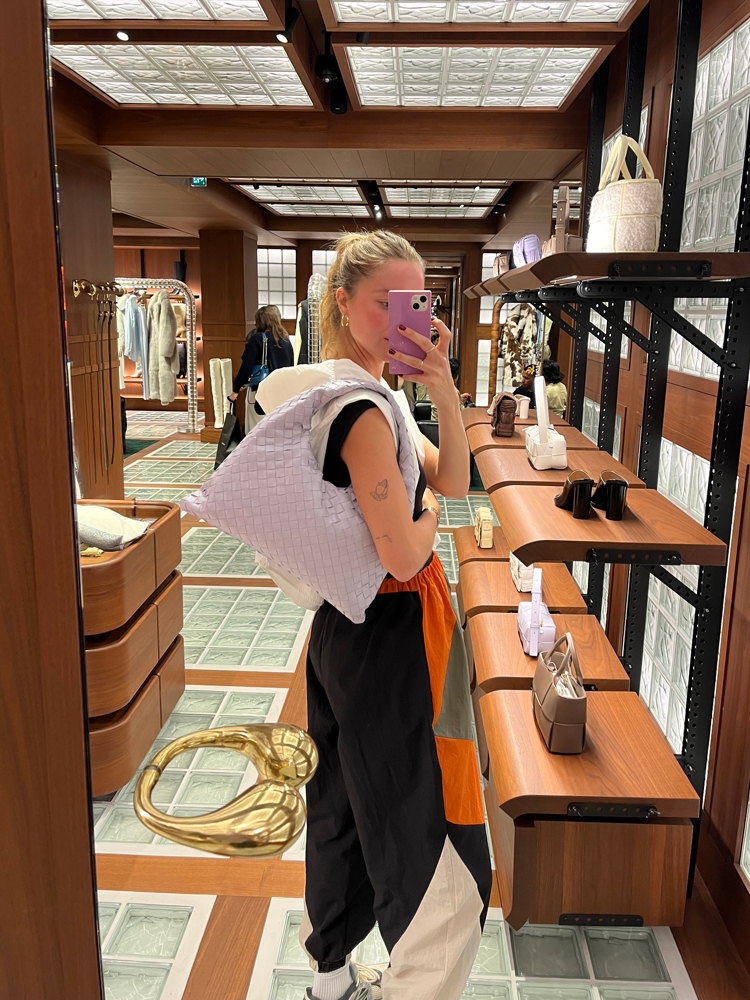 Iconic Attention to Detail
The details define the space, and I noticed all of these intricacies, like Intrecciato etched wood and gorgeous square glass blocks, which are integrated into the store's design from floor to ceiling in different ways. Leather seating and one-of-a-kind furniture also feature unique textures, and the boutique's appeal spans well beyond just the architecture. Glass hanging rails, which were hand-cast by Venetian artisans, are another ode to the brand's Italian roots.
The product is displayed on shelving units that allow for a sense of discovery, and you'll want to do just that. The store, which is now open, launched with Bottega Veneta's complete Winter 2023 collection and will house all product categories and an in-store personalization service for select leather goods.
Discover more below images by Francois Halard for Bottega Veneta.