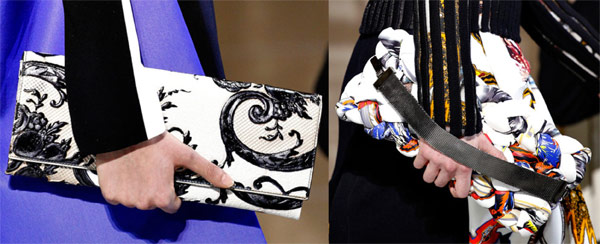 A funny thing happened at the Hotel Crillon in Paris yesterday – Balenciaga Fall 2011 graced the runway and we actually got to see handbags. That doesn't happen particularly often under Nicolas Ghesquiere's creative direction, but I was utterly thrilled to see that he threw a bone to those of us who tune in to see the accessories as much as the clothes themselves. Whether or not those accessories were a success is perhaps a bit more complicated.
There are none of Balenciaga's famous motorcycle bags to be found here, of course. Despite the fact that those designs are the brand's bread and butter, they're not shown as part of seasonal collections, mostly because they're always about the same. Instead, we have two groups of clutches: one sharply tailored and printed, the other made of comically oversized woven leather (even bigger than that from Prada Fall 2010) with a beautifully detailed chain strap. The former is sure to be popular with customers, but the latter might be a bit of a harder sell for Balenciaga. The idea is an interesting one, no doubt, but the too-simple shape combined with the scale of the weave might scare some people off. Alternately, I would absolutely love to see the same material in a larger tote shape.
Photos via Vogue.com.